Collaborate 09 kicks off…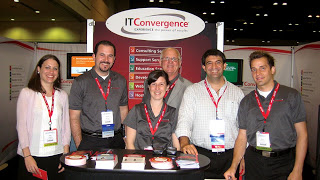 Well folks,
Collaborate 09
kicked off in one of the biggest convention centers in the continental United States. The Orange County Convention Center in Orlando is humongous and the sheer size of the venue overwhelms the first time visitor. But that feeling soon gives way to fatigue born from traversing through the miles of corridors trying to pack in as many sessions as possible. I must admit that I am quite envious of the staff who zip around in their segways, oblivious to the the attendees who lug conference paraphernalia, business cards, and presentation materials between the various session rooms, the exhibition hall and the breakfast /lunch venues.
While Sunday was mostly the day of registrations, collecting the bags and conference material and SIG meetings and education sessions, Monday began with a keynote address by Charles Phillips of Oracle. Yours truly did not attend the session, but I do know that the "breaking news" was the release of R12.1. Oracle E-Business Suite BS R12.1 is available and can be downloaded from Metalink for those who are on the path to upgrade.
The buzz about R12.1 is that it is a major release with tons of functionality and great features and going forward should be the "preferred destination" for those of you out there still planning the upgrade from 11i.Being more interested in HCM, I have a ready list of all the sessions that I am interested in – thanks to a cool new feature from OAUG this year which allows one to build an agenda and print it out. My Monday agenda included the HCM roadmap and future vision presentation by Oracle's Director of E-Business Suite strategy. I must say it was one of the finer presentations from Oracle that I have attended over the years.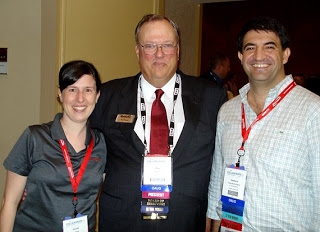 R12.1 has cool new features, like incorporating the nine-block assessment, and interactive and graphical representations of Suitability matching and succession planning. Talent profiles and more importantly the ability to compare talent profiles are great features. End users implementing these features would definitely want to know what took Oracle so long to offer this. As a HR professional, I am impressed by the look and feel of the presentation, which really generates the feel-good factor that has long been lacking.
Another cool feature is the incorporation of Social HCM which is still in its development stages, but it will offer HR professionals and especially recruiters a better way to build a data bank. It is quite difficult to explain here what it does, but think of it as the Facebook of the HR department, if you will. In the coming days and weeks, I am sure Oracle will be talking more about this and we will get to see it in greater detail.
On a different note, attendance is definitely low this year compared to 2008. At first, I was not sure if it was just the size of the venue and thus the lower density of people per square foot that made it seem like fewer people were on hand. But then, as the day wore on, it was apparent that attendance is not as high as in the past. There are various estimates being put forth by people, present company included. I shall therefore not offer any numbers. However, the organizers have not cut any corners on the arrangements, the logistics and the exhibition hall is full of attractions, games, offerings, raffle drawings. Numbers may be low, the excitement is not.
I look forward to the sessions over the next 3 days, and to my own presentation on how to integrate multiple payroll systems from around the globe with Oracle's Core HR offering. If you are here at Orlando, I invite you to our booth #4151 where you can interact with one of our many experts and learn more about our sessions. While you're there, you can also register to win a free seat at the Oracle Applications Workshops being offered by IT Convergence and the OAUG.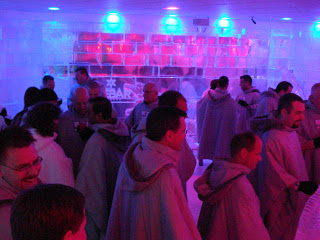 If work keeps you away from the activities here Collaborate 09, you are welcome to participate and post your comments here. Let us know what you would like to hear about and we will try and address your interests. Likewise, you get updates from Collaborate by clicking on our Live from Collaborate tag.
-Subash