Must READ for First Time Collaborate Attendees

Collaborate 2013 is around the corner. Are you ready?If not, you can get started by watching the OAUG's official Collaborate 13 video:
Founded in 2006 by the IOUG, OAUG and Quest, Collaborate is about knowledge. It is about networking with peers that are working on the same kind of projects or planning the same kinds of projects that you need to plan. It is about getting the truth about the Oracle products from the the people who know it the most- the user community. And "knowledge is power."
Collaborate 13 – Start Planning Now
It's important to start planning your Collaborate now and here are some tips that will help first time attendees get the most of the conference.
The action starts on Sunday and there's a "New Attendee Orientation" at 1:15pm in room 112 which will tell you some tips. This is a must.
Now, since you want to maximize the value you get out of Collaborate 2013, we suggest going to the agenda builder – immediately after reading this blog entry – so you can search for the topics of your interest.
There's so many ways to search the different sessions, just think that only for Sunday you have more than 150 sessions! Yes, it is the most exciting experience to search and start adding the sessions that you'll attend. You can even export them to excel to review them later.

Denver Art Museum
This year the OAUG welcome reception is being held at The Denver Art Museum and its exclusively for OAUG members. Transportation will begin at 5:45 pm from the Convention Center.
Monday starts at 8:30 am when Aron Ralston  will jump into the Bellco Theatre stage to share with us his experiences.
Monday is another busy day, with more than 360 sessions starting after the keynote, you really need to get to the agenda builder right away.
By the way, at 6pm the exhibitor showcase starts and you're going to find hors d'oeuvres and drinks plus learning what is new in the Oracle Ecosystem.
There are sessions from our IT Convergence team that are full of information which are highly recommended:
• Accounting Method Builder (AMB) – Beyond the basics, Anne Ristau, 04/09 at 8am room 501
• Setup and Use the R12 AP/AR Netting Feature, Anne Ristau, 04/10 at 9:30am room 502
• Reality Versus Myth: Co-existence of Fusion Applications HCM with Oracle E-Business Suite HRMS, Gustavo Gonzalez, 04/09 2pm room 610
• 10 Things you can do today to prepare for Oracle E-Business Suite 12.2, Oracle team & Gustavo Gonzalez, 04/10 8:15am room 603
Tuesday will start with Sean Tucker's keynote at 9:15am at Bellco  Theatre. It's going to be another busy day with many sessions from the experts.
At 5:30pm there's a happy hour at the exhibitor showcase and I recommend stopping by the IT Convergence booth to drop your business card for the chance to participate for a fantastic drawing!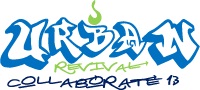 Urban Revival Party
Wednesday starts early but you must keep it up until late because that day is the Urban Revival Party at the Mile High Ballroom, featuring "Under a Blood Red Sky: U2 Tribute Band "
Thursday will keep you busy with more than 170 sessions and great topics will be the last knowledge stair for a huge step forward in your professional career.
If you're planning on being in Denver for Collaborate 13, please plan to attend our session and/or stop by Booth #1423 to me with us in person. If you're not lucky enough to make the trip, then make sure to visit our Collaborate 13 resources page, where we will be posting session Power Points and White Papers.