Day 1 of Collaborate 14 in Las Vegas saw beautiful weather these days will be hidden below the roof of the Venetian with very exciting networking and giving and taking knowledge from the users and the Oracle team.As there's lots to share, on with the details!
Oracle E-Business Suite Customer Advisory Board @ Collaborate 13
The day started early at the Oracle E-Business Suite Customer Advisory Board meeting where, as always, we share our own feedback as well as that of our customers with Oracle as they introduce us the roadmap and what's coming next for Oracle EBS.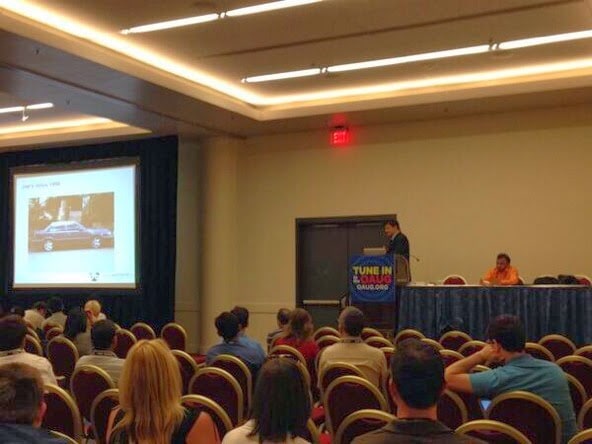 There are a few highlights which are important to share from the meeting. 
First is on how companies are taking advantage of Oracle E-Business Suite Release 12.2, with a few customers live and a bigger number going live through the rest of the year. IT Convergence is working on several R12.2 upgrades including one of the first upgrades to this new release for Latin America.
Going a little bit more technical on this matter, Oracle is recommending Release Update Pack that was published on March 11th for Release 12.2 that is not marked as mandatory but, it needs to be treated that way.
I'm talking of Note ID:1617461.1 Applying R12.AD.C.DELTA.4 and R12.TXK.C.Delta.4. 
As we anticipated estimated, the Oracle team is working on the new Oracle EBS 12.2.4 and should be coming up soon bringing new functionality. We've seen very interesting features and one thing that we can tell you is that E-Business Suite will be "simplified" and that might ring the bells similar to those heard around Fusion Applications…
View from the Trenches – EBS Goes Mobile, Buzz on R12.2 and UPK
After that meeting it was time for the sessions. Lisa Parekh showed in 60 minutes the roadmap of EBS and presented more than 14 mobile applications that will be built natively for E-Business Suite.
Then, it was ITC's turn to present our experience on Oracle Release 12.2 and the room was full with more than 120 attendees. The audience gave us very good feedback and interesting questions around what is the value that R12.2 will bring to their organizations. If you missed the session, please check the Oracle R12.2 A to Z Preview blog and/or visit our Collaborate 14 Resources page to download your copy.
After that we ran to see Jordan Collard's presentation on UPK, which filled the room. If you missed his session, please make sure to attend the OAUG UPK SIG meeting at 5:30 pm in Galileo Level 1, 1005.
Closing Out the First day at Collaborate 14…
One interesting bit of news to come out of Day 1 is that that Max Arderius from the Oracle Applications Technology Group was recognized by Oracle Application User Group as Ambassador. Max has a long history in product development at Oracle, dating back to the 1990's, and we're excited to take on this new role.
The day wrapped up with an outstanding dinner with fellow Oracle ACE and ACE Directors at Canaletto in The Venetian .
As Day 2 unfolds, looks for IT Convergence CTO and Oracle ACE Director at Collaborate's "Meet the Experts:  Oracle E-Business Suite Strategy and Road Map" hosted by Oracle Corporation's Cliff Goodwin in Casanova Level 1, 505 at 3:00 pm.
Likewise, you can expect to find ITC's UPK Practice Director Jordan Collard at the "Oracle User Productivity Kit Product Road Map" session with at 4:15 in Marcello, Level 4 4520.
You can't be at either of those sessions, please stop by Booth 1049 when the exhibition hall opens.
Follow the action at Collaborate 14 as it happens! Click here to access all blog entries with our Collaborate tag.