Collaborate 14 Outtake: Round Up of Oracle R12.2 On-Line Patching, Cloning, and 12c Certification for EBS
Day 2 was a big day at
Collaborate 2014
with lots of insights on R12.2 On-line Patching, Cloning, and Certifications. But before we could get to the deep dives on Oracle functionality and technology, the day started with  Adam Savage's keynote.

Savage, host of the Discovery Channel's popular "Myth Busters" talked about collaboration and his experience with one of the coolest TV shows on TV today. It was a great speech and also took questions from the audience telling some of the toughest things he made like trying to get out of a car below the water (which is why he does not allow his mother to watch that show).
From Myth to the Reality of Oracle R12. On-Line Patching
Right after the keynote, Kevin Hudson from Oracle gave an in-depth presentation on the technical details of Oracle's online patching functionality and discussed how this new online patching is changing the paradigm of patch application. Here are a couple of highlights:
Resource allocation – or the "cost" incurred by using online patching. In the database SYSTEM tablespace double its current space allocation during on-line patching activities.
SEED tablespace also requires double its current space allocation.
The introduction of a new filesystem, of course doubles the file system space.
The Oracle E-Business Suite R12.2 product roadmap which is currently under development includes provisions to develop an off line patch application. Seems like it won't be released in 12.2.4 but it will bring the possibility for those whose business needs or technical environmental needs dictate that the continue to use the traditional off line patching.
Oracle E-Business Suite Cloning and Certifications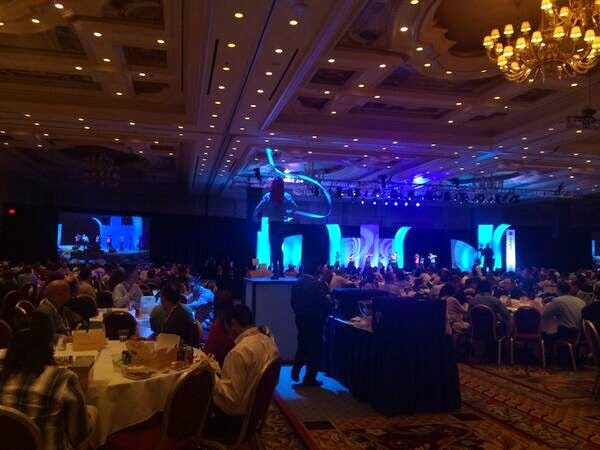 Front Row Seat to Lunch at Collaborate 14
Lunch break had a big musical show which was great to take a deep breath before jumping into more sessions.
The afternoon brought 2 must attend sessions. The first was Steven Chan's discussion on about certifications and a panel on cloning.
Steven talked about the different certifications, sending a clear message that Oracle Database 12c will be certified for E-Business Suite R12.2 very soon and he also reiterated what he had said on previous occasions about some of the new features such as Simplified Home screen, gestures, and Oracle's 14 new mobile apps to add richness to the ERP solution.
The cloning panel had a great crew comprised of many members of the customer advisory board and key people from the Oracle team. The discussions centered around the new cloning process for R12.2 those processes were presented by Max Arderius and who also discussed some challenges on cloning R12.1.3.
The panel delivered very good information and we strongly recommend participating on this type of panel because of the top caliber of the panelist involved.
To close the day, the exhibitor hall opened with food and drinks and also having many visitors at ITC booth talking with our experts.
Stay in Touch, Stay Connected
If you're looking for more information on Oracle R12.2 please make sure to stop by Booth 1049 while at Collaborate 14.
If you're not in Vegas and/or if you find this post after its already too late, click here to access close to two dozen blog posts on Oracle R12.2 and/or visit our Collaborate 14 Resources page to download presentations and white papers on Oracle R12.2.