Collaborate 2014 was an outstanding success! IT Convergence's Chief Technology Officer Gustavo Gonzalez even got into a debate over support with Rimini robot. Yes, we disagree oncertain aspects but it was a good discussion on why the value of anupgrade should not be tie to a support!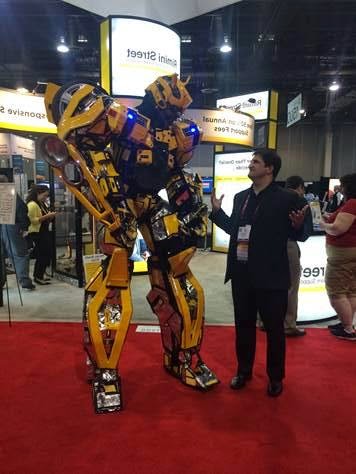 Every year on our way back home from Collaborate, I repeat the samewords "It was better than last year." The user groups OAUG, IOUG and QUEST did as always a great job putting together a show with hundredsof educational sessions and networking events that made Collaborate2014 the best ever.
So let's summarize some of the highlights of the show:
In terms of technology,Oracle Database 12c is being adopted more andmore widely and now everyone is eager to hear from those early adopters that havestarted to use advanced features and learn how you can move from theory to practice.
Fusion Middleware and SOA has so many interesting examples ofimprovements in monitoring and integration demonstrating a step forwardin how to reach a short term return on investment (ROI). To that end, ITC's Vice President of Cloud Services, Bimal Dorshi's presentation on how Oracle Web Center can be integrated with Oracle E-Business Suite is a good example of using standardization to decrease of total cost of ownership.
Oracle UPK continues to be the preferred tool for training, and it is alsoextending its use for testingpurposes. IT Convergence UPK Practice Director Jordan Collard's session was a greatdemonstration on how a cost effective tool can expand its functionality.
On the Oracle Applications side we saw a big change from 2013 on therelease adoption. Last year we have many hands being raised when askedabout 11i. This year it was clear that the adoption of 12.1.3 wasabout 70% or more. And the attention from those who were on 11i andorganizations already in R12, was on Release 12.2. Common questions at session included:
• What was onlinepatching?
• What is Oracle R12.2'snew functionality and how can I leverage it formy organization?
• How is the cloning process of R12?
Answers to these questions could not be delivered in single session but many presenters from Oracleand integrators such as IT Convergence explained from multiple angles. (Click here to read over a dozen Oracle R12.2 related blog entries.)
Oracle's E-Business Suite product development team laid out EBS's future road map along threepillars: User Experience, Functionality and total cost of ownership.
• One sign that Oracle is on the right path is the simplified look and feel for EBS along the lines to what we've seen in Fusion Applications for 12.2.4
• 3 native mobile applications about to be released and 14 more in the roadmap will clearly be a game changer on the ROI for new versions.
Lunch breaks like Tuesday with a Vegas show, are fantastic and lets you makesyou recharge for more educational sessions.Collabo-Con party that made us celebrate with friends the excellenttime was a great wrap up for another outstanding conference made byuser groups.
The next conference that I will be participating is the Oracle Day inMexico City on April 29th, see you there or just follow us for moreinformation.
Staying Connected Now that Collaborate Has Come to an End
Collaborate 14 has indeed come to an end, but you needn't travel to Mexico City nor wait until Oracle OpenWorld 2014 to hook up with IT Convergence.
First, you can click here to access our Collaborate 14 Resources page where you can download copies or our presenters Power Points and White Papers.
You can join our webcast "Next Generation Backups with IT Convergence" on Tuesday April 15th at 9:00 am Pacific/12:00 pm Eastern.
– Gustavo Gonzalez, Chief Technology Officer @ IT Convergence
Click here to access all blog entries with our Collaborate tag.