Collaborate09: Day 2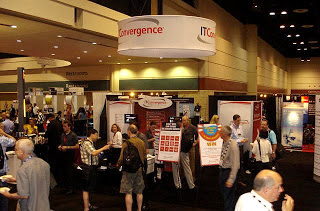 Conferences such as
Collaborate
are a great way to network. Network with leaders, users, trainers, first timers, vendors and if you are a foodie, you could include the caterers to your list. Networking at events such as these happens without pre-meditated intent, and that's the beauty of it all. The Q&A sessions during or at the end of a presenter's session make one realize that he or she is not the only one feeling lost or theirs is not the only unique situation: All of us face challenges in delivering business solutions.
As a consultant, I find the interactions between various users very enlightening. It gives me a perspective into their concerns and challenges that they face in the execution of their duties, and what makes them open up in a room full of strangers is something I will never grasp. After all, too often users are guarded when acting in their professional capacity and they never seemed to be as candid as they are when they're at trade shows. But in a different city, amongst strangers, they are more willing to share experiences. But I speak as a consultant!
As a speaker, I enjoy the banter between the audience. It tells me that I have been successful in communicating an idea, a concept. If my presentation can evoke a healthy debate that no longer requires my "expert comments" I consider it a success. Of course, sometimes, one has to moderate the discussions with an eye on the clock.
The sessions I have attended over the past 2 days have introduced me to many people. In some instances, I have simply learned about their issues and their pain. In others, I have been able to help them. Being a functional HCM practitioner, it has been my privilege to talk to people about UPKs, benefits and challenges of data management/migration. At the end of 4 days, all of us will return home taking a little bit of each other with us, a better understanding of our problems and the optimism and hope of being able to come up with a solution.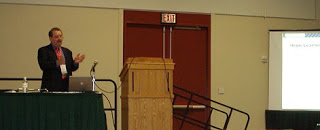 I mentioned the low number of attendees yesterday. This reality was all too apparent today, when I saw many rooms quite empty save for a handful of attendees. In many instances that number did not cross double digits. Of course, I must mention that there are some which are well attended with at least 3 dozen participants. The low numbers for some sessions is not surprising given that there are 19 tracks and each track has 19 sessions spread over 4 days. Add to that hands-on sessions, education sessions, user group and interest group meetings – well… you get the picture? There are just not enough of us to fill all the rooms.
Tomorrow is my day to present. As usual, despite having done this at various forums before, I am nervous. I do know of at least a couple of people who will be attending as they have announced their interest already. Tomorrow is also the big party at Universal Studios. If the festivities of the night do not disturb my cerebral equilibrium, you might read about it here. Till then, Au revoir!
– Subash
Through out Collaborate 09, the ITC team will be updating this blog. To follow the action in Orlando, simply click on the "Live from Collaborate" tag.