"Collaborate 13 Outtakes" from the Oracle E-Business Suite Financials Handbook
IT Convergence Chief Technology Officer and Oracle Ace Director Gustavo Gonzalez took part in an Oracle Press book signing session while at
Collaborate 13.
Gustavo participated there in his capacity as the co Author of Oracle E-Business Suite Financials Handbook, 3rd Edition which was published in 2013.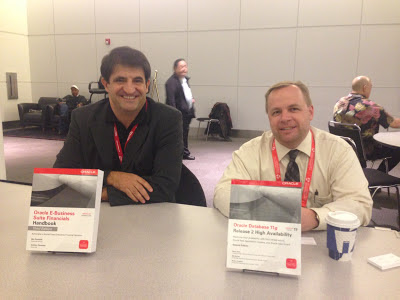 Since a healthy Oracle Financials solution is vital to ensuring a good ROI in Oracle EBS, we asked Gustavo to answer a few questions about the book as part of our "Collaborate 13 Outtakes" series.
Common Questions on Upgrading to Oracle EBS R12 Financials
Q. Your background is in Systems Engineering and Enterprise Systems management and you have the benefit of having worked with Oracle EBS as a systems integrator, end user and as a vendor. How did this perspective influence your writing of the Oracle E-Business Suite Financials Handbook, 3rd Edition? What are the advantages and disadvantages to authoring a book about Oracle R12 Financials upgrades without a heavy background in accounting or finance?
A. Well, as you said, I'm a systems engineer and also an MBA candidate. On top of this, I've got more than decade of experience in implementing, upgrading enterprise systems and this gives me a well-rounded ERP background from which I can share
As a result the book allows the readers to jump start and speed up the knowledge transfer process that is vital for an Oracle R12 Financials upgrade or implementation. In addition, my co-author is a senior Oracle DBA who has written several books on Oracle 10g and 11g, and he provides excellent information from a technical perspective.
Q. Any Oracle upgrade is going to go through the standard phases of requirements gathering, gap analysis, CRP's etc…. So a lot of the methodology is going to be fairly predictable, which makes the C-Levels happy. But for stake owners who really want to avoid risk, is there any one part of a Financials upgrade that too often gets taken for granted or overlooked?
A. Well, I don't know that there is any one part of an Oracle R12 Financials upgrade that gets overlooked, so the direct answer to your question is "no."
However, there are many challenges and common pitfalls to avoid. One of the first, and most important decisions that will drives the level of risk in an Oracle Financials upgrade pertains to defining the project scope:
Are you going to do a straight technical upgrade?
Are you going to do a full feature driven upgrade?
Or are you going to do a hybrid upgrade?
Obviously, the more complex the upgrade, the higher the risk. However, once you've made this decision, you're not done. Once you make a decision on the scope of your R12 upgrade, you need to stick to that. It is very important to ignore temptation and reject requests to alter the scope, or working an extra customization here or a minor module extension there.
Once you start making exceptions, even little ones, your project can get out of hand very quickly. Trust me on this one.
Q. Fair enough. But how would you counsel companies to make the the vanilla upgrade, feature driven upgrade, and hybrid upgrade choice?
A. Well, the answer is clearly going to depend on the company, their footprint, business needs, and any number of factors that can't be anticipated in the abstract.
However, there are some guidelines I can give you. Based on my experience I'd recommend beginning this process by establishing a metric on the total cost of ownership (TCO) of your implementation. Once you have that, a lot of other considerations begin to become clear. For example, it is extremely important to decrease customizations when moving from 11i to R12, and this will help you both minimize the TCO and leverage many of the new features that are available in Oracle R12.
Q. If a company is in the process of gearing up to upgrade to Oracle EBS Financials R12 in the next year, what role should Oracle Fusion Applications Financials play in their planning?
A. The question is a good one because there is a lot of confusion out there about how Oracle 11i and Oracle R12 customers will find their path to Fusion Financials. If you're on EBS and upgrading to Oracle R12, you don't need to worry about "planning a path to Fusion." Strictly speaking, its not a relevant consideration.
Now, with that said, it is important to have Fusion Apps on the table when you evaluate new modules or functionality that is not available on EBS.
While we're on this subject, let me clarify that to my knowledge Oracle E-Business Suite EBS will continue to have multiple versions and after Release 12.2 reaches general availability will be a series of dot releases 12.2.X that introduce new functionality and features by module and industry.
Q. You've come all the way from the Pampas of Argentina to Denver for Snowllaborate 13. Oracle Press is obviously inviting you to autograph copies of Oracle E-Business Suite Financials Handbook, 3rd Edition. However, is there any truth the rumor that you're also open to autographing Boca Junior's Jerseys or Argentine Pumas rugby balls?
A. I'd be signing jerseys from my team "Independiente," but the sad news is that this might be the jersey that my team will end up using when they get sent back down to the minors.

More of Your Questions on Oracle R12 Financials Answered
Although Collaborate 13 is coming to an end, there are still plenty of ways you can educate yourself on Oracle Financials R12. Our Collaborate 13 Resources page you can register to download white papers on R12 AP/AR Netting and the Oracle AMB.
If you're looking for hands on training, you can go to our Oracle Financials New Features workshops. And of course you can purchase Oracle E-Business Suite Financials Handbook, 3rd Edition from Amazon.