How can SOA benefit you?
There's been a lot of confusion as to what SOA (Service Oriented Architecture) is, and how it can benefit you or your organization. Many, including technologists, still don't know the advantages of SOA and how it can result in true ROI.
I have often come across the following questions regarding SOA:
– What is SOA?
– I think I need SOA, but don't know where to begin.
– I thought web services meant SOA.
As the number of systems and applications increase, organizations face challenges ranging from integration, maintaining legacy systems, and upgrades. The environment becomes convoluted and is an administrative nightmare. This image truly describes how big an impact SOA can have in transforming your IT infrastructure.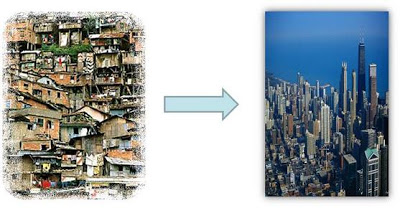 SOA relies on the key concepts of services, reusability, and standardization to transform your organization and provide a truly service oriented architecture.
Customer Success Stories
Here are summaries of actual implementations that our team has been involved in that resulted in strategic successes for our clients.
1. By implementing SOA, one customer was able to reuse their legacy systems, thus saving them the cost of having to go through a technology refresh.
2. Clinicians at a large hospital no longer had to double-enter their patient information after completing their rounds, resulting in increased productivity.
3. An enterprise corporation was able to integrate 100% of their systems, including their ERP, CRM, billing, finance, and data warehouse systems.
What can SOA do for you?
In summary, SOA can help by providing the following:
– Expose your software functionality as services.
– Route data between your systems.
– Transform data as it moves from one application to another.
– Process orchestration.
– Workflow capabilities, such as task approval and notifications.
– Integration.
– Bulk data load; for example, to a data warehouse.
By leveraging technologies such as BPEL and ESB through products such as Oracle SOA Suite, the options are limitless.

Example of an abstracted routing and integration from Oracle E-Business to other systems.
Example: Integrations
One very large customer had hundreds of applications and systems that grew over the years, but maintained a single master system that all other applications talked to. Unfortunately, whenever a change or upgrade was made to this system, thousands of emails would go out to their various partners, vendors, and integrators information them of this change. Why? They no longer knew who was connecting to their system and were afraid that any change might break one or more of the existing integrations.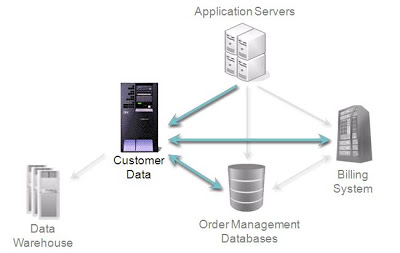 Now the various integrators supporting this customer were happy with this arrangement, as they easily charged $100,000 per redevelopment effort. Imagine leveraging a Service Oriented Architecture, where all data would go through a SOA layer. Any change to any system would be abstracted to the others. Redevelopment costs are reduced drastically. Customer is happy. Consulting companies are not.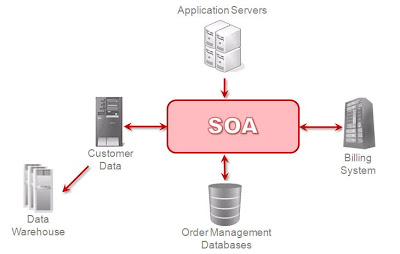 By implementing a true Service Oriented Architecture, many benefits exists.
SOA reduces cost – By conforming to open standards, by eliminating point-to-point integrations, by continuing to leverage legacy systems and applications, and by reusing assets, both development and maintenance cost is drastically reduced.
SOA provides business agility – By exposing business processes as services and enabling reusability of software and services, businesses are more agile than before and can quickly adapt to meet customer demands.
SOA delivers simpler systems – By reducing integration development and complexity, your infrastructure is much less complicated. Ripping-and-replacing systems no longer requires massive redevelopment efforts.
To find out whether SOA is right for you, contact an IT Convergence representative today. Make sure you align yourself with a company that has true implementation experience. Many SOA initiatives fail due to a variety of reasons that range from lack of skills to lack of best practices.
IT Convergence Technology Services will be making a series of posts on Oracle SOA solutions on this blog throughout the year. We invite you to use the comment section to ask questions, make your own observations, or simply share ideas. You can access all SOA related posts by simply clicking on the Oracle SOA Suite tag.