One of the biggest challenges that organizations face when implementing new business applications is end-users resistance to change. By providing user training before or after go-live, full adoption is simply not guaranteed. According to Lynda North, the average adult mind retains only 22% of a 90 mins training session and the average employee's time to proficiency is 8 to 14 weeks. In other words, training is an event, and learning is a process. Therefore, one of the most effective ways to realize a higher ROI on your software investment and maximize employee productivity is to provide user guidance and help content right when they need it, within the live application.
In this article, we will explore how the ANCILE Electronic Performance Support System (EPSS) can provide post-go-live performance support and help increase user productivity.
Context sensitive help
Today's fast-paced work environment is constantly pushing companies and employees to leverage new technology to stay competitive. To keep up with these changes, employees often find themselves researching steps and procedures online, asking coworkers for guidance and submitting help desk support requests. While employees can get the information they need from these methods, the specific details are not consistent or tailored for their organizational needs. These methods can also result in slower productivity and wasted resources.
With ANCILE uPerform, whenever employees get stuck while performing a procedure within a software application, they can click on the help button of the live application and instantly access simulations and training guides related specifically to the transaction they're are trying to carry out, thanks to uPerform's context-sensitive help. The context-sensitive help can incorporate conceptual information, audio, simulations, assessments, pop-up guides, videos and more. Users can access help from their work stations, or on the go using smartphones or tablets. The tool has a tracking capability, making it easy for users to provide feedback to authors, subscribe to items, pages or discussions and receive notifications about changes. Managers can also publish detailed reports about the help files' usage statistics for different user groups, or specific individuals, which would help managers determine which transactions or procedural areas are the most difficult for employees to become proficient in.
Context sensitive help provides users with a comprehensive, adaptable, engaging, just-in-time and just- enough learning experience.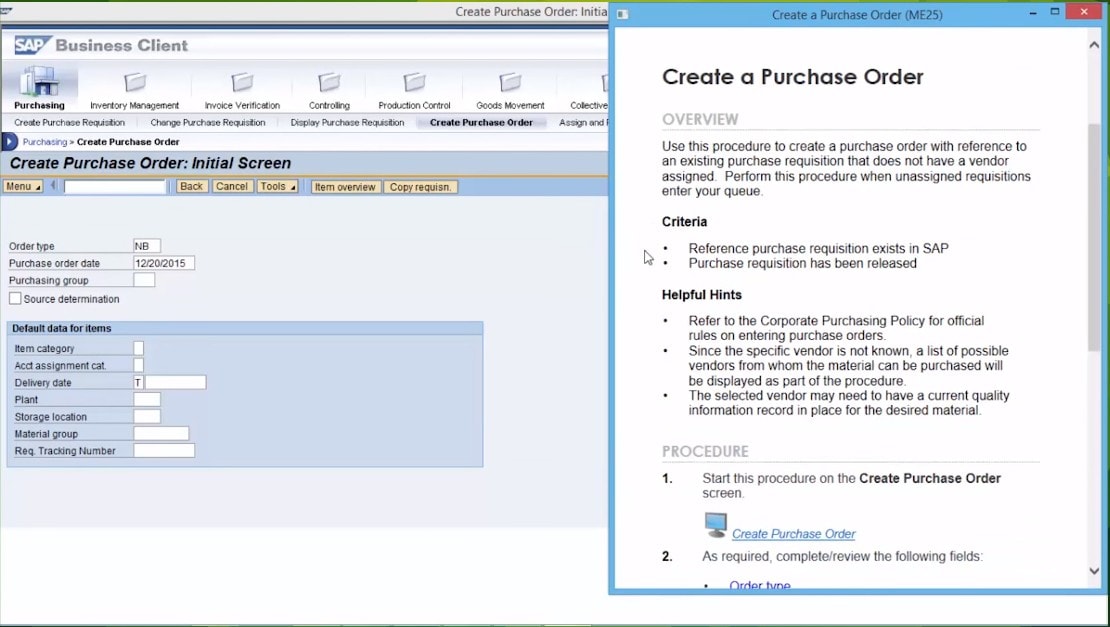 Supported applications
ANCILE's user adoption solutions support virtually any Microsoft Windows or web-based application. Over 100 of the world's most used business applications are currently supported by ANCILE uPerform, with new applications added each year.
The bottom line
Better learning experiences are always great, but how does this feed into the bottom line?
During a recent study conducted by Hobson & Company and ANCILE, uPerform's EPSS solutions lead to measurable gains for organizations. The study identified a significant reduction in help desk calls and tickets. Using sample data of a company with 2500 employees, and with each new employee spending ~30 minutes per week looking for support information and assuming that ANCILE uPerform eliminates 5 minutes per week, then by saving each of its 2,500 employees 5 minutes a week, it would lead to $354,000 in additional productivity for the company.
Learn more about ANCILE uPerform, request a Demo with us today.