A new ERP system is a great way to improve business performance, align with reporting/regulatory compliance requirements and position an organization to better handle market demands. However, ERP implementations are also notoriously complex and high risk projects. Over the last years high profile organizations such as Hershey Foods, FoxMeyer Drug, Waste Management and the US Navy have seen failed implementations, leading to disastrous results for the bottom line [1].
According to a 2016 report, 46% of ERP implementations fail to achieve 50% of expected benefits while 57% of projects run over budget [2]. One of the most common mistakes cited in reports is failing to focus on end user adoption which leads to human errors, outages, help desk calls, employee disengagement and cost overruns.
For these reasons, ensuring your organization has the best tools in place to drive end user adoption, is a critical element for determining implementation success. One of the best tools to meet those demands is ANCILE uPerform. uPerform is performance support software that delivers targeted, high-quality learning content to employees in a range of formats to meet the needs of both managers & end users.
Develop Training Efficiently
uPerform allows authors to easily create, edit and publish multiple outputs like procedures, task based simulations and eLearning courses from a single source file. The built in collaboration features help authors collect feedback, work together to develop educational content and share knowledge. Outputs are easily kept consistent by using templates, centralized recording settings and workflows.
uPerform can record virtually any Microsoft Windows or web-based application and is able to tackle the complexities of developing SAP training, Oracle EBS training or JDE training, to name a few.
What's more, the same source file used to generate learning documents can also generate test documents and test scripts. This allows companies to include training at an earlier stage in the implementation life cycle and integrate it with software testing.
Just-in-time Global Rollouts
Planning a global rollout can be a massive hurdle involving travel and accommodation expenses, booking venues, training systems, translators, subject matter experts, an extensive schedule and many productive hours missed for employees. uPerform can support complex rollout projects with the help of comprehensive translation and localization functionalities and JIT deployment of simulation, courses and documents through its build-in end user website and access management.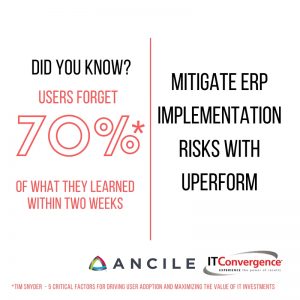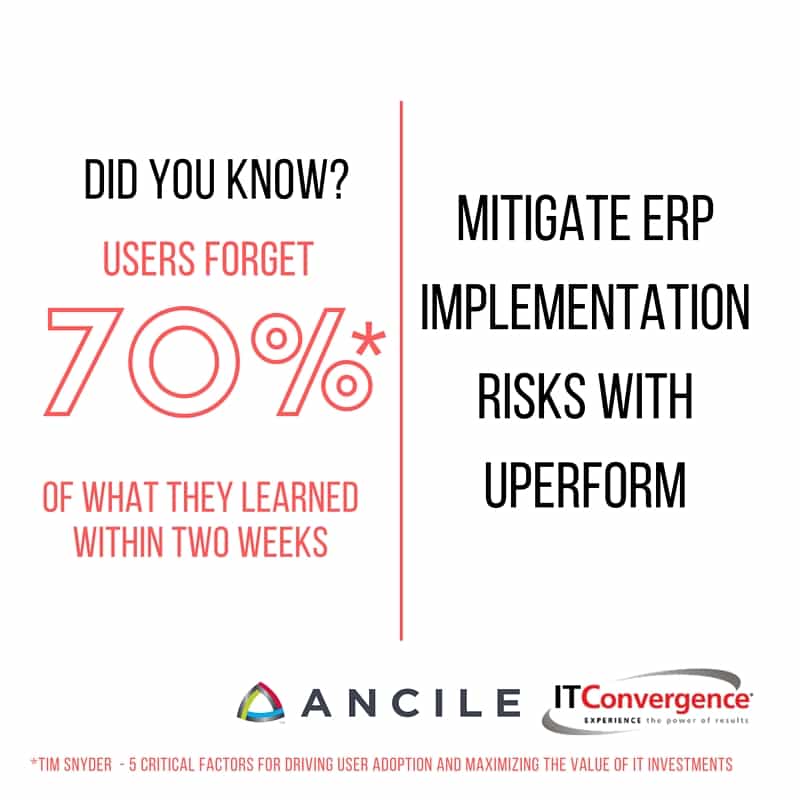 Increase Training Effectiveness
uPerform provides several functionalities geared to take advantage of adult learning concepts. The Auto Playback simulation mode and text documents address the needs of visual learners, the text-to-speech and recording functionalities enhance the experience of auditory learners while the Standard simulation mode engages experiential learners. Practice or question based assessments as well as comprehensive reports help managers track the knowledge retention over long periods of time.
Over the 10 years average lifespan of an ERP system [3], retaining knowledge in the organization can prove to be a challenge. ERP training is not a one-time effort. Users will forget 70% of what they learned within two weeks and 87% within one month [4]. uPerform's solution to this challenge is the performance support function. You can easily integrate documents and simulations directly in the in-application help for on the job assistance. This has proven to significantly reduce weekly time spent searching for information and help desk calls.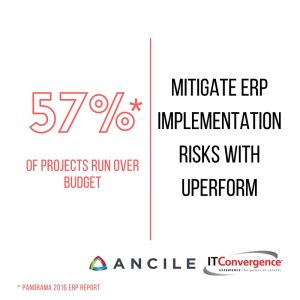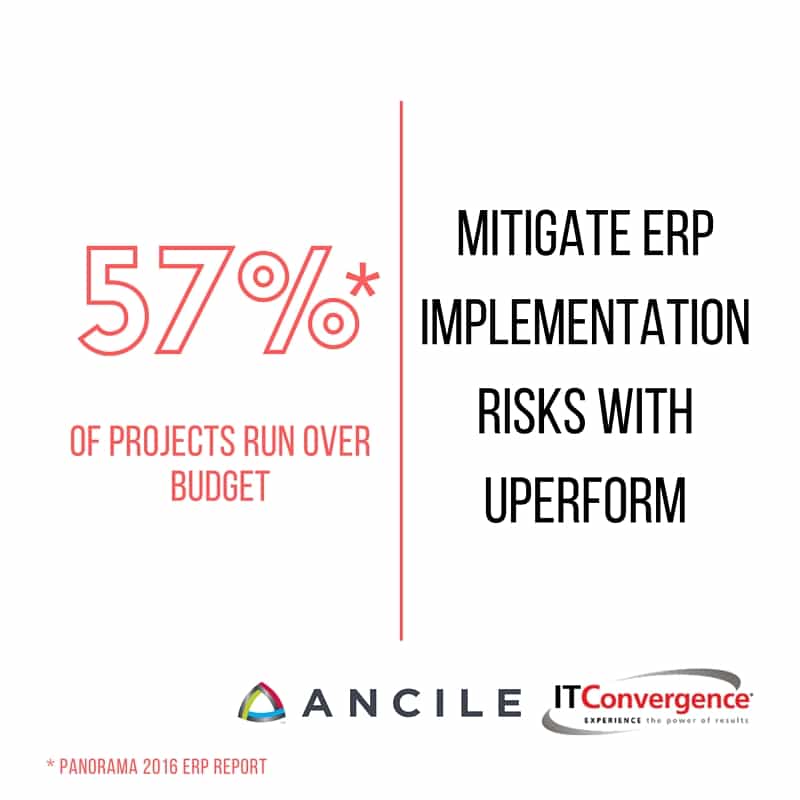 Reduce Cost
By reducing learning infrastructure and support spend, saving 50% authoring time, increasing employee efficiency and reducing the time to proficiency, uPerform can have a major impact on the project's bottom line. According to an ANCILE white paper, a company creating 3500 documents in the first year and aiming to train roughly 2500 employees per year can register cost savings of 3.4 mil USD in the first year [5].
Stay Connected to Get the Latest on uPerform!
Contact us to find out more on how uPerform can drive end user adoption while saving money in ERP initiatives.
---
References:
[1] Getting IT Right in ERP, www.industrialsupplymagazine.com
[2] 2016 REPORT ON ERP SYSTEMS AND ENTERPRISE SOFTWARE, panorama-consulting.com
[3] Korner, Kurt, 10 MAIN REASONS FOR ERP IMPLEMENTATION FAILURES, www.netswitch.net
[4] Snyder, Tim, 5 critical factors for driving user adoption and maximizing the value of IT investments, www.riverbed.com
[5] Driving User Adoption with ANCILE uPerform: The Economic Value and Benefits, www.ancile.com