Starting in the 1990's it became standard operating procedure in all large and even mid-sized companies to use an ERP system  such as Oracle E-Business Suite to manage business processes like Order Management, Accounting System or Supply Chain Management, along with the complete sales and revenue cycle from quote-to-order and order-to-cash.

However, as recently as only a half-decade ago, those same companies either ran CRM systems completely independently of those ERP solutions or they scarified high quality CRM functionally for a CRM alternative that was "good enough"  but integrated easily with Oracle.
However, this began to change at the beginning of the second decade of the 21st century, as companies began dropping their legacy systems and opting to move to SaaS-based CRM solutions such as SalesForce.com.  The attraction of solutions such as Salesforce.com is twofold: first, they offer best of breed functionality; second, the SaaS model makes them very attractive from a total cost of ownership perspective.
However,  the downside that Oracle users face when they adopted a SaaS solution such as SalesForce.com was that it didn't integrate with Oracle E-Business Suite. And this creates problems such as data silos, data scattering, data quality issues and other major inefficiencies related to business process execution. Maintaining your data also becomes a challenge, as data captured across your system must be duplicated to SalesForce.
To overcome these issues and take full advantage of Oracle EBS and SalesForce.com organizations need to achieve a seamless information flow between the two: they need to integrate them. This much has long been obvious.
The real challenge has always been: how do you integrate the two systems cost-effectively?
For a long time, the answer was, "You don't, not really" as Oracle ERP and Salesforce.com integration was complicated and costly.
Fortunately, things are changing….
Solutions using Oracle SalesForce Adapter
There are many options available to integrate your Oracle applications and systems to the SalesForce Cloud, and each comes with its own set of advantages and disadvantages. We will be primarily focusing on integration using SOAP based web services, which involves meeting some challenges:
1.    Point-to-point integration increases complexity and maintenance requirements
2.    Long development cycles involving point-to-point integrations
3.    No unified view of target system to enhance reusability across integrations.
Getting Technical
Luckily, to overcome these issues and reduce integration complexity, Oracle has developed its Cloud Adapter for SalesForce, which brings new benefits to the table:
1.    Graphic SalesForce API discovery wizard, which allows developers to quickly find the correct API to use.
2.    Security configured as per setup, relieving developers of writing code during development.
3.    Session management handled entirely by the tool.
4.    Better access, thanks to being optimized for operations
5.    Possibility to write SOQL to retrieve data from SalesForce.
6.    Extension enablement using SDK.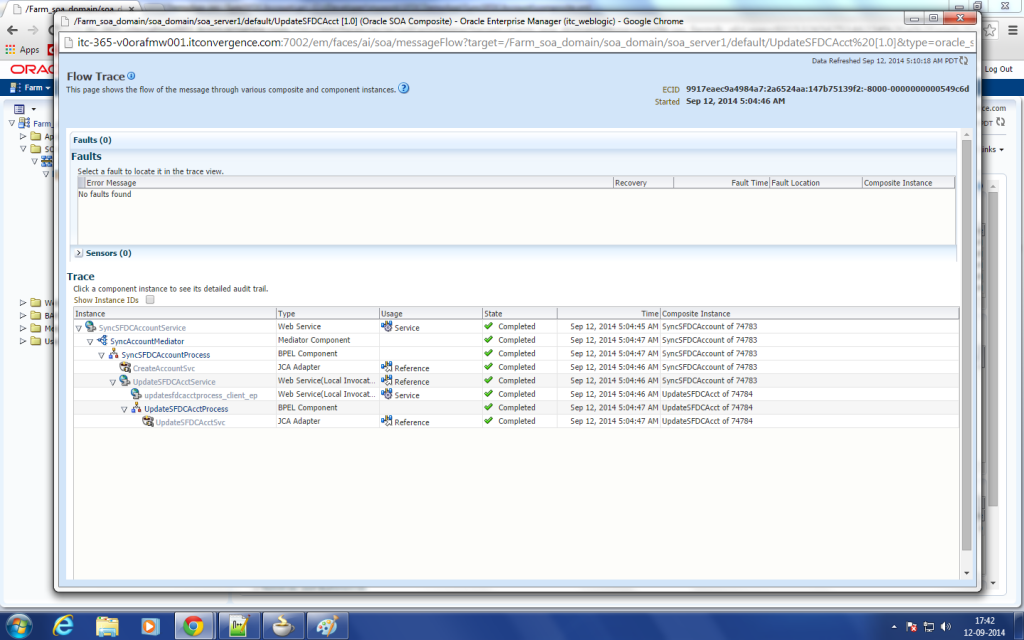 The Business Case
The technical improvements of integrating Oracle ERP with Salesforce.com alone might not make the case in the corporate boardroom, but their associated business benefits surely will:
1.    Reduced Cost of SalesForce.com Integration: Oracle Cloud Adapter for SalesForce.com significantly reduces the cost of developing and maintaining this complex business logic through its simple features.
2.    Improved Developer Productivity: the adapter provides a graphical wizard for configuring connectivity and integration with SalesForce.com.
3.    Reduced Time to Market: Oracle's tool significantly reduces the time needed to develop the integration of SalesForce with other on-premise or Cloud applications.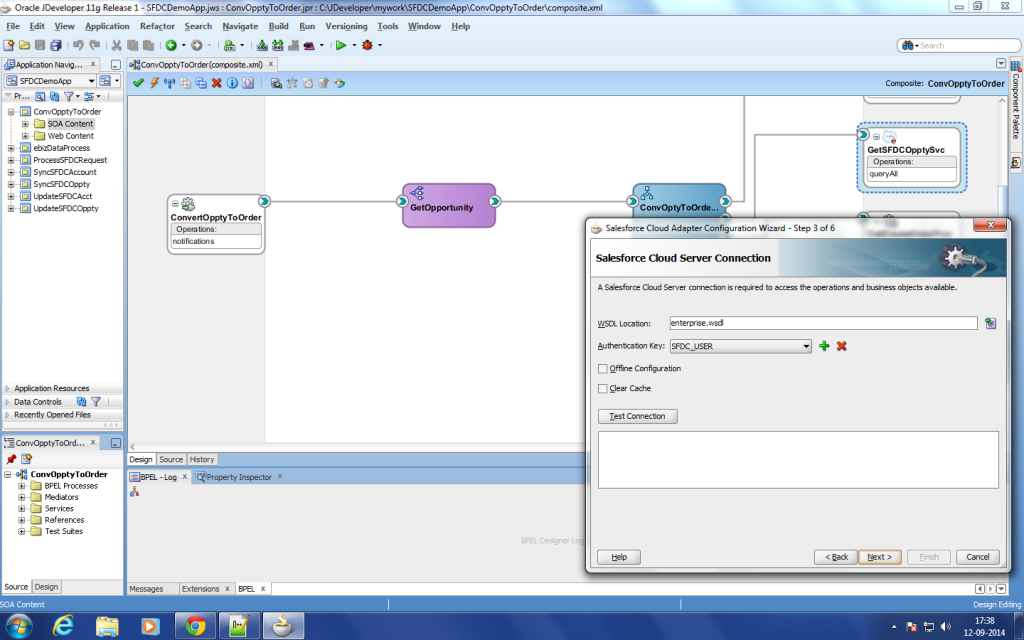 SalesForce Cloud Adapter: What it Really Does
It's all very good with the technical improvements and cost-effectiveness, but which are the advantages of integrating SalesForce and Oracle EBS on an everyday basis?
1.    No more manual re-entry & data duplication
2.    Comprehensive information tracking: e.g. salesforce can track leads and opportunities and EBS can track orders.
3.    Complete view of quote-to-cash cycle involving both systems
4.    Almost real-time information sync: e.g. an account created in SalesForce should be immediately available in Oracle EBS.
5.    Ability to create sales orders in EBS straight from Salesforce
6.    Complete visibility of Sales efforts for the orders, shipping and accounting teams
7.    End to end visibility of orders, shipping and billing
It's set – How Do We Do It? Developing the Integration
Curious about the integration itself? Here are the high level steps to develop the integration code so you can start calling both Oracle EBS and SalesForce using Oracle SOA.
1.    Configure the SalesForce Adapter
a.    Download the SalesForce adapter and configure it on SOA server. The SalesForce adapter can be downloaded from Oracle e-delivery and configured following the steps in the installation document. Mind that the SalesForce certificate, user and CSF key are set properly. The Oracle Cloud Adapter for salesforce uses two-way SSL (using salesforce certificate) for interaction with Salesforce.com. The SalesForce certificates must be imported into Oracle Weblogic Server using an upload or import utility.
b.    Install and configure your development environment for the SalesForce Adapter.
c.    Download the "enterprise.wsdl" file from SalesForce and import it to development projects
d.    Connect to the SalesForce Adapter in your development environment and use it in the integration project
2.    Configure and use the database or application adapter for EBS
3.    Depending on the business flow , call SalesForce or EBS API from your BPEL code
4.    Deploy the integration project to SOA server and test it

Want More on the Topic? Join Our Webcast!
Back by popular demand, on September 19th ITC will be bringing you an encore presentation of our webcast: "ERP-SFDC Integration with Oracle Cloud Adapter." Register today and learn how Oracle's Cloud Adapter can help you simplify integration. Reserve your spot here.
Protect Your Returns & Improve Quality Processes
There's a smarter way to test. Join our webcast on September 23rd and learn all about Oracle Applications Testing Suite (OATS) and why its value goes beyond automation. Register today.
Too Late to Catch the Webcasts?
Don't worry – if the internet has brought you to this page after these webcasts have come and gone, make sure to check out our Fusion Middleware Solutions page.