"Clouds on the Horizon: "What's the Best Oracle Fusion Strategy for 11i and R12 Users" Q and A
IT Convergence's CTO Gustavo Gonzalez served as a guest presenter in eprentise's webcast
"Clouds on the Horizon: What's the Best Oracle Fusion Strategy for those Still on Oracle 11i or R12."
Those who are interested, can view the video in full at the eprentise webcast by
clicking here
.
IT Convergence thanks eprientise for giving us this forum to interact with the Oracle end-user community, and we are happy to share a full transcript of the Q and A session which followed the webcast.
Q: Are Oracle Fusion Applications available today?
A: Yes, Oracle Fusion Applications are available today and, as mentioned in the webcast, you can implement them on-premise with all the modules and families available. If you're more interested in the Software as a Service model (SaaS), you can implement Oracle Fusion Applications, although the full range of modules is not yet available on a SaaS basis. Oracle made the product generally available almost two years ago and there are many organizations already using it. A good example of a customer adopting Fusion Applications gradually is Land O'Lakes: here's a video with their experience from Oracle's website (click here).
Q: Do I need Oracle Fusion Middleware to run Fusion Apps?
A: The answer is yes, you need Oracle Fusion Middleware if you're planning to install it on-premise. This is one of the biggest advantages of Fusion in terms of how it simplifies and standardizes the back-end of your Apps-infrastructure. Here's a figure with Fusion Application's architecture that can help you to understand which products from Fusion Middleware are being utilized to support Fusion Applications.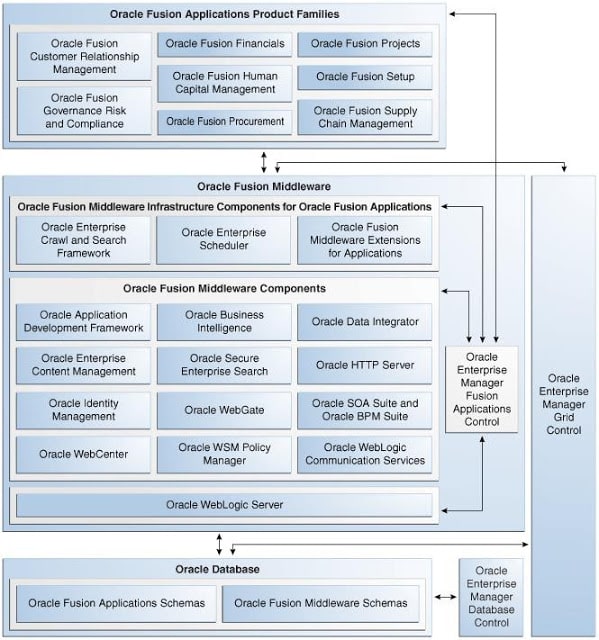 Q: Are there Fusion Applications for all components of EBS, e.g., CRM, HR, financials, etc.?
A: Unfortunately, at this time the answer to this question is no. Oracle E-Business Suite has hundreds of modules, specific products for specific verticals/industries, and modules that are specific to business processes. It is a product that has been constantly evolving since the '90s and will continue to do so. In contrast, Fusion Applications was presented almost 2 years ago. To that end, it is important to understand that Fusion Applications isn't simply an upgrade of Oracle EBS, PeopleSoft, and/or JDE, but a new solution built from the ground up. That means that some verticals are not being covered in full depth and even some families are incomplete or, in a few cases, non-existent. Because of the richness of Fusion Applications on the available modules, it is recommended to explore; and given its ability to co-exist with Applications Unlimited, then the next logical step will be extending your existing E-Business Suite with Fusion Applications functionality until the product is ready for complete adoption.
Q: It has been said that Oracle Fusion Apps covers only 70% of the EBS functionality. Is this accurate? If so, what is missing?
A: The answer depends on each specific implementation, but it might be correct to say 70% depending on the modules that you have running and your organization's processes. Understanding the transition from Oracle EBS to Oracle Fusion Applications requires seeing the big picture. Let me provide some facts so we can have a better understanding of the scope of Fusion Applications compared to Oracle E-Business Suite.
As of today, Oracle E-Business Suite has the following main families: Customer Relationship Management, Service Management, Financial Management, Human Capital Management/Human Resources Management Systems, Project Portfolio Management, Advanced Procurement, Supply Chain Management, Value Chain Planning and Value Chain Execution. To these main areas, you quickly add verticals such as: Real Estate Management, Communications/Utilities, Public Sector/University, Financial Services, Healthcare, High Tech and Aerospace, Defense and Transportation. Within each family and vertical you can find many modules for each of the business processes. On top of that we need to add an extra layer of globalizations which are intended to cover the specific legal requirements from most countries in the world. Would Fusion Applications be 70% of that at this stage? I'd imply that 70% is too big for now.
Q: Can you upgrade/migrate from 11i to Fusion directly (therefore skipping R12)?
A: Yes, you can migrate to Fusion Applications directly from 11i. There's no upgrade path or patch so in this case, it would be a sort of reimplementation.
Now, something that I'd encourage you to do if you're thinking of taking this path is to evaluate the different modules and functions of Fusion Applications to ensure that every aspect of your organization is covered with existing functionality. Based on my experience I can say that most of the organizations are upgrading their Oracle E-Business Suite and extending with Fusion Applications rather than re-implementing.
Q: If so, are there any migration tools available from 11i to Fusion?
A: No, there aren't migration tools to support a jump from any of the Oracle Applications Unlimited solutions to Oracle Fusion Applications.
Q: Is there a supported migration from Oracle EBS Apps to Fusion Apps for all components, e.g., financials, CRM, HR, manufacturing, etc.?
A: There's good documentation that can help you to identify some components and also provides a dictionary on new terminology used in Fusion Applications, where you can find many similarities to Oracle E-Business Suite (for example, defining "Enterprise Structures" which will mimic the Business Group, Legal Entities, Operating Units, etc from E-Business Suite.) Among the components that you asked about, manufacturing is not yet available in Fusion Applications – so that could become a gap for your strategy to Fusion Apps.
Q: What does the Oracle GoldenGate do with respect to the online synchronization of E-Business data stores and Fusion data stores at the database level?
A: The purpose of leveraging Oracle GoldenGate is to replicate data related to the General Ledger information on a source system – such as E-Business Suite – with Fusion Applications Financial Accounting Hub so there's a good balance of performance for reporting and transactions.
In your Oracle E-Business Suite (R12.1+) there are two new concurrent:
'Fusion Transfer – Full' to transfer full balances
'Fusion Transfer – Incremental' to transfer incremental balances
Oracle's GoldenGate technology is used then to transfer the data in the interface tables from E-Business Suite to the Fusion Instance.
For more information, you can check note [ID 1324692.1] in My Oracle Support (Configuring Oracle GoldenGate to Integrate the E-Business Suite General Ledger with Fusion Accounting Hub), which will show you every aspect of how the integration works from a technical perspective.
Q: How will the Oracle Fusion Financial Accounting Hub (FAH) work on the Cloud?
A: The Fusion Applications Financial Accounting Hub is not available yet in SaaS model but I'd encourage you to stay tuned to http://cloud.oracle.com. If you check their website, they have some suggestions for Financial reporting which might satisfy your current needs.
Q: What do you recommend for customers who are still on Oracle 11.5.10 (or an earlier version of Oracle EBS 11i)? Should they upgrade to Oracle R12 or move directly to Fusion?
A: As mentioned in the webcast, the recommendation is to keep updated in your current ERP (in E-Business Suite upgrading to Release 12.1.3) and explore opportunities from Fusion Applications that will enrich your current footprint and solve business problems with a new paradigm of business software.
Q: How many customers are on the Fusion Applications Cloud?
A: In December 2012, during an interview with Software Insider, Steve Miranda mentioned that over 400 customers were on Oracle Fusion Applications, not including RightNow, Taleo, Oracle Business Analytics, or Oracle Fusion Middleware. He also mentioned that two thirds of the customers have chosen to deploy in a SaaS model (Source).
Q: Does Fusion integrate with social media, such as Twitter and Facebook?
A: There are multiple offerings from Fusion Applications, among which are Oracle Social Network, Social Marketing, Social Engagement and Monitoring and Data and Insights for the Enterprise. Each product has a well-defined scope, so it will depend on what you would like to adopt and your business needs.
Q: Can I migrate my existing master and transactional data from Oracle EBS to Fusion Apps?
A: It is an open question because it depends on the specific data you're referring to. For example, if you're referring to Customers' data, or Payables and Receivables transactions, yes you can. Then again, if you're talking about formulas for Oracle Process Manufacturing, it has not yet been released on Fusion Applications.
Q: I've heard that it is easier for an EBS user to migrate to SAP than to Oracle Fusion Apps. In your experience, is that true or false? If possible, please share examples.
A: In my personal opinion, this is completely false. Why? Because most of the team that built Fusion Applications came with Oracle E-Business Suite background.
Let me give you an example. This is extracted from the Fusion Applications' manual:
A Flexfield is an extensible data field that is divided into segments and available for capturing enterprise-specific information. Each segment captures a single atomic value, which is represented in your application database as a single column.
Flexfields allow enterprise requirements to be met without changing the data model. Different data can be captured on the same database table.
The following three types of Flexfields are available in Oracle Fusion Applications and provide a means to customize applications features without programming:
Key
Descriptive
Extensible
Does it sound familiar to you? This is just one simple example of how familiar an E-Business Suite consultant will feel with Fusion Applications.
In our experience, an expert in E-Business Suite General Ledger was able to implement Fusion Applications General Ledger for a single legal entity within 2 months of self-training.
Thinking of Making the Jump to Oracle Fusion? Don't Make it Alone!
IT Convergence isn't simply an Oracle solution provider, but also an Oracle end-user. To that end, we joined the Oracle Fusion Applications early adopter program in early 2012, and we're happy to share those insights with you. To do so, simply click here to check out our "Insights from an Early Adopter" section on our website.
Or, if you'd like to set up a One-on-One with one of our Fusion experts, simply click here to fill out our Contact Us form or Tweet to Gustavo Gonzalez at @ggonza4itc.