The growing complexity of doing business in the global economy forces today's enterprises to meet a cascade of challenges.  Unless efforts are streamlined, wasted effort, time and unnecessary expense become serious risks.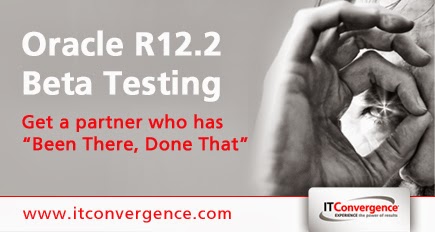 Fortunately, Oracle E-Business Suite provides  today's businesses with the perfect tool for meeting those challenges….
….OK, we know, we know, you've "Been hearing this long before your very first "Go Live."
Fair point.
But with Oracle R12.2's arrival and the launch of Oracle R12.2.4 brings the E-Business Suite much closer to fulfilling the promise of ERP . To help companies like yours take full advantage of this opportunity, we're inviting you to our webcast "Simplify Complexity Globally and Locally with Oracle E-Business Suite" on Thursday September 4th, 2014 at 8:00 AM Pacific / 11:00 AM Eastern.
Get Specific Insights On…
Oracle EBS R12.2.4 delivers a number of functional and technical enhancements including:
•    On-line patching, R12.2's cornerstone functionality, has been beefed up,
•    Mobile support is more robust,
•    Oracle has simplified EBS administration
We'll also discuss how Oracle EBS can support and simplify business complexities in Spanish speaking Latin America, Brazil and China.
Click here to register for our September 4th webcast "Simplify Complexity Globally and Locally with Oracle E-Business Suite."
Can't Make and/or Missed the Webcast
In the event you can't make it on the 4th and/or found this page too late, fear not! You have plenty of options open to you.
First you can click here to read over a dozen entries on Oracle R12.2. You can visit our Oracle consulting services pages for Spanish speaking Latin America in English and in Spanish as well as our Brazilian consulting services in English and Portuguese. And you can also check out our China Services page.