Oracle E-Business Suite End User Survey Results Published
Although Oracle Applications Release 12 became generally
available in the fall of 2006, we know most, if not a majority of Oracle
E-Business Suite Users are still on 11.5.10 or an earlier version of 11i.
But just what constitutes "most, if not a majority?"
Well, a 2012
Unisphere Media survey
that was sponsored by Oracle Corporation found that
61%
of
EBS users were on 11.5.10 while
6%
were on Oracle 11.5.9 or an earlier version,
which is to say that 2/3s of the install base was well behind the current release
level.
That survey was published over a year ago. Surely more
adoption has increased since then, right?
At IT Convergence we decided to try to find out. We
conducted a poll* of the attendees at our recent webcast "Map Through the
Maze: Understand Oracle 11i/R12
Desupport Policies." The results were a
little surprising: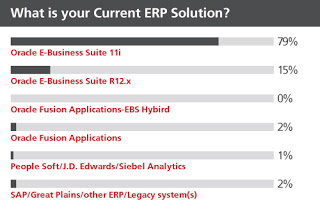 Oracle E-Business Suite Release Survey – 2/10/13
Just a hair under 80% of respondents were on some version of 11i with 15% on R12. Only 2% were
fully on Oracle Fusion with 1% on another version of Oracle Application Unlimited,
and another 1% on SAP, Great Plains or some other version.
Another interesting and unexpected result is that not a
single survey participant was using an Oracle E-Business Suite–Oracle Fusion
Applications Co-Existence solution, which happens to be Oracle's suggested path
for Fusion adoption.
While these results were unexpected it would be unwise to
jump to too many conclusions as this webcast was (largely) pitched to 11i users
seeking to understand what Oracle support policies meant to them, so it is conceivable that of E-Business Suite users still on 11i were overrepresented at the webcast.
Another possible explanation for the poll results can be
found in responses to another question. We asked users how satisfied they were
with their ERP solution and again our poll showed an end-user user community that was largely unified: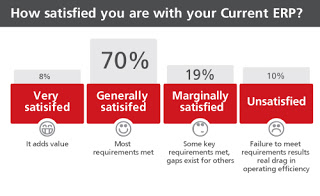 Oracle EBS end-user satisfaction survey – 2/10/13
Just under 80% of respondents said they were either "Very
Satisfied" or "Generally Satisfied" their ERP solution. If this is the case
then it is easy to see why so many E-Business Suite users have stuck with 11i.
But if that is the case, then the final question in our poll
nonetheless reveals that change may nonetheless be in the air:
This time we find that just under 80% of those respondent
have some sort of ERP upgrade on
their horizon. A plurality (34%) of those surveyed see an upgrade coming
in the next six months to next year and another 31% see one coming within the next 18 months, with another 14% expecting an Oracle ERP upgrade coming
in 2 years.
Interestingly enough, there is a sizable chuck (22%) of
participants that plan to stick to the tried and true and forecast holding out
on their current release until that absolutely have to upgrade.
Be Proactive Prepare
for Oracle R12 and/or Oracle Fusion Applications
The ERP landscape is changing fast and you need to be
proactive to make sure that Oracle 11i and/or R12 Desupport policies don't catch
you by surprise. Fortunately there are a lot of resources available that you
can use to begin preparing yourself.
1. Take a moment to read the transcript from the Q and A portion of the webcast
2. Make sure to join us at one of Oracle R12 Strategy and Planning workshops
3. Visit our Oracle R12 upgrade services pages if you're looking for support right now
4. Find out more about Oracle Fusion Applications either at our Oracle Fusion blog or on our Oracle Fusion Applications services pages

Or if you'd like to arrange a one-on-one meeting with one of
our Oracle ERP experts, please click here to fill out our
Contact Us form
, and
we'll set up an appointment.
* Note this was not a scientific poll. Survey conducted of 180 voluntary participants at webcast. Not all attendees chose to participate in every question. "No Answer" responses have been removed from the totals.