Oracle LATAM-Brazil Webcast Q and A Transcript
IT Convergence's recent webcast
"Tequila, to Caipirinha and Tango – Overcoming Oracle's E-Business Suite Challenges for LATAM"
was a smashing success, drawing close to 100 registrants, making it one of
the most successful LATAM-focused webcasts
ITC has ever done.
As always we are happy to share the full transcript of the Q and A session with you.
Q. When speaking about third party integrations in Brazil, what are the differences between 11i and R12 and what kind of support is available for the transition between both?
A. The interface from Oracle Applications 11i to Oracle Applications R12 has changed a lot, so for those of you who are very familiar with 11i, the famous CAI integration view doesn't exist anymore. Oracle now provides very detailed documents specifying the obsolete objects and the new ones for EBS R12. So if you have other integrations, customizations and interfaces, using the interface views you will be able to adapt those accordingly.
Q. Do you need to use the Multilanguage Service Pack if you are rolling out in Latin America?
A. There are different scenarios for this. Based on our experience, there are companies that decide to continue using English around the world, so it is possible to use English. Of course, the application is a multi-language product so it is ready to use other languages should you desire. It is basically a company decision; however, it is important to take into account two things: first, the cultural factor related to the end users, to make sure they are ready to interact with a system in a foreign language. Second, consider how the reports you need to present to local government agencies, because often times, even if you use English as a system language, you need to generate the reports in a different language. In these cases you need to apply a couple of additional configurations.
Particularly in Brazil, since the interface is prepared by Oracle and the Tax Partner, the government assumes you have the Portuguese language installed. If you don't, as all reporting needs to be done in Portuguese, you will need to customize, adjust or decide on another way to provide the translations for the legal reports. So while using Oracle's MLS pack in Latin America might be optional, if you don't use it, you need to be ready to do some additional work.
Q. What is the status of Oracle R12.2? Is it ready to be supported in Latin America?
A. Oracle has not released a date officially yet for the General Availability of Release 12.2. As one of the select few to join Oracle's R12.2 Beta Testing program, IT Convergence has been working closely with Oracle Development and helped providing feedback on multiple technical aspects of the product. It is hard to guess a date but given the fact that Oracle has invested heavily to ensure the proper functioning of this new release, and considering that online patching will and improvement that will directly improve operating efficiency, then it's a pretty safe bet to say that we'll be hearing the news soon.
Q. Viewed purely in terms of deploying and supporting and Oracle ERP solution for Latin America, how would you categorize the challenges for each country and how would you collaborate with Oracle and third party companies for a successful project?
A. As we mentioned in the webcast, if you are planning to deploy Oracle E-Business Suite in Latin America, you will need to start considering specific local legislation and business practices.
Let's start understanding what Oracle E-Business Suite addresses out of the box. The product supports:
a) The Globalization Capabilities
b) The Application Localizations
c) A Global Technology Platform.
The Globalization Capabilities are delivered through rule-based engines that support, in a global way, diverse requirements in areas such as accounting, payments, payroll, taxes and others.
The Application Localizations enhance the globalization capabilities, mentioned before, by providing support for country specific legislative and business requirements. There are 3 localization delivery methods as follows:
Product Localizations: Delivered in product, by the Oracle Development organization
Add-on Localizations: Delivered via My Oracle Support (MOS), by Oracle Regional Localization centers.
Partner Localizations: Built and delivered by Oracle certified partners commonly named Oracle ISVs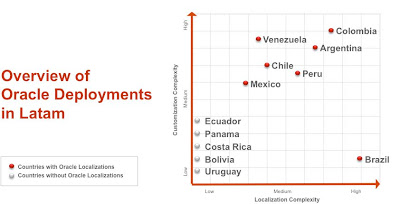 In the graphic above, we have highlighted in red circles all countries with coverage from the Oracle Application's perspective. On the other hand, all the other countries that are not highlighted in red do not have an associated Localization Solution. We have included some examples highlighted in grey circles on the left of the graphic.
However, this situation does not mean that you will not be able to be compliant with local legislations. Usually, either for countries having Oracle Localizations or not, missing functional coverage for local legal or statutory requirements are managed by Developments. This means that the project scope is composed by the implementation of Oracle Applications plus the construction of customizations.
Based on our experience implementing Oracle E-Business Suite Release 12, we've classified Country Deployments combining the complexity of implementing localizations and building required customizations.
For example, in the case of Brazil, Localizations deployment is highly complex but compared to other countries, there's usually a low effort required for developments. In the case of Colombia, Localizations deployment is medium-highly complex and you usually need to create multiple customizations. Mexico has the least complex Oracle localizations in the Region but in general you need to create additional customizations.
The volume and complexity of Developments can vary depending on your local operations and business requirements, IT policies, Global Deployment Strategy and, of course, functional application coverage.
Q: When approaching a Latina American rollout of the Oracle E-Business Suite, how would you evaluate a system integrator capable of ensuring an on-time & on-budget project?
A: Selecting a system integrator for your project, you need to think of someone that can work hand-to-hand with your teams and create synergies for a successful deployment.
Taking that perspective, there are some -just a few- key questions that should you to evaluate a potential partner:
Does the system integrator present a regional coverage in terms of resources and expertise?
Does the partner have deployed diverse solutions including Finance, Manufacturing, Human Resources, CRM, Business Intelligence and well as Developments and Technical Services?
Does it have a Program Management Office to ensure a health project?
Does the system integrator have experience on Oracle E-Business Suite Release 12 upgrades?
There are many others but this will help you to get started selecting the right business partner for your next LATAM project.
More LATAM, Global Oracle Expertise a Click Away
We're also offering a webcast in June on eCommerce-Oracle ERP interface SOA B2B solutions, which you can
click here to register
for now.
And if you're focus is on Oracle E-Business Suite Solutions for Spanish speaking Latin America and/or Brazil then we invite you to check out our Latin America consulting services page (
click here
for English, or
here
for Spanish, our Brazil consulting services page (
click here
for English, or
here
for Portuguese), or the
"Doing Business Globally" section
of our white paper library