On January 22nd 2015, 11:00 am Eastern/8:00 am Pacific, IT Convergence will be hosting the webcast
"The Manufacturing Company's Guide to Success: Bonded and Non-bonded Processes in China."
Today we'd like to offer you a sneak peak of what the webcast will cover: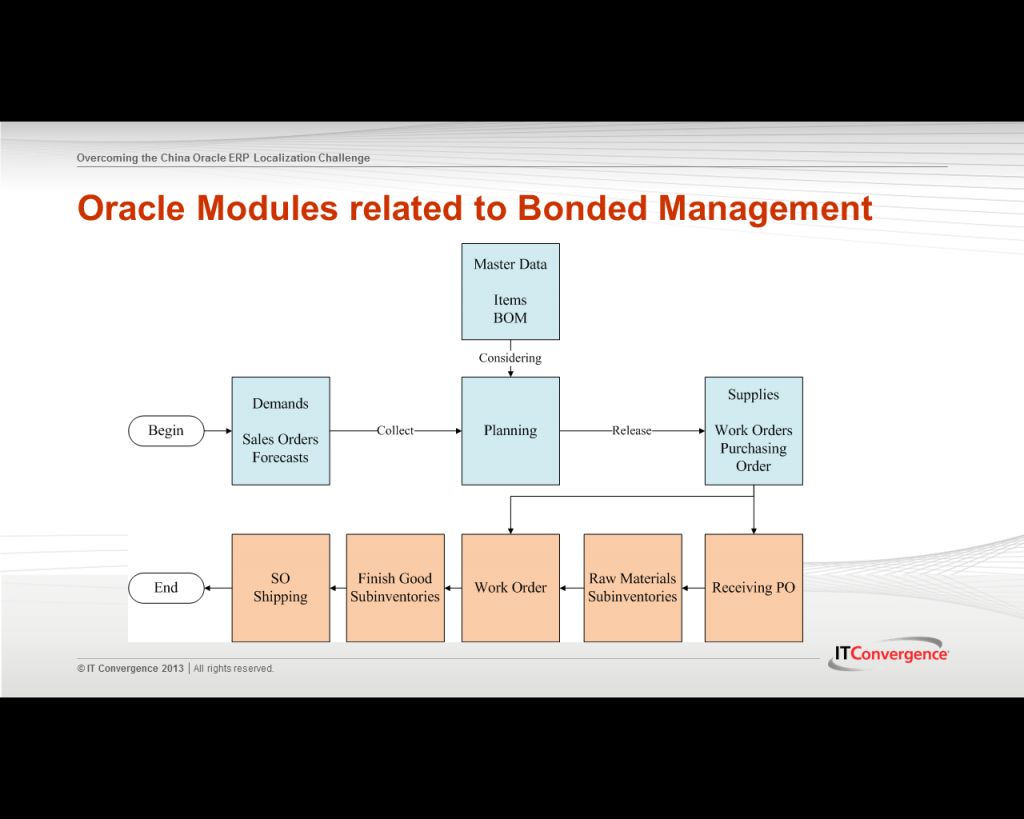 This slide discusses how several Oracle modules cooperate to plan Manufacturing and Material Procurement for Bonded and Non-Bonded materials and how these materials are transacted throughout the system.
In blue you can see the planning process, where the system collects all the Bonded and Non-Bonded demands including sales orders and forecasts into Planning. Planning will do the calculation based on master data and afterwards will schedule all supplies including manufacturing order and procurement orders for Bonded and Non-Bonded materials.
The pink transaction process receives the Procurement and manufacturing schedule from for purchasing materials and producing finished goods, and stores them into Bonded or Non-Bonded Subinventories.
The main issue here?
Bonded and Non-Bonded materials have to be recognized by the system throughout
this process and they cannot be mixed up at any stage. Find out how to get
around this issue at our webcast! We'll discuss three possible solutions our
China Consulting Team regularly implements for our customers.
Stay Up to Date on Oracle
ERP Issues in China