A Few Questions on Oracle EBS Mobile Apps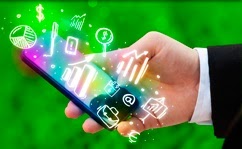 Last week we had our very successful webcast: "5 Oracle EBS Mobile Apps that Change the Way You Work", and we had more questions than we had time to answer live.
Today we bring you the transcript and extra answers of the Q&A session. If you missed the webcast and would like to get a copy of the presentation and recording, click here.
Do you require the core eBiz applications for the mobile apps to work?
Yes, it is mandatory to have an E-Business Suite module for the applications to run.
What core application do you require for 'Field Services' to function on mobile?
You require Oracle Field Service (or formerly known as Service online).

Are they available on cloud?
As of today Oracle E-Business Suite is not available on a SaaS model. These mobile applications would work for any type of the possible existing installations of EBS.
Is approvals available for AP invoices?
No, the Approvals mobile app does not include AP invoices.
Can you disable the 'Quick Approval' function at a global level?
Quick Approvals is just to avoid having to drill down to see the details of the Approvals. One thing that Oracle is working is how you can customize the application from the system administrator but it's not available right now. There is still room for improvement in terms of how these applications unfold because it's difficult to cover all the flavors of EBS, but Oracle is working on that.
How is performance if you need to search for a project and the volume of open projects is 4000?
This is something I'd definitely recommend doing a test on, but in terms of information, there is some information being stored locally and securely on the phone. In this case, I don't see a big problem in terms of performance at projects. But I'd recommend doing a test of the mobile applications on that. I don't think it will be a challenge.

You mentioned that the mobile apps are free if you own the module. Is this available on R12.1.3?
The applications are free. And they are available for EBS R12.1.3 and for EBS R12.2.3 and above. So if you have 12.1.3, actually the patches for the mobile applications that you need to apply to EBS, they have 2 columns. So let's say for Approvals, these are the patches you need to apply if you are on 12.1.3 and if you are on 12.2.3.
Do these 14 apps work for versions between EBS 12.1.3 and 12.2.3?
Yes, they are available for Android and iOS and for E-Business Suite 12.1.3 and 12.2.2+
Any patches to be applied to existing on-premise or Cloud EBS before installing mobile app server patches?
In order to have the applications up and running you have to apply some patches to EBS. After that, perform the setups and once you finalize those steps, roll out the applications.

Resource: Oracle E-Business Suite: Mobile Strategy & Update Jeanne Lowell Vice President, EBS Product Strategy Applications Development Oracle Sept 2014
Is it possible and how easy/difficult is it to customize these 14 EBS apps?
As of now, Oracle has not shipped the code or allowed customers to customize the applications. We'd like to hear what type of customization you'd be willing to do so we can share that with Oracle or help you find a workaround.
Could you please comment more on security?
Below you could find a high-level diagram of the architecture. There are options to implement in DMZ and HTTPS. We recommend reading the Doc ID 1642431.1 in My Oracle Support.

Is the Shipping Execution module available for Mobile devices?
Today these applications are available: Sales Orders, Inventory, Product Information, Procurement, Project Manager, Discrete Production Supervisor, Process Production Supervisor, Project Manufacturing, Maintenance, Field Service, Approvals, Expenses, Timecards, iProcurement, and we're expecting to see more applications coming up.
Visit our website to learn more about EBS related solutions.