Last week our CTO, who led IT Convergence through the R12.2 Beta Testing Program, hosted our webcast "Ready to Plan Your EBS R12.2 Upgrade?"

The webcast had a very dynamic Q&A session, and the interesting topic drew more questions than could be answered live. True to our commitment, we are bringing you the transcript and the answers to all questions today:


On which platform are you running 12.2? Have you run online patching on 12.2? We are struggling to get online patching on 12.2 demo installs. 
At IT Convergence we've used the following environment:
• Database Tier: 8 CPU 32 GB RAM
• Apps Tier: 12 VCPU and 12 GB of RAM
• OS: Oracle Linux x86-64 5.7
• Database Type: NO-RAC
Please contact us for help in understanding which phase you're facing challenges, and we can help you to overcome them.
What is the difference between the red items and grey items in the technology stack changes section?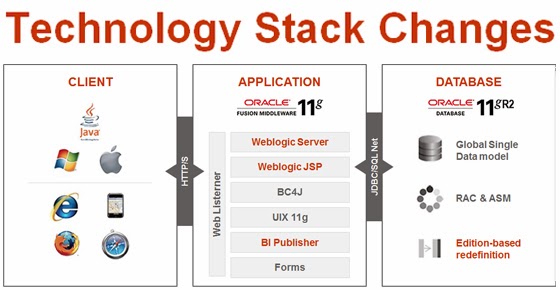 The red items are those that were introduced in the application tier in 12.2 (and are different from the application tier we had in 12.1 and backwards).  On the database side, the Edition-Based Redefinition is a feature that was added in 11gR2.
Is the XML gateway still supported in 12.2.?
Online Patching will not help you migrate from 11.5.10 to 12.2, right? It works only after you are on 12.2?
That is correct. Once you're in Release 12.2, that's when you'll be able to have the online patching feature available. From 11.5.10.2 to Release 12.2 you have to first do an upgrade to Release 12.2.0, and once you're in that release you'll start using online patching to upgrade to either 12.2.2 or 12.2.3.+
What is the average time during cutover?
It depends on the Oracle E-Business Suite implementation. In our internal environment, the cutover phase took 18 minutes. It might take a few minutes longer, depending on a number of variables, but the important fact here is that it will become more predictable.
Are any of the mobile enhancements included in 12.2.3? Are the mobile apps included in the 12.3?
Right now you can use your self-service applications with an iPad. That has been certified a while ago and you can see more information at
Steven's blog
.
I've seen some presentations from Oracle's Srikant Subramaniam and Vijayakumar Shanmugam where they demonstrated new features for iPads including gestures, how they adjusted the
Fusion Mobile Expense Report
native iOS application for Oracle E-Business Suite and also new applications for approvals or time entry.
Are there R12.2 localizations for Brazil?
Is web logic included in 12.1.3?
No, Weblogic Server (from Fusion Middleware 11g) was introduced in Oracle E-Business Suite Release 12.2. This new release uses Oracle WebLogic Server (WLS) instead of Oracle Containers for Java (OC4J).
Once we move to 12.2, are we required to do online patching? ¬Is that mandatory in R12.2? ¬
Yes, once you're in E-Business Suite Release 12.2 online patching is mandatory for any application patch moving forward.
We have several APEX custom screens. How do we remediate then?
Many organizations have custom screens in multiple tools. We strongly believe that APEX is a great tool for some types of customizations, given its cost and how easy it is to use. In terms of customizations, whether you're using ADF, APEX or Forms, you'll have to understand the new
Development Standards for Release 12.2
in order to remediate your existing extensions or customizations.
With online patching, can we apply patches on Monday and switch over on Sunday? What happens to the data that is changed or added after the patches are done on Monday? 
When you start a patch cycle – let's say you will be applying an ADOP – when you kickoff, the users will be transacting in the system. So when you get to the cutover phase (when you actually make the changes), you will have two editions: the Run Edition and the Patch Edition. So let's think of this scenario: on Monday you'll have these two editions, users will be accessing the Run Edition (whether it's forms or different application objects) and you'll be applying the changes on the Patch Edition. The database will be the same for both editions – but you will be getting changes of the objects that are being patched using EBR (Edition Based Redefinition) having 2 versions of the same object in the database. So when you do the cutover and move from the Run Edition to the Patch Edition the data will remain the same, but you will be pointing everything to the objects of the patch edition – but it will be just versioning. The data will remain the same.
Does R12.2.3 require online patching or can you still do batch patching? 
You cannot – the only way to apply patches is Online Patching. So going forward, from 12.2 on all patches will be online. There's really no need to go back to the old format.
How are the 12.2 licenses handled?  For framework or forms customizations, do we need additional licenses?
No, there are no additional licenses assuming you're now in a release prior to R12.2 and in compliance with Oracle Licensing Policies.
Is 11.2.0.3 certified for upgrade, or it need to be on 11.2.0.4?
If you upgrade to 12.2, does the database have to be at 11.2.0.4 or can it be at 11.2.0.3? 
If you upgrade to Oracle E-Business Suite 12.2.3, then it is mandatory to have your database at the version 11.2.0.4. As of today, the certification of Oracle E-Business Suite 12.2 with Oracle Database 12c is not available.
When is 12c getting certified with 12.2?
It will probably be soon there's a lot of movement around certifications but Oracle has not disclosed the dates yet.
If you'd like to schedule a 60 Minute R12.2 Pre-Planning Session to understand how your organization can leverage Oracle R12.2, simply fill out our contact us form.
Join our webcast on Oracle BAM!
Sign up for our March 13th webcast and learn how to leverage Oracle Business Activity Monitoring (Oracle BAM) to monitor your organization's services and processes to achieve end-to-end visibility.
Register now
!
Oracle BAM not your thing? You're in luck!
We'll also be holding our register for
"Streamline Your Application Project with Oracle UPK"
and get a complete picture on Oracle's User Productivity Kit can be an end-to-end Application Project Lifecycle tool. The Webcast will be held on
March 13th at 8:00 am Pacific/11:00 am Eastern
.
Click here
to register.