Oracle ERP Strategic Survey for Latin America
During our recent webcast "
From Tequila, to Caipirinha and Tango Overcoming Oracle's E-Business Suite Challenges for Latam
" we took the opportunity to "take the temperature" of our audience with respect to another of topics which are of interest to the
Oracle E-Business Suite
end-user community in Latin America.
(Note, statistics presented here were queued from a poll of approximately 70 attendees at a recent webcast. "No Answer" has been omitted from results. This poll is not scientific.)
We took the time out to discuss the results of those polls with Gustavo Gonzalez, IT Convergence's Chief Technology Officer, and Oracle ACE Director and veteran of Oracle ERP projects both inside and outside the region.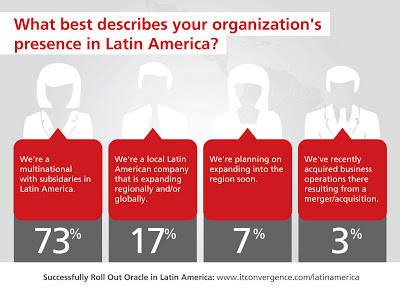 Q. The largest group of attendees represented at the webcast comes from multinationals with subsidiaries. That's no surprise. But the next biggest group comes from local LATAM users, who are in fact bigger than the next two groups of outsiders looking to enter the region. Which leads us to an interesting question. How would a regional Oracle E-Business Suite expansion differ from an implementation or upgrade conducted by a company who is coming in from the outside?
GG: Well the first thing we need to keep in mind is our sample might a little too small to be considered representative, however, these numbers are in line with a recent Moody's study which predicts that Latin America will remain the world's second best performing region. This growth in turn is generating a good number of multinational organizations with headquarters in LATAM, and these companies are adopting enterprise-solutions such as the Oracle E-Business Suite.
In that light, you're likely to see things turned on their head a little bit. Business leaders in the region are of course more comfortable with LATAM's tax and reporting requirements, they don't face a language barrier (at least in most cases), but on the flip side often times they're comfort zone with the technology tends to be a little lower than that of multinationals who've been using Oracle ERP since the 1990's.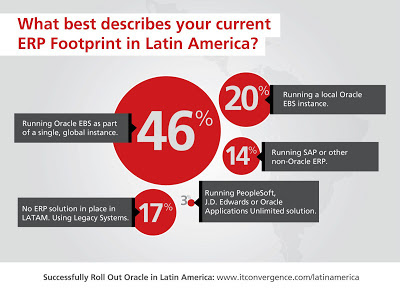 Q. Our ERP footprint survey drew some interesting results. A single, global EBS instance was the most popular choice, but how do you interpret the trends in the region with respect to other options?
GG: From the get do you've got to keep in mind that there many, many variables that are go on the table when you begin considering establishing a single global instance of the Oracle E-Business Suite. Oracle E-Business Suite allowed this consolidation a decade ago with the multi-organization and multicurrency features. The maintenance of a single global instance of course is less costly and in general lower it gives businesses the chance to more accurately assess their total cost of ownership (TCO) of their investment in Oracle.
But a single global instance does not come complication free. Simply consider the different security patches and updates that you need to apply just to keep your solution secure and reliable. Applying each of those patches requires carving out downtime. Just imagine, you're the head of IT of a global organization with operations stretching from China to Latin America to the West Coast of the United States. What is the best time to get your systems down for patching? Well, the truth is the answer is "never."
So having a single instance in some cases was problematic. Oracle saw that and they're releasing a new feature with Release 12.2 called on-line patching which will allow having the users running the applications while IT is applying patches. Oracle R12.2 will quite frankly make the concept of having a single global instance much more manageable.
In practical terms this has the potential to change ERP management strategies for users operating in Latin America. For a long time, maintenance considerations saw many Oracle EBS users in LATAM manage multiple regional instances, which of course increased TCO. Now with R12.2 on the horizon, the business case for investing the time and resources needed to evaluate a incorporating a footprint consolidation project into their upgrade strategy.
Q. Very interesting. That leads me to another question. If you've got multiple regional Oracle EBS 11i instances running in Latin America and want to consolidate them into a single global instance are you now looking at a full-fledged re-implementation of Oracle or can you still get by with a vanilla upgrade?
GG: It is a good question, because it is faced by many organizations and has a huge impact on the business, both financially and the business itself having to freeze the application for a period of time. There's not a single answer for this but there's a recommended solution to decrease the risk of this. The answer is performing an assessment. The assessment will provide a full documentation on multiple aspects of the implementation or upgrade with details that will present the plan, dates, resources (internal and external) and of course a total cost. It is a great option to speed up the internal business plan.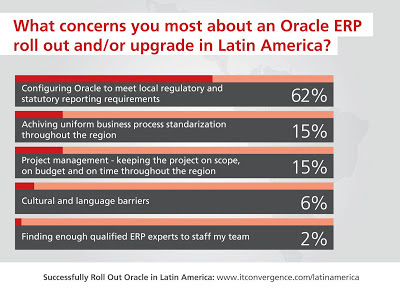 Q. Well, 62% or almost 2/3's of our attendees are worried about configuring Oracle to remain in compliance with statutory reporting requirements in Latin America. That's a pretty dominant concern, but is it well founded?
GG: Oracle E-Business Suite has been changing for LATAM since Release 10.7 when it first introduced localizations for many countries. Statutory reporting requirements are just the last piece of a process that starts with setups on the different modules and training the users with the globalizations that are specific for each transaction and country. There are many requirements that are changing very frequently and if you don't have good cultural familiarity with the region then you'd be hard pressed to even keep track of out how tax regulations have changed, (and in some parts of LATAM tax regulations can change very quickly.) Oracle has a team that focuses on each country and meets the requirements that are covered by E-Business Suite in a timely manner. But as a customer it is up to you to apply patches and take care functional and technical aspects of the application that keep you in compliance.
Q. Business process standardization and project management and/or "scope creep" Concerns seem to be low on the radar screens of our respondents. Are these users paying sufficient attention to these next two potential project pitfalls?
GG: Ensuring that a project stays in scope, on budget and on time is difficult but not an impossible task. And these aren't considerations that simply need to be kept in mind when an organization plans an upgrade, they're important to keep in mind after the project kick-off, because it is not uncommon to come across new functionality and/or find stoppers on process standardization that worked on other regions but that do not apply to specific countries in LATAM.
Focusing on communication and getting the business and IT teams on board and ready for the change will help dramatically. This is what will allow you to get a strong project plan and team in place will help you to drive to a successful end.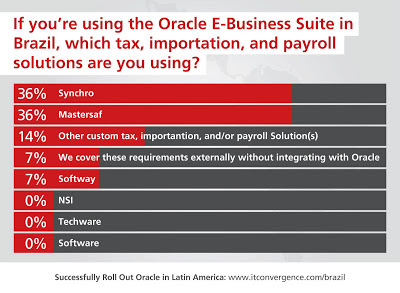 Q. As industry veterans know, Oracle E-Business Suite implementations in Brazil have a slightly different flavor because of the required third party integrations. I'd assume it is difficult to find which partner can help. How is IT Convergence assessing the complexity of selecting these partners?
GG:
There are 3 key players in Brazil, and IT Convergence has a strong relationship with all of them and has used them on many E-Business Suite implementations in the region. For some activities you've got to work with partners like
Thomson Reuters (aka Mastersaft
) or Synchro that are the current certified Oracle partners. Activities such as:
– Do the messengering solution or communication with the Brazilian Tax authorities to validate the electronic invoices on the State or City levels.
– Prepare the consolidate final tax reports for the Government.
In the case of Softway they're focused on foreign trade which is not required if your organization is not doing import or exports.
As a system's integrator IT Convergence has experts that are capable of delivering integration and in some cases supporting the solution which makes a big difference.
Going into Latin America? Don't Go It Alone
Do you need to extend an Oracle E-Business Suite solution to business units in Latin America? Perhaps you've got one that deployed that needs support? Or maybe you're looking at a Greenfield implementation in the region.
If the above applies to you fear not! While deploying and supporting Oracle ERP solutions in Latin America can be tricky, it has been done before, and with the right planning and preparation you can do it again.