Takeaways from OHUG Global 2014 – Leading the future
This was my first time at
OHUG Global
and I was thrilled to participate in the conference of the fastest-growing user community.
I'm a huge fan of user groups – I'm in the board of two: one user group in Argentina, and the Latin America Oracle User Community. OHUG counts 14,000 members and the attendance estimates for their annual conference was 1,700. I was extremely pleased to contribute with a session this year and represent IT Convergence and the Oracle ACE Community.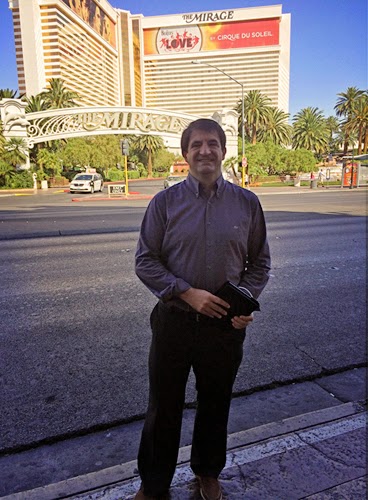 Let's get moving with the conference recap.
Monday, Day 1
The first day was dedicated to the Special Interest Groups (SIG), and it was my first meet & greet with the Taleo user community. A quick review of the Oracle-Taleo history: Taleo has over 13 years of SaaS experience, more than 5,000 customers (many of them large, complex and global), and leading talent management capabilities. Oracle announced the acquisition of Taleo in February 2012 and closed the $1.9 billion deal on April 5th. Since then, Oracle has been keeping the product very active and has provided integrations with Fusion Applications – or should we be saying "HCM Cloud".
A recent update on the HCM Cloud / Taleo integration is showing a much more streamlined integration on these areas:
• Foundation data/worker data sync from Fusion To Taleo
Fusion is the master for the foundation data
Objects are synchronized on a nightly basis (scheduled by customer)
• Candidate to New Hire Conversion
Candidates in a particular step/status are pulled into Fusion on a nightly basis
New Hires can then be converted into pending workers within Fusion
• Link To Taleo from Fusion Navigator
• Open Requisitions in Org Chart under Hiring Manager
• Unified UI in HCM Cloud Mobile Application (Oracle Tap)
It was very interesting to see the challenges recruiters are facing with the "millennial generation" and how they are utilizing technology to attract talent to their organizations. This was one of the major topics of the conference – Taleo is just the tip of the iceberg.
During the SIG meeting, Oracle Taleo's product manager joined HR leaders from Whirlpool, United, Monsanto and Harris Teeter for a presentation and demo of the new mobile capability for recruitment. Currently a good percentage of the "millennials" don't have computers, and their only device is a phone. Organizations need to have a mobile strategy for recruiting, and software vendors must adapt to the new market trends. Are you prepared for that change? Is your website mobile friendly? These are good questions to share with your IT team when you get back.
Afterward I jumped into the Fusion Applications' SIG. After a cool icebreaker, an Activision and WAXIE Sanitary Supplying panel shared their experience with running/ planning an implementation of Fusion Apps.
Here are some highlights that made it to my notes:
Select the right partner. After a first failed attempt with a system integrator that did not have the skills to perform the Fusion implementation, another one took charge and set the implementation back on track.
Take baby steps. In some cases you can't make a phased approach but you have to be clear on the amount of change your organization is ready to digest.
Think for the long term. The change that the "new cloud paradigm" brings is definitely making an impact on corporate decisions. The "modularity" is bringing multiple options helping both Human Resources and the IT department on fully supported and out-of-the-box integrations.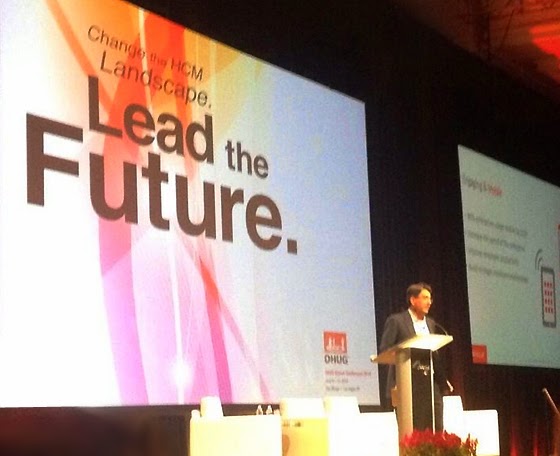 Tuesday, Day 2
Tuesday kicked off with a tribute to Carolyn Hayden-Garner, OHUG's president for the past 9 years, for her commitment and full support of the community. Next came Steve Miranda, Oracle's VP of Product Development, who delved into why Oracle is currently a market leader in the Cloud and how they plan to expand that leadership with innovation.
During the morning session there was a panel led by Chris Leone and other Oracle executives: "Nuts and Bolts of Your Journey to the Cloud", which provided a roadmap on how the Applications' Unlimited (AU) product (in this case E-Business Suite and PeopleSoft) will drive into the HCM Cloud.
The message from Oracle was loud and clear: each product will continue with their current roadmap (no rush with moving into the cloud now!) but they will become more integrated with the HCM Cloud, making the extension of AU to HCM Cloud as seamless as possible. Current customers should expect new features focused primarily in the user experience, but no huge changes in the technology. In some of the sessions we were able to see that E-Business Suite and PeopleSoft are having the same user interface patterns as HCM cloud.
Here's an example of what Oracle E-Business Suite Asset Management could look like: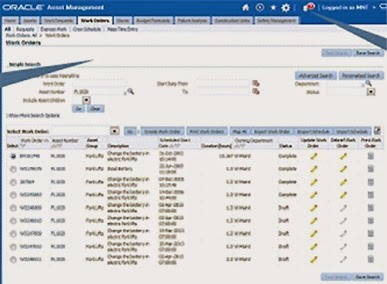 After a small break, Gretchen Alarcon, VP of HCM product development, presented the roadmap of HCM Cloud that includes Fusion and Taleo, describing the innovations and integrations on both products while also demonstrating the evolution of the software to support the change in Human Resources.
Following lunch it was time to hear about the user experience: enter Jeremy Ashley and Aylin Uysal from the Application User Experience team. Oracle is envisioning 3 main concepts for their products:
Simple: Move easily from navigation to action
Current: Designed for any modern browser
Productive: Your key quick-entry tasks, sitting on top of the full functionality of industrial-strength cloud applications
The concept of being simple makes total sense:
Simplified UI, for simplicity and productivity on any device
Desktop UI, for professional strength when you need it
Native Apps, that make the most of your iPad and iPhone
After the session, I enjoyed a good conversation with HR leaders and IT architects on challenges regarding testing and reporting in the Cloud. It is very important to understand the changes of Cloud systems, since one of the pros is that you don't need to have servers and administrators, you only need to have an appropriate strategy to work together with the vendor. For instance, as Oracle HCM Cloud's policy dictates that the application will be upgraded periodically, you will have to be prepared and plan testing accordingly. There are multiple ways to perform a testing strategy, but you cannot automate a 100% of testing.
The other discussion was around reporting, most important for those organizations which have a coexistence strategy where consolidated reporting presents challenges. In these cases, getting the right approach from the stage of definitions will be a great step ahead.
Wednesday, Day 3
On Wednesday morning the keynote was lead by Joyce Westerdhal, Oracle's Senior VP Human Resources. She was appointed as VP of HR at Oracle 12 years ago, and Larry Ellison asked a very simple question: "How many employees do we have?" Joyce did not have a source of truth at that moment and reached out to every regional leader to get the answer. Once everything was compiled, she ran to Larry's office to show him the results. "Larry, we have this amount of employees." To which Larry replied: "Good! And what do they do?" That triggered her first action as VP, which was having a single source of truth for what now is over 100,000 employees.
At that time, Oracle E-Business Suite was selected as the tool for Human Capital Management (HCM), and it served well for many years. Presently Oracle is doing a "pilot" for 15,000 employees on HCM Cloud; provided the results are good, it will be rolled it out for the rest of the organization.
Day 3 continued with a session from the product management team of E-Business Suite showing some previews of Release 12.2.4 that will have mobile native applications for multiple modules, including Human Resources such as approvals, time card entry and expenses.

Brian Ballamy and Justine Fitzsimmons from the E-Business Suite development team discussed Release 12.2's main features besides online patching and the best practices for upgrading. In a session that saw around 70 attendees only 3 were still on 11i and had an upgrade in progress. That sounds promising for Oracle since upgrading from 12.1 is not as daunting a task as doing it from 11i.
The last session I attended before the appreciation event was on best practices of a Global HCM rollout in the Cloud. Jon MacGoy, from the Oracle HCM product team from Ognjen Pavlovic's group did a great job showing the different aspects of HCM Cloud globalization capabilities.
Thursday, Day 4
The last day was not the least, by all means. Day #4 started with Vernice Armour aka "Fly Girl." Boasting a long list of credentials, Vernice was USA's First African American Female Combat Pilot. Using Vernice's experience, the keynote described how a breakthrough mentality creates breakthrough results.
She shared her grandmother's words, which became her mantra and helped her overcome 3 failed attempts at making the Marines: "something good is going to come out of this!" Her message underscored how important our job is, and how we're changing lives on a daily basis.
Before I knew it, it was my turn to present on why your organization should select Fusion Applications and share the lessons IT Convergence learned. We went over some examples of how and why the selection of Fusion Applications is beneficial.
In the audience we had people who had considered Fusion Applications 2 years ago, and now were restarting the process. In my opinion, it is a great decision. Today you find a product that has hundreds of customers running it live, and that makes quite a difference.
One last topic that I wanted to cover was the discussion on how connected Recruiting and Marketing need to be nowadays. As the pool of resources keeps dwindling, organizations are eager to attract and retain the attention of professionals who are looking for a new job. This brings important items to the mix:
Branding is becoming more and more important: a company's culture and working environment are what draw candidates in. Is the recruiting department capable of communicating this? It is, but bear in mind that their effort must be aligned with the company's overall communication strategy. The recruiters' task should not differ from presenting a product to our customers. As a matter of fact, the resources we're about to hire are most probably customers as well. As a result, the company's branding for our customer-facing products needs to be aligned with our recruitment efforts.
Technology changes. Recruiters are becoming relationship builders and are entrusted with keeping that relationship warm. Is that done exclusively through a phone call? Not any more: social media and SMS are great tools to stay connected and strengthen bonds. Think about Tesla's latest move of making each patent open source: their employees will have more influence as differentiators in the short term. Is your company ready to do that, aided by your branding? Is your company ready to adjust to the new ways of recruiting millennials? You can act now – but remember: it's not just technology; it is a mindset change that your organization needs to execute. I'd like to hear your opinion on this so join the discussion adding your comment below.
Overall, our first experience at OHUG Global 2014 was amazing, and we look forward to participating in 2015. The talented people that you connect with during the event make the trip more than worthwhile, and
I strongly suggest to anyone in Human Capital Management: enroll today in OHUG and start thinking of attending the next OHUG event.
Stay Connected!
If you missed us at OHUG Global 2014, fear not! There are many ways we can connect in the future.
First, you can join our webcast, "Streamline ERP Testing with Oracle UPK" on June 24th at 8:00 am Pacific/11:00 am Eastern.
If you've found this page after the webcast, then please check out Oracle Fusion Applications solutions and/or our Oracle UPK solutions.