Even though a few weeks ago Larry Ellison turned 70, he is still very active, attending weekly product meetings and has not yet identified a successor. This is not because they don't have a system in place – in fact, you can refer to my previous post where it's perfectly clear that Oracle's HR, led by Joyce Westerdahl, has a well-defined roadmap for every individual within the organization.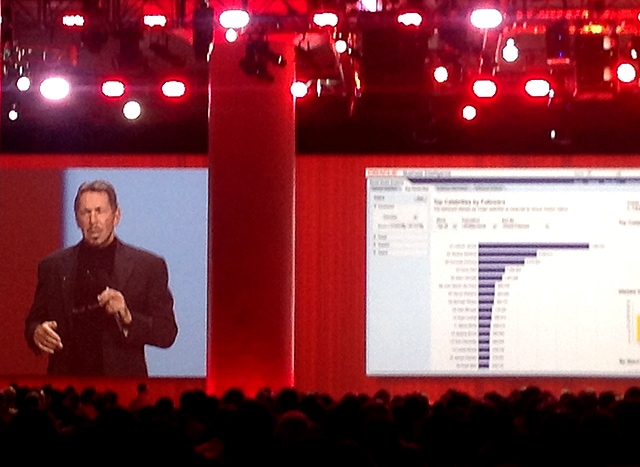 Having said that, there are many names in the hat, such as Mark Hurd and Safra Catz (current Presidents) or Edward Screven (from the product lines) or Thomas Kurian (who replaced Larry last year when America's Cup 2013 became a legend). In my opinion, the decision of who will be leading Oracle will have a strong weight in the future of the organization.
But, let's stop doing futurology and think about the short term – because Oracle OpenWorld is just a few weeks away and this year it's expecting over 70,000 attendees. What we should expect? Which competitor will be on the hook? Would that be Salesforce.com again, who Larry accepted to be the number one Cloud application? Or would that be IBM, showing metrics of how Engineered Systems perform way better? Or maybe SAP, with a wide variety of things such as cloud applications, in-memory database -competing with HANA, and applications unlimited providing a huge uplift?
Let's go over some of the major topics that might have news to present at OOW14:
Oracle Database 12c – In memory: We've heard some rumors of options being turned on and how that brings problems to customers performing the upgrade after the general availability of 12.1.0.2… well, those rumors seem to be far away now. Maria Colgan did a great blog post back in July demystifying the installation – yes, the in-memory feature is installed! – where she stated that the in-memory option, which is licensed separately, is actually disabled. There are 7 parameters for in-memory features that are disabled when you either install or upgrade your database. To be true to our readers, we need to mention that a bug was also found and Oracle – through Maria Colgan again– accepted and fixed it.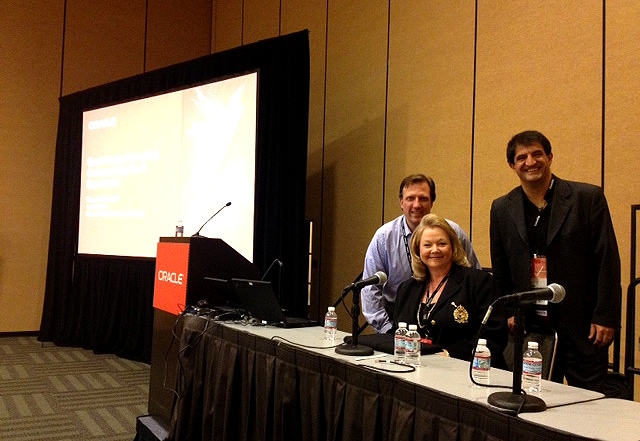 Gustavo Gonzalez @ OOW 12 w/ Oracle and PGA
I can anticipate that at OOW14 Oracle will be seizing the opportunity to show real cases with customers running this option and explain how you can leverage this feature with your existing application. For more information on sessions regarding Database In-Memory, click here.
The products from the Engineered Systems line of business will continue bringing news to the table. I've personally seen many organizations in LATAM purchase EXA products (unofficial estimation for Brazil is about 400 EXA machines running) and also a good number of Oracle Database Appliances, used mostly to improve performance for Oracle Apps.  For sure there's going to be something new in this area so we'll have to stay tuned and check out these sessions at OOW14.
Oracle confirmed in a press release that they're the second largest cloud SaaS Company in the world. We all know that Larry is keen on being second to none. So Cloud will most likely become the next competitors and fictitious enemies on the center stage. The first "Cloud" company, per Oracle's press release, is Salesforce.com with a very limited offering compared to Oracle's. Think about SaaS for a minute: Salesforce.com only offers a CRM Suite (Sales, Marketing, Service, Social and a few others) and a platform (Salesforce1). Now set that against Oracle's offering, with tools to:
•    Engage Customers: Marketing, Sales, Service, Configure, Price and Quote.
•    Empower People: Global Human Resources and Talent Management.
•    Empower Business: Financials, Procurement and Project Portfolio Management
•    Transform Supply Chain: Product Value Chain, and Value Chain Execution for Material Management and Transportation & Trade.
•    Manage Enterprise Performance: Enterprise Planning and Financial Performance Reporting.
•    Get Social: Social Network, Marketing, Engagement & Monitoring and Data & Insight.
Obviously there's a big difference both in products and in terms of revenue between these 2 big companies: Oracle is making $1.1B and Salesforce.com is currently on $4.1B. In my opinion, it's only a matter of time, since Oracle arrived late to this game and adoption is expected to experience exponential growth – big enough to make an impact in revenue, which has been growing steadily by 2 digits for several years.
Since the last Oracle OpenWorld in 2013, Oracle has acquired 11 companies. These companies can shed more light on the announcements we can expect at OOW14. Let's review their latest strategic acquisitions:
Applications
Date

Company

Business

October, 2013

Compendium

A cloud-based content marketing provider that helps
companies plan, produce and deliver engaging content across multiple channels
throughout their customers' lifecycle.

October, 2013

BigMachines

A leading cloud-based Configure, Price & Quote (CPQ)
solution provider.

December, 2013

Responsys

A top provider of enterprise-scale cloud-based business to
consumer (B2C) marketing software.

February, 2014

BlueKai

A leading Data Management Platform to personalize
marketing programs and customer experience.

June, 2014

LiveLOOK

An important co-browse functionality to improve customer
experience through connected real-time engagements.

June, 2014 (pending)

MICROS System

A provider of integrated software and hardware solutions
to the Hospitality and Retail industries.

July, 2014 (pending)

TOA Technologies

A leading Field Service SaaS to deliver effective and
timely home- and facility-based customer service.
Middleware
Date

Company

Business

November, 2013

Blitzer Mobile

A provider of mobile apps management solutions that enables
employee access to corporate data and applications from mobile devices,
addressing the growing security needs created by the "bring your own device"
(BYOD) movement.
Server, Storage and
Networking
Date

Company

Business

December, 2013

Nirvanix

A cloud storage service with usage-based pricing.

March, 2014

Corente

A leading provider of software-defined networking (SDN)
technology for wide area networks (WAN).

May, 2014

GreenBytes

A provider of ZFS technology with domain expertise in the
areas of deduplication, replication, and virtualization.
From the list we can conclude that SaaS will continue to grow. The latest acquisitions are primarily oriented towards marketing, but the MICROS assets will add a valuable component to the offering by creating numerous opportunities for Oracle's Software as a Service plus a specific industry package.
Finally, I envision that Infrastructure as a Service (IaaS) and Platform as a Service (PaaS) will also get their time to shine. If we take a closer look at the sponsors, we won't be seeing EMC or similar firms, and given the companies in Oracle's portfolio, there's a high chance they are going after the Backup as a Service or similar business. GreenBytes and Nirvanix assets brought some major advantages that will directly impact the offering.
Bottom line. Besides the four great bands and three epic nights with Aerosmith, Macklemore & Ryan Lewis, Capital Cities and Empire of the Sun, we are anxious to get started in the roller-coaster of a new Oracle Open World more than 2,500 sessions, networking with more than 70,000 business and technology professionals from around the world and living the show of the man of the hour Mr. Larry Ellison and his dream team at Oracle.
Let's Stick Together in San Francisco!
You know, any time there are 70,000 people it can be easy to get lost in the crowd!
But let's not let that happen to us!
While you're in San Francisco, make sure to catch my session on Oracle Rollouts in Latin America (Sunday September 28th @ 11:00 am, Moscone South 250) and/or stop by Booth 2009 to meet in person.
You can also click here to visit our Oracle Open World Resources page to request a 1-1 with one of our experts.