Oracle OpenWorld 08 – Customer Appreciation at Treasure Island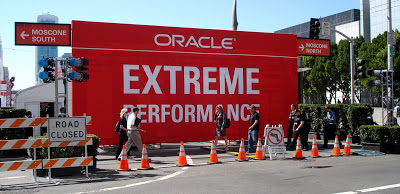 Oracle OpenWorld 08
has my first OpenWorld experience, and it's been both exhilarating and draining thus far. So I was admittedly ambivalent at the prospect of busing out to Treasure Island for Oracle's thank you event.Less than 12 hours later I can say that I am glad that went, because Oracle proved beyond a shadow of a doubt know how to throw a party!
Oracle transformed Treasure Island into a hybrid rock concert, food fest, and amusement park. Elvis Constello, Seal, and UB40 highlighted the musical festivities, with all three acts showing they can still pack a punch.
For the young at heart there were over a dozen carnival games and rides, including a Ferris Wheel, Merry Go Round, and Rotating Swing.
Oracle also set up numerous food pavilions complete with sushi, shrimp, fine quality honey ham and smoked turkey breasts. Soft drinks and spirits were freely flowing at any and all of the open bars that Oracle had strategically positioned around the complex. And of course corn dogs, cotton candy, and pop corn were available for all who wanted it.
Oracle OpenWorld 2008 is still a ways away, but the customer appreciation event is not to be missed.
K. Thomas, IT Convergence