Oracle OpenWorld 13 Outtake: 6 Keys to Know about 12c's In-Memory Option
One of the biggest announcements at
Oracle OpenWorld 2013
came from Oracle Corporation's Larry Ellison regarding the
In-Memory Option
for
Oracle Database 12c
.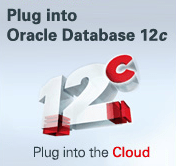 This new feature will vastly improves the performance of Oracle 12c by boosting available memory cache options by Times Ten. Earlier options available under memory cache i.e. Times Ten and in memory database cache, were purely relational in nature with required OLTP support for high volume transaction processing. This new In-Memory Option in Oracle 12c obviates that need.
6 Things You Need to Know about Oracle 12c's In-Memory Option
Oracle Database 12c will support both row and columnar formats to store data in memory. Columnar formats provide low latency for read operations compared to row formatted data, thus improving query performance dramatically for high workload and analytics operations.
In memory row format support further enhances performance of the OLTP (on-line transaction processing ) operations.
12c's In-Memory Option maintains transactional consistency during insert, updated for both table and columnar formatted data in memory.
This enhancement provides a better alternative for index usage in high data volume queries e.g. analytics, saving space, cost and operational overhead for administration, performance, maintenance tasks.
Changes to in-memory option are transparent, without any functional impact on existing applications.
12c's In-Memory Option supports multitenancy for cloud enablement.
Process Improvements Resulting for Oracle 12c's In Memory Option
There are a number of processes which will benefit from the new In Memory Option.
Planning: Applications' planning engines typically process large volume of historical data for analysis. Now, these applications will deliver results much more quickly.
Batch Processing: Applications using batch processing usually work on large sets of data and these jobs will run faster in this case.
Analytics Processing: Analytical applications will read column formatted data directly from memory giving significant performance improvement.
It's quite evident that existing applications with needs around high performance and low turnaround time will benefit most from new Oracle Database 12c In-Memory option.
Oracle OpenWorld is the biggest and most important event of the ERP calendar and IT Convergence wants you to take full advantage. Click here to visit our OOW13 resources page and/or follow all of the action from wherever you are in the world by reading all of this blog's entries on our Oracle OpenWorld .