Oracle OpenWorld 13 Outtakes: Oracle R12.2 Goes Live! What Does That Mean to You?
Learning about Release 12.2 from the experience
Now that Oracle E-Business Suite Release 12.2 is generally available , the clock starts ticking in terms of support. Let's take a look at how the Oracle E-Business Suite support chart will look like after the addition of Release 12.2: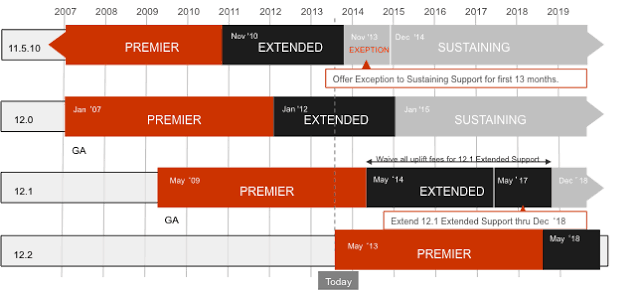 Oracle EBS Support Timeline with R12.2
In the Middle of an Oracle R12.1.x Upgrade….?
For those working on the upgrade to Release 12.1.3, this is not a game changer. Depending on your current phase, you can review the media and predict how the different changes (mostly technical but also functional) will impact your go-live.
If you decide to keep your target release for 12.1.3, we recommend going over the R12.2 documentation to ensure that you won't have to re-do work on your future upgrades. Some of the recommended documents are: Concept Guide, Installation Guide, and the Developers' Guide for E-Business Suite Release 12.2.
Because of the changes in the technology, and mostly due to the introduction of On-line patching (leveraging the Edition Based Redefinition (EBR) feature from Oracle 11gR2 Database) it is important to understand the new concepts so as to avoid future re-work on extensions or customizations.
If you're planning to upgrade to Release 12.2, first you will have to evaluate your current Database version. EBS R12.2 relies on Oracle 11gR2 database version, which will be the very first step in your path towards EBS Release 12.2.
You can also assess the changes in the data model by using "EBS Data Model Comparison Report Overview" (Doc ID 1290886.1), which was updated recently to incorporate Release 12.2.
While it is true that Oracle has taken its time to make E-Business Suite Release 12.2 generally available, both business and IT users will agree that it's been worth the wait. Oracle has invested heavily on architecture changes, has leveraged multiple components of the Oracle tech stack, and has documented a smooth and clear upgrade path for 11i or R12.0 or R12.1 users.
More on Oracle R12.2 and You
Oracle EBS Users have been waiting for the announcement that Oracle Applications Release R12.2 for a long time. IT Convergence has been an R12.2 early adopter since the very beginning and we plan to share that expertise with you.
If you could't make it to OpenWorld, to discuss our experiences with Oracle R12.2 in person, worry not. You can click here to visit our Oracle OpenWorld resources page. You can also read about our early experiences with R12.2 here.
Join our October 2013 webcast
Maybe you missed OOW, but you are still in time to attend our October 30th, 2013 Webcast: "Oracle R12.2 and You. Insight from a Beta Tester." The webcast will feature insight on the on-line patching functionality, its impact, customizations and extensions.
Register today and reserve your spot.
Oracle OpenWorld is the biggest and most important event of the ERP calendar and IT Convergence wants you to take full advantage. Click here to visit our OOW13 resources page and/or follow all of the action from wherever you are in the world by reading all of this blog's entries on our Oracle OpenWorld .

Follow @IT Convergence