"Oracle R12.2 and You" Webcast Q & A, Part I
Our recent webcast "
Oracle R12.2 and You
" was a smashing success. As always, we are happy to provide a complete transcript of the webcast Q and A. Due to the high volume of requests we're dividing the transcript into two parts.
Here is Part I:
When you talk about the performance improvements in R12.2 for Oracle WLS (WebLogic Server), does it mean performance improvement in the middle-tiers only or in the database tier as well?
As a result of the improvements in the WebLogic Server you'll see better performance in both the Middleware tiers and the database tier. When we talk about the performance of the Weblogic server, if you are currently using the C4J container, you can definitely see the difference in the performance, because WLS is far more stable at this point. But with the database in the new release that R12.2 is on, the changes that have been brought in the database, the performance is different, it's much better right now. With the WLS you are able to manage and monitor better, because it is highly integrated with your application manager. So you can see your whole database and application, meaning you are able to get to the issues faster, and this is obviously a far more stable and advanced application server.
What is the actual version of Weblogic that is used in 12.2? Is it 11.3.1.5?
Oracle E-Business Suite R12.2.2 is using Weblogic 10.3.0.6.
Is XML gateway that is part of R12/R11 still supported in 12.2 or do we have to migrate to SOA?
Yes, the XML gateway is still supported. When you are in 12.1.3 Oracle provides the gateway, which you can use to interact with other applications. Now you can use that also for EDI purposes. Our recommendation is: as you move on, and get to these new technologies using the SOA gateway or SOA suite, if it's already licensed, SOA provides another option than B2B to do the EDI. Normally this will support what you have, but you can upgrade that to the new technology so that going forward it's easy to maintain. And then, when for example you are changing your trading partners, the change is much easier than XML gateway, which you have experienced in 11i or even 12.
Is there a tool which can indentify all the customizations in the 11.5.10 system before upgrading to R12.2?
All customizations are registered against the database internally and also the S&D foundation tables of E-Business Suite. There's no official utility to do that from Oracle, but there are some scripts that you can easily build to extract the information from there and get all the customizations you have.
Unfortunately, the effectiveness of the script depends on how much you've followed development standards, because the way to identify if an object is a customization or not heavily relies on the naming conventions and the tables where they have been installed.
Can mini-packs be applied online too?
All patches related to E-Business Suite will be released as online patches from the moment that you upgrade to R12.2. This does not include the technology patches, database application server, etc. – only application patches. Every application patch will be applied through online patching, including mini-packs, RUP, and so forth. It is also worth mentioning that the patch to upgrade to R12.2 is not an online patch.

We are on Oracle E-Business Suite 12.0.6, and we want to wait until there are more customers on 12.2 before upgrading. Is there any advantage to upgrading to Oracle 12.1 before 12.2?
If you think that most of the functionality that supports your business is configured properly in EBS 12.0.6, you can directly go to 12.2, since most of the functionality that you have in 12.1.3 is already there in 12.2. So, if you're looking at an upgrade for next year, then 12.2 would definitely be our recommendation as there's no real benefit in upgrading from Oracle R12.0.6 to Oracle R12.2 before going to R12.2.
Do we know if there will be R12.3 or R13 in near future?
What we can see, based on discussions and conversations with Oracle is that the product will continue to grow in terms of "dot" releases, so we are probably going to see R12.2.3, R12.2.4 with both more functional and more user experience enhancements. In terms of technology, there are not going to be a lot of changes – that's what we saw from 12.1 to 12.2 (such as online patching), but mostly, it will be in terms of end user experience: we will see more native applications built for mobiles, tablets, and certainly more functionality that will bring you a greater return on investment for the business plan of your upgrade.
Can you please shed light on the magic ingredient called EBR which enabled online patching?
That is correct, online patching is a method that allows start applying a patch while the users are only performing changes to the application without impacting the system.
The "magic ingredient to make this happen" is not just a single feature. It is a mix of technology features from the database, Weblogic, and a set of changes at the application code level.
It is used a feature called EBR in the database 11gR2 or Edition-based redefinition enables you to upgrade the database component of an application while it is in use, thereby minimizing or eliminating down time. Editions are non-schema objects; as such, they do not have owners. Editions are created in a single namespace, and multiple editions can coexist in the database. For further details on this DB feature please refer to http://docs.oracle.com/cd/E11882_01/appdev.112/e41502/adfns_editions.htm#ADFNS020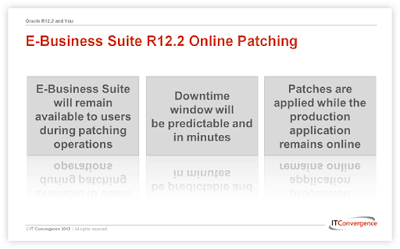 On the application side, the introduction of two file systems and also disabling some functions (mostly setups) that could be changing some objects during the patch process are the addition that covers this new functionality from the E-Business Suite side.
The real downtime happens in one of the phases of the patching process called "Cutover". In detail this phase includes:
Users are logged off the system.
The patch file system becomes the run file system, and the previous run file system now takes on the role of the patch file system in readiness for the next patching cycle.
The patch database edition is promoted to be the run database edition.
Final maintenance operations are performed.
Users are brought back online on the (newly patched) run edition.
I knew ITC was a Beta Test customer for 12.2, are you now LIVE with 12.2 now?
After multiple successful iterations on the beta program, IT Convergence has started the internal upgrade to Release 12.2.2 and our goal is to be one of the first organizations running Oracle E-Business Suite R12.2 worldwide.
What was the underlying platform that ITC ran R12.2.2 upg on, the Apps and DB stack env? Have you tested on AIX?
IT Convergence is running on Oracle Enterprise Linux on both application server and database server. We've not tested on AIX or have exposed to a company running on AIX. I know the Oracle team has tested on multiple operating systems and some of the beta testers were running AIX without problems.
Will a company use 12.2 and Fusion at the same time or one or the other.

One of the advantages of R12.2 that we covered during the webcast was the co-existence. A co-existence with Applications Unlimited (such as Oracle EBS Release 12.2 or Peoplesoft or JDEdwards) is possible with out of the box functionality, which means supported by Oracle. This sounds simple but think what will be the cost savings when you do not have to build and maintain the integration between multiple systems.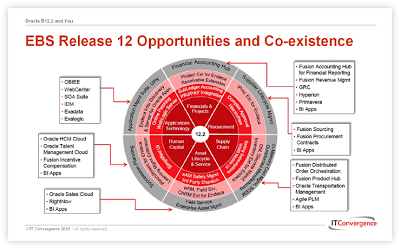 There are many options to leverage functionality of both systems and even take the best of the on-premise and cloud world integrating Oracle E-Business Suite on-premise and Fusion Applications in the cloud.
What about skipping 12.2 and going directly to Fusion from 12.1.3?

It is possible and we've been working with multiple organizations that are interested on this approach. The main challenge that we see is that on some families of Fusion Applications there are some modules and functionality that is missing so that means that you cannot move all your processes from E-Business Suite to Fusion Apps.
Something important is that there's no "migration path" so it will be a re-implementation.
I want to understand the Oracle R12.2 mobile piece better, what insight can you provide?

The Oracle E-Business Suite team has been working on new enhancements to the tablet/mobile world. It is in testing the integration of Fusion Mobile Expenses with Oracle EBS and can be released anytime soon. There's an application for Field Service that is currently very popular right now. In addition to that, there are new applications that are being developed and this is what Oracle will be introducing in future releases in terms of improving the user experience.
In other words, we'll see more native applications for mobile and table which will be making the business cases for upgrading much more compelling for our users.
I'd like to start answering this question with a definition per Oracle on the different aspects of how E-Business Suite addresses the legal and tax requirements globally.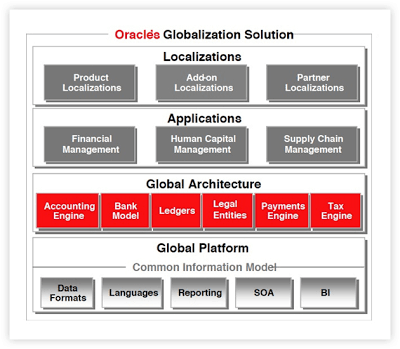 Oracle E-Business Suite addresses geographic requirements through a comprehensive global solution set that is comprised of the following components:
• Global Technology Platform provides consistent technology support for global requirements across all applications.
• Globalization Capabilities are delivered through rules-based engines that support globally diverse requirements in areas such as accounting, payments, payroll, taxes, and others.
• Localizations enhance the globalization capabilities by providing support for country specific legislative and business requirements. The following localization delivery methods exist:
Product Localizations: Delivered in product, by Development organization
Add-on Localizations*: Delivered via My Oracle Support, by Regional Localization centers. They are offered as "service deliverables" under a limited use license
Partner Localizations: Delivered by Oracle's partners
The products localizations are included in Oracle EBS R12.2 and Add-on Localizations and Partner Localizations are not certified for Release 12.2 and we expect that to happen very soon.
Do you have a breakdown of the new features in Oracle R12.2 for the VCP (Value Planning Suite – ASCP, Demantra, etc.)?
There are quite a few new features in R12.2 for the Value Chain Planning (VCP) family. Just to name a few specific to Advanced Supply Chain Planning (ASCP):
Supplier Capacity Consumption Enhancement: A new profile option is introduced to control supplier capacity consumption by purchase orders.
Enhanced Exception Management: You can now control which exceptions ASCP generates, thus saving the computational burden of generating unneeded exceptions.
Access to Advanced UI Screens from EBS Navigator and Enhanced Access to Advanced UI Screens from Planner Workbench.
You can find more details on new features for these and other product families in the following Note: R12.1 / R12.2 : Oracle E-Business Suite Releases 12.1 and 12.2 Release Content Documents (Doc ID 1302189.1)
Do you have any available information which highlights the compatibility (or incompatibility) of EBS R12.2 with other Oracle applications (e.g. OBIEE, Hyperion, SOA, GRC, Agile, etc.)?
Something important to mention is that, there's no compatibility/incompatibility of products with E-Business Suite R12.2. We mentioned that since the product has 6 weeks since it was announced, the certifications are not ready yet and we'll see these coming along pretty soon. I'd recommend subscribing to IT Convergence's updates on R12.2 or checking frequently Steven Chan of Oracle's blog.
Don't Miss Future Webcasts
For companies that are interested in migrating to Oracle R12.2 but concerned about end-users adoption, something to consider is to register for our next webcast "Facilitating End-User Adoption with User Productivity Kit (UPK)" on Tuesday, November 12th, 2013 at 8:00 am Pacific/11 am Eastern.
Likewise, users who are concerned about integration issues can learn how Oracle Service Bus can transform your current integration by attending our webcast "Oracle Service Bus: Build a Robust Integration Platform with Service Virtualization" on Wednesday, November 20th 2013 at 8:00 am PST/11:00 am EST. Reserve your spot today!