Oracle R12 has been generally available since late 2007. That fact notwithstanding, end user adoption of R12 has been slow as the infographic from a recent webcast reveals: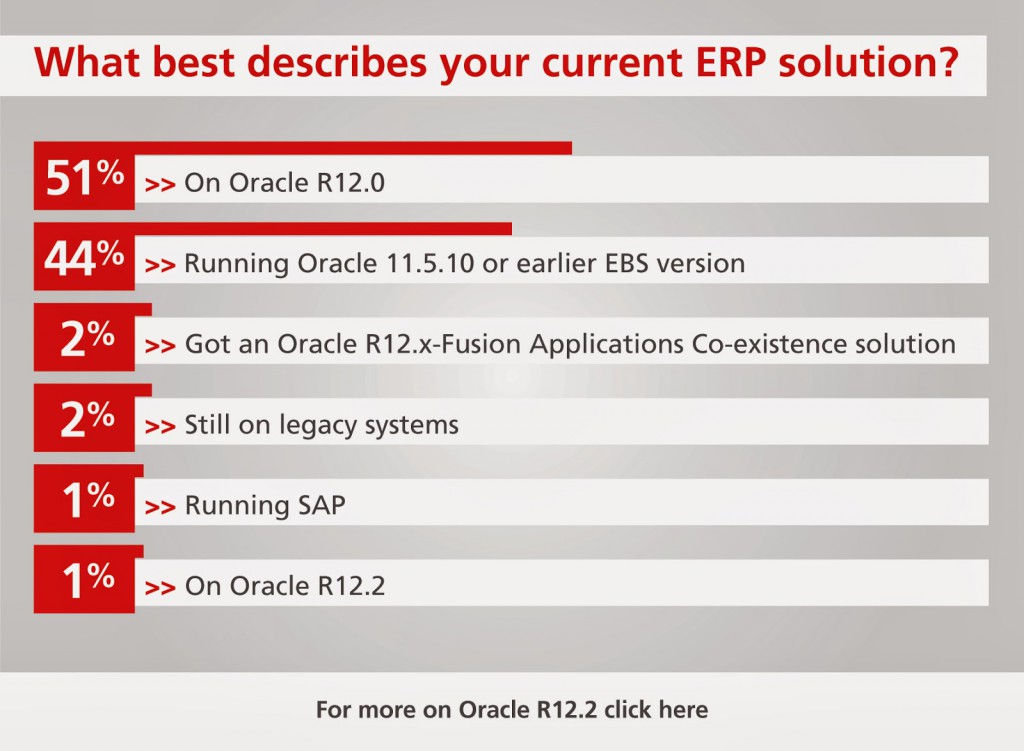 Survey taken of 400+ "Oracle R12.2 and You" Webcast Attendees
Although this was not a scientific survey of EBS users, the results are consistent with other industry surveys, and the fact that close to half of Oracle EBS users are on some version of 11i seven years after R12's release is striking, prompting the question, why the delay?
Some of that has been because of "The Great Recession," and some of the delay lies in the fact that CIO's and ERP Managers have simply had too difficult a time convincing the CFO's and other suits in the executive suite that the enhancements offered by Oracle R12 are sufficient to justify the investment needed to upgrade.
However, all of that promises to change in 2014.
To begin with, the economy is showing renewed signs of strength, and there is also last fall's release of Oracle R12.2….
And to discuss why 2014 promises to be a big year for Oracle E-Business Suite R12.2, we've asked our experienced team of professionals, including our CTO Gustavo Gonzalez, to give us:
14 Reasons to Upgrade to Oracle R12.2 in 2014
1. Maintain Vendor Support
Holding off an upgrade to R12 might make life easier on the ERP budget, but the longer you wait, the higher your indirect costs will get, because other software vendors continue to move forward and don't look back. This results in all kinds of challenges, from ERP-desktop incompatibilities to needing to invest in custom developments to do simple things like printing checks. All of that eats away at efficiency and budgets.
2. Everyone will want to be your best friend….
And learn how you did it and how you're leveraging the enhanced user experience and ROI in your organization.
3. Oracle 11i's like SO 2004…
Oracle 11i was great when it came out. But the world – and Oracle – has moved on since then. Oracle R12 brings new functionality, such as Subledger Accounting, new user experience, new tools and new technology – such as the new Skyros skin and flexfield value set security.
4. Larry will be so happy that he'll take you for a ride on his boat.
Well, no, he probably won't, but it will be so much easier to upgrade to Roll-Up Patches adding value to your organization without having to contemplate 1-million dollar projects for custom developments.
5. The Who  is doing a farewell tour. Again. 
Don't get fooled again. Do you still want to be on 11i when Roger Daltry and Pete Townsend REALLY hang it up for good? 'Nuff said.
6. "The Fusion Confusion" is Over 
Oracle Fusion Applications is generally available, but the way the Fusion Applications Suite is evolving, a "Coexistence strategy" is turning out to be the most feasible and practical approach. Getting "Coexistence" right means being on R12.2.
7. What ERP professional wouldn't want Oracle R12.2 on their resume?
This probably isn't an argument you'll want to use when pitching an Oracle R12.2 upgrade to the CIO, let alone the CFO. But the truth is that the best way to understand a new release is to "get your hands dirty." By doing so, you'll gain skills and experience that will set you apart from other ERP professionals.
8. Need something to keep you busy while waiting for the final installments of the Hunger Games.
Just think of how much better Panem's force field might have held up if its architecture had included Online Patching… OK, that's a stretch. Perhaps Oracle RAC would be the better metaphor, but hey we're shameless when comes to making pop-culture tie ins…
9. Must justify why you've included Collaborate 2014 in your budget.
Collaborate  has often been described as an "almost religious experience" for hardcore Oracle technical and ERP specialists. There'll be loads on Oracle R12.2 at Collaborate 14, and you can leave the office knowing next to nothing about R12.2 and come back ready to get serious about an upgrade.
10. Staff is getting a little too comfortable with 11i. 
By comfortable we mean that if you haven't done any project over the last 5 years, it is normal to have key users forget how to define test scripts or a transition plan. Shaking things up can have a ripple effect that will deliver unanticipated benefits.
11. Out with the "Old" (translation Oracle Reports + MS Excel) and in with the "New" (BI Publisher) 
End the practice of users downloading Excel data in text format and then spending hours "massaging" the data into executive-friendly presentations. With R12.2 you can move from Oracle Reports to BI Publisher as a first step, and plan for a Business Intelligence strategy with OBIEE.
12. Gotta keep up with the Joneses…
Seriously, R12.2's on-line patching capability alone will make both your IT and business operations more efficient. Organizations involved in manufacturing, those with large supply chain and/or logistical changes will benefit even more. If the suits balk at this, simply think back to the last time you had to stop everything to apply a critical patch and/or wait for days until you could have several hours of downtime.
13. James Spithill, skipper of the "Oracle Team USA" America's Cup champion thinks it's a good idea.
Actually, there's no record of him saying this whatsoever, but we bet he'd be onboard with the idea of an Oracle R12.2 upgrade if you asked him….
14. Why not?
It's no secret that ERP devotees have wanted to move to R12 for a while – the technical and functional case has been out there for a long, long time. But of course, that does not drive decision making. Oracle E-Business Suite R12.2 is a game changer that finally brings together a compelling business case for an upgrade. Oracle R12.2's On-Patching is compelling by itself, but that's only the beginning: with R12.2 organizations will also:
Improve integration with the Oracle Fusion Applications Financials Accounting Hub
Streamline supplier management
Increase project visibility via improvements to Oracle Projects
Enhance your ability to sell complex subscription-based Order to Configure services via improvements to the Oracle Configurator and Order Management
Beef up Warehouse management with improved interface capability between Oracle and mobile devices
More Oracle R12 and R12.2 Resources Just a Click Away
Whether you found these reasons compelling enough to make the switch or are still looking to learn more, you have a wealth of resources at your finger tips.
To start with, you can click here to access over 18 R12.2-related articles in this blog .
Next you can check out our Oracle R12 Upgrade  and/or Oracle R12 Re-implementation services . 
Finally, you can click here to complete our Contact Us Form to request a 1-1 with one of our Oracle R12.2 experts.