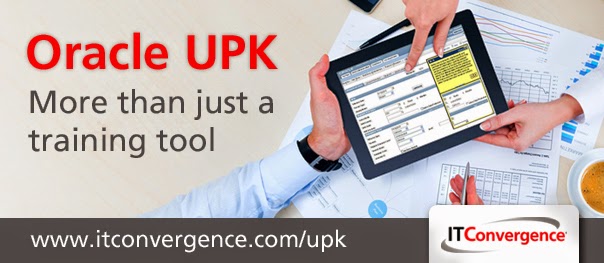 Our recent webcast "What's New in Oracle UPK
12.1" was an outstanding success, and we'd like to thank Marc Santosusso and Kathryn Lustenberger from Oracle Corporation for joining us.
As we always do, we're happy to provide a complete transcript of the complete Q and A session.
In Oracle UPK 12.1 do you still have the option to open a graphics editor like Photoshop?
Yes. That functionality of screenshot editing is still there in UPK 12.1. You can edit with Paint, Photoshop, or any tool you like.

Does Oracle UPK 12.1 give you an option to improve image quality in output documents (resolution/size configurable)?
First, it's important to clarify that this is not the result of UPK reducing quality, but rather the result of the screenshot of an application on a computer being much larger than the image area that you have in a document output; fitting that larger image into a printed page results in lack of clarity of the elements on the screen. The print areas allow authors to focus on a specific area. Assuming the area is not too big, the quality of the print area should be very good – making it very large, however will force the image to be resized and scaled down, resulting in lack of clarity.
What does it cost to upgrade from Oracle UPK 11.1 to UPK 12.1?
If you are current with your maintenance then you have the right to upgrade at no additional cost.

Can we add an extra bubble in an explanation frame?
In the topic editor there is no way to add a UPK bubble. However, one of the benefits of using the screen overlay in 12.1 is the flexibility in adding a lot of additional components, one of which is an additional bubble – similar to an extra "call-out," but not a second, native UPK bubble¬.

Is the Japanese language supported in UPK? 
Yes Japanese is fully supported in Oracle UPK it is. And it is tier 1 – meaning that the help content and developer tool can both be installed in Japanese¬.
Are screen shot overlays stored with the topic in the UPK library?
Yes. The overlay is stored as part of the topic data, so that will be included with the topic if it's imported or exported to a different library, for instance.
Is there a specific Version of PowerPoint required for overlay?
Yes, there is – the modern versions of Office will be supported there (from 2007 upwards).
If you want to update content within a UPK recording, do you have to start all over, or how do you go about adding an extra process that wasn't in the original recording?
Yes, this functionality is available. After the topic is recorded UPK gives you the flexibility in the topic editor to insert missing frames.
In UPK 12.1 if you need to edit recorded content do you need to use similar screen resolution?
Yes, you must use same resolution.
Why is Test Case not available as a preview?
This output purpose is to be imported into a testing suite tool, so this output on its own is not standalone¬.

Does the SME need to have a license devoted to them for the Record It! feature?
Yes, Record It! is a full license.
In UPK 12.1 does the text change automatically to a preferred language when any topic is derived from an English version?
Yes and no – template text updates with a swap of a language template, but custom text and screens will still need to be updated.
We have had trouble with recording using the PrintScreen option. Is there an easier way to do this?  For example, a button on the recorder itself instead of the PrintScreen?
We suggest trying to change the "print" key to something else like F12; or using the automatic record functionality. Otherwise, you could also disable the PrintScreen key in your other graphic apps.¬
Is there any option to convert the English text in an existing topic to any preferred language?
Oracle UPK 12.1 supports 22 supported languages, but yes, customers have created content in other languages.
Why does editing the screen from within UPK (old way) remove the overlay edits?
You can edit the screenshots and the overlay is completely independent from one another. So you if you edit the screenshots in Microsoft Paint, for example, you can do that without affecting your overlay. When you go back into the overlay, you'll see the updates to the screenshots, so if you're working on both in conjunction, you'll be able to see those changes in the overlay – but they do not affect one another, the overlay is a completely separate layer of editing.
What are the enhancements in the Knowledge Center?
There are a few enhancements in the Knowledge Center; the first one is an improved title search to be able to find your content. We've also added the ability to purge historical tracking data, to be able to prune down information in your tracking database for time periods that are no longer relevant or have been archived.

With regard to the Print area feature, is the Action area now included with the print output as well?
The action area is not included as part of the print area, but it was the first enhancement feedback we received once we got it into the hand of users, so that will probably be the first thing we improve in that area. It's the initial offering of that feature, so we are getting a very good reaction from users – but yes, that is certainly the direction in which we are going: adding the action area to the print area.

We are using UPK 11.1 can we start all over with 12.1?
Well, you certainly don't have to start all over, since you can import all your contents from previous versions. The documentation provides instructions on how to get to 12.1 based on the version you are on.
Is Oracle UPK 12.1 compatible with Oracle E-Business Suite 11i?
Yes, UPK 12.1 will work for Oracle EBS 11i in addition to being fully compatible with Oracle Applications Release 12¬.
If documents can be transferred from 11.1 to 12.1, is there any backwards compatibility?
Unfortunately no, there is no way to format documents in Oracle UPK so that they can be imported into UPK 11.1.
Is the player that was presented today available for review after the meeting?
Yes, you can access the portion of the webcast that was hosted and presented via Oracle UPK 12.1 here.
Is there any enhancement planned over the dragging & dropping of frames within that frame structure?
Well, there are no guarantees at this point, but it is something Oracle Corporation is looking into for the future.
Seeing it on this screen made me think of it… is there any update to the Frame Id's to give them more of an order and make them easily searchable?
Yes, you can order them so that they're more search friendly.
I have UPK modules which include audio. When I play through the player, the sounds works perfectly, but if I launch it on a browser without the UPK player, but using the link toc.html, it does not have any sound.
When launching the Player Package directly from removable media or a local hard drive, you should use play.exe instead of launching index.html or default.htm. Using play.exe avoids several operating system limitations associated with HTML playback from the file system, such as no sound playback support and Internet Explorer security warning messages in the Player window.
Why does it remove the overlay if you then edit the old way?
This is something that Oracle is working on with our customers. If you're experiencing this issue, don't hesitate to reach out.


We upgraded our database, and we are having problems with our UPK 11.1. How can we import 12.1?
A lot more information is needed to even begin addressing this issue. We suggest opening an SR with MyOracle Support. IT Convergence's UPK team can also provide advice..
If we want to deploy content (player) via SharePoint is that possible?
Certainly, you can deploy Oracle UPK generated content via SharePoint.

Stay Connected for More on Oracle UPK and/or… The Cloud!
As you can imagine, this is only touching on the tip of the iceberg when it comes to Oracle UPK. For more, please visit IT Convergence's UPK mini-site, or contact one of our UPK representatives to request a UPK Demo.
For more information on our UPK services, visit our UPK mini-site, and sign up to take advantage of our UPK free demo or health check.
Watch UPK tutorials on our YouTube Channel
IT Convergence is also offering two webcasts aimed at helping you take full advantage of the Cloud. On June 12th we'll host "Value vs. Cost – How to Get Both Out of a Cloud Services Provider" at 9:00 am Pacific. You can register for that here.
And on June 19th, we're pleased to once again join forces with EMC Corporation to host, "Data Domain & Deduplication Basics 101: Data Domain & Avamar Solutions vs. Traditional Tape Solutions" which is also at 9:00 am Pacific/12:00 pm Eastern. You can register for that here right now.