Customize UPK Templates Inserting Your Company Logo, Font, Colors…
If you are familiar with
Oracle's User Productivity Kit
, you are aware that UPK is a great product for rapidly developing application training. But did you know that you can also customize the UPK outputs to incorporate your company's logo, colors, and preferred styles? Wouldn't it be good to not ensure a consistent, official look and feel to all of your documentation?
There are several areas that support customization:
1. Logo – Within the developer, you can change the logo for all outputs at one time.
2. Player – The player output uses a style sheet that can be updated to change colors, graphics and other visual branding.
3. Documentation – The print documentation uses a Word-based template that can be modified to match your corporate standards.
Each of the document outputs uses a
Word 2007
template (printtemplate.docm) and some clever automation to build the document outputs. Bookmarks are inserted into the template, and during publishing, the bookmarks are replaced with the appropriate text from the concepts and topics. Since this is a Word template, any of the standard word functionality like inserting page breaks, is available.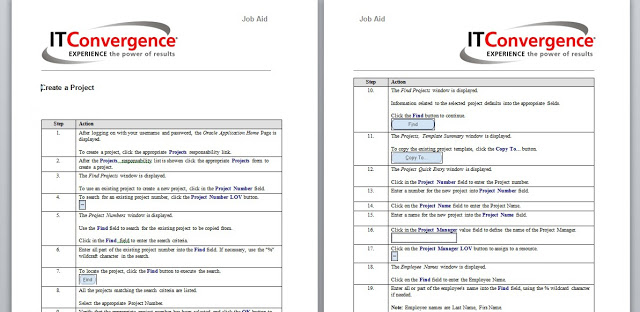 In addition, the UPK-specific functions can be inserted from the toolbar. When you open the template, it may look overwhelming at first. There's a lot of data in there!
This is good in that you have a lot of flexibility in what can be modified, so it's worth getting a better understanding of the capabilities. The Developer publishing template toolbar appears in the Add-ins menu on Word 2007, you may need to enable macros for the toolbar to appear. It contains all the elements necessary to insert the standard UPK values into your template. For example, you could insert concepts into your JobAids. If you prefer to view the toolbar in a different language, you can change the language using
UPK's language and localization functionality
(but the bookmarks will still be inserted in English).
There are two types of formatting to choose from:
1. Format from the Word template (default). This means the text comes in from the Developer, but any fonts, color and alignment are taken from the Word template.
2. Format from Developer settings. This means the text uses the same fonts and sizes entered in the Developer.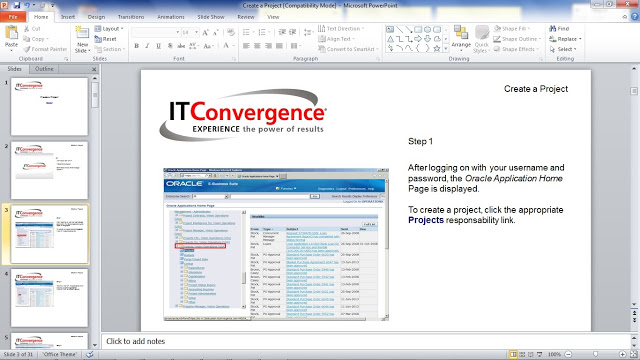 Before you begin:
1. If you are working in a multi-user environment, ensure that you have "Modify" permissions for the Styles directory under the Publishing folder.
2. Make a copy of the current styles. This recommendation is for backup purposes. If something goes wrong, you will have a way to recover.
3. Consider creating your own category by creating a new folder under the Styles directory, and then copying the styles into the new folder. When there is an upgrade to future versions, the system will overwrite the standard styles with any new feature additions and updates that have been made. With your own category, all of the customizations will remain intact.
This is where the fun begins. 🙂 You could create an entirely new document output style by mixing and matching the standard UPK data and metadata! When you combine this toolbar with Word's standard functionality, the possibilities are endless. Voila !
Interested in More? Discover What Else Oracle UPK Can Do For You
Interested in finding out more about
UPK content customization
that enhances your company visual appearance? Visit ITC's
UPK mini site
page
here
.
Something to consider doing is registering for our August 21st webcast
"Support Your Entire ERP Project LifeCycle with UPK"
to learn UPK capabilities beyond training.
Click here
to register and reserve your spot now.