Value of ERP End User Licenses – Millions; Value of Successful End User Adoption – Priceless
The importance of end-user training and performance support during applications' implementations or upgrades it is never emphasized enough.
End-user adoption
is the single most important factor for a successful or failed IT investment. Surprisingly, training is also the stage in the project life cycle with the lowest budget allocation, as well as, the first activity that gets cut in funding. Cutting the budget allocated to train end-users on new applications is the biggest mistake executives and ERP managers can do taking into consideration the threat to the overall project.
User Productivity Kit (UPK) can solve the challenges of bringing costs down and mitigating risks while building a strong training foundation.
Training Value:
UPK generates multiple outputs from a single source authoring that can be quickly updated across all outputs in case of changes of the process.
The different outputs cater to different learning styles making businesses substitute multiple content development tools with only one.
UPK can be used not only for developing training material for Oracle applications, but also for non-Oracle applications, web based applications making it a full solution training tool
UPK substantially reduces time and cost for classroom and online content development, as well as documentation content development extensively reducing the overall training costs.
Even in the best training programs, users will forget 70 percent of what they learned within two weeks, and 87 percent within one month. UPK has the capabilities to support end-user performance after the go-live.
Performance Support Value:
With UPK In-Application Support embedded in the application's help link, end-users do not need to call a help desk or ask their colleague for assistance which reduces help desk calls, as well as costs
With the just in time support end-users can fully master the systems and processes necessary to perform their jobs while increase productivity
Our next webcast "Improve End-User Adoption with User Productivity Kit (UPK)" on Tuesday, November 12th, 2013 at 8:00 am Pacific/11 am Eastern will discuss in more detail how UPK can be used to mitigate risks associated with end-user adoption while decreasing costs and increasing productivity.
More specifically the webcast will focus on:
• Factors that impede end-user adoption
• End-user adoption influence on companies' productivity
• Solving end-user adoption challenges and increasing the ROI on ERP projects with UPK
• The value that UPK can bring to an organization
Stay Connected to Get the Latest on UPK!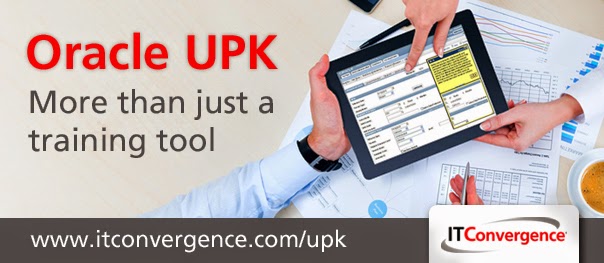 For more information about ITC services and how UPK can support your training initiatives, visit ITC's UPK mini site page here and download the UPK resources sheet here.
Watch UPK tutorials on our YouTube Channel!
For companies that are concerned about end-users adoption, something to consider is to register for our next webcast "Facilitating End-User Adoption with User Productivity Kit (UPK)" on Tuesday, November 12th, 2013 at 8:00 am Pacific/11 am Eastern.
For companies that are building a case for UPK we also have a webcast titled "How to Justify the Business Value of Oracle UPK" on December 12th 8:00 am/Pacific 11:00 am Eastern.