Regardless of whether you're deploying Oracle E-Business Suite, PeopleSoft, JD Edwards, Siebel or even SAP, rigorous testing is crucial to the success of an ERP implementation. ERP Testing is arguably the most important step in the enterprise applications lifecycle. Oracle UPK and Oracle UPK Professional will help your business by reducing the time and cost of thoroughly testing your enterprise applications implementations and upgrades.UPK and UPK Professional realize significant benefits in the testing phase of the software implementation life cycle:
Integration with ERP Testing Suites
Oracle UPK and UPK Professional integrate with test management software suites such as Oracle Application Testing Suite (OATS), IBM Rational, and HP Quality Center.  Users are able to leverage Oracle UPK's recording technology to capture transactional procedures in their applications and publish them as test documents. These documents can then be imported into any of the testing suites listed above. ERP testers can guide their manual testing efforts with UPK outputs such as Test cases, Test documents, and the UPK Test It! mode.
Reduction in Time to Execute User Acceptance Testing
Oracle UPK and UPK Professional offer in-application testing support. By leveraging this feature, User Acceptance Testers can access window specific support to find answers to their questions faster than ever before. Having the in application support also provides the testers with frame by frame instructions to quickly navigate the UAT (User Acceptance Testing) instructions and execute their testing.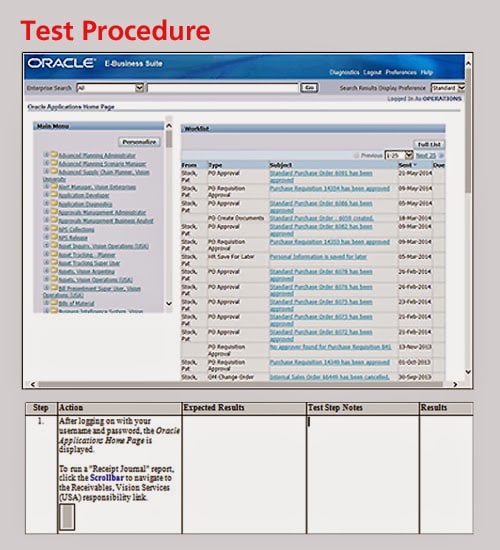 Standardization of ERP Testing Processes
By using UPK and UPK Professional to create testing material, you can provide a standardized framework for current and future testing. Having testing materials with the same look and feel across multiple applications will increase efficiency throughout the testing process.
Reduction in Time to Develop Testing Materials
Using Oracle UPK and UPK Professional to create testing materials offers proven time savings of up to 60 percent compared to creating the materials manually. Using UPK's recording technology, you can create multiple outputs including test scripts, application processes, and other test documents with a single recording session.  The recording gives you the ability to capture instructions step- by- step in real time, which also ensures that testing procedures are documented accurately.
Ease of Creating Defect Reports
Documenting defects during User Acceptance Testing (UAT) is handled in Oracle UPK's Test It! mode. A tester can automatically generate text for the steps necessary to re-create the issue in a defect report.
Quality Assurance
Oracle UPK and UPK Professional utilize the Test It! mode as a tool for content review. Content reviewers can assess topics in the Test It! player and provide frame by frame feedback. Test Step Notes can be utilized to instruct content developers on how to resolve the issues facing the testers.
There are many advantages to using Oracle UPK for User Acceptance Testing and there are many features of UPK's Test It! mode that are beneficial to the testing process. Functions such as the Test Step Notes editor can be published along with other player modes to create a simulated environment for testers to review testing materials prior to running the procedures through the live environment.
To find out how Oracle UPK and UPK Professional can help you reduce time and costs associated with User Acceptance Testing or other Educational needs, please visit IT Convergence's UPK mini-site, or contact one of our UPK representatives to request a UPK Demo.
For more information on our UPK services, visit our UPK mini-site, and sign up to take advantage of our UPK free demo or health check.
Watch UPK tutorials on our YouTube Channel!
Join Us on the Cloud; Stay Connected for More!
And on June 19th, we're pleased to once again join forces with EMC Corporation to host, "Data Domain & Deduplication Basics 101: Data Domain & Avamar Solutions vs. Traditional Tape Solutions" which is also at 9:00 am Pacific/12:00 pm Eastern. You can register for that here right now.
And if you're ready for a deep dive on using UPK to support ERP UAT Testing, you can join our webcast, "Streamline ERP Testing with Oracle UPK" on June 24th at 8:00 am Pacific/11:00 am Eastern.