The Power of Oracle's UPK In-Application Support
Economists may tell us that the
"Great Recession"
is over, but the sluggish pace of the recovery has created more than a few skeptics. On the corporate side pressure to hold the line on costs while boosting productivity and competitiveness remains as strong as ever.
How can companies in the US stay more productive than the Asian Tigers and/or competitors in the European Union. Well, one effective way can be through implementation of technology and highly skilled labor.

It all sounds good in practice, but in reality, most companies are struggling tremendously to get fast ROI on their IT projects. Executives are reluctant and concerned about investing in new projects because of the risks and difficulties that come with educating its employees. Organization's unwillingness to invest in technology is understandable, because according to a recent "Analyst Connection" by IDC , points out that, across all IT projects, only 32% are seen as being successful.
Translation – 68% of IT projects are failures.
That's way, way too high of a failure rate even for good times. Fortuantely, you have options.
Why the "P" in Oracle UPK Is for "Productivity"
This is where Oracle's UPK In-Application Support and the power of the Do It! Mode comes in. In-application support is created from the content developed in UPK, and used by the end-user with the integrated Do It! Mode, running on top of either a Web browser or a target application.
In both instances, the overall concept is to provide the user with interactive support right on top of the live application to both minimize help-desk calls and increase productivity. Below is a screenshot displaying the Do It! Mode (in green) launched on top of Oracle EBS. The Do It! window includes a step-by-step guide for how to complete the process with both a descriptive text and a graphic window displaying where to click.
This will provide the employees with a powerful tool that can be used whenever they need it, which will significantly increase the productivity.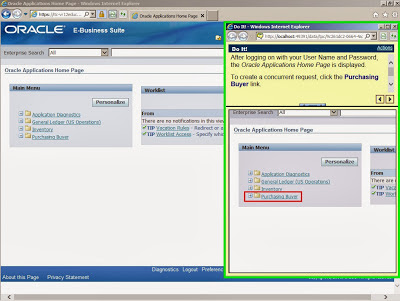 In-Application Support may sound like a basic feature, but let's quickly go over how it all works from the beginning to the end.
The first step for developers is to create content with UPK. During the content creation process, the recorder automatically captures the specific screenshot context information. This captured information comes from either "ExactMatch" or "SmartMatch" which are two unique features in UPK.
For target applications, the recognition process is captured with ExactMatch in which the content is tied to a specific screen's context ID, ensuring a 100% match. Meaning, when the user is using the target application and need assistance, the Do It! Mode is launched with the exact directions that is required to accomplish the specific task. This type of In-application support is called Help Integration, and it is utilized by using the existing target application's Help menu or Help link.
The second type of In-Application Support is called SmartMatch and is created from recognizing content when recording non-target browser-based applications.
When SmartMatch is used, the Developer uses a statistical engine to calculate an identifier in the application, based on the information it collects from various parts of the screen. This type of In-application support is called SmartHelp and can be integrated direct to the web browser's toolbar.
By using UPK and the Do It! Mode in an organization's daily operation, and utilizing the direct support it provides, companies can feel strong about their IT implementation and increase their ROI. It creates an environment that is set up for being productive instead of having frustrated employees. Furthermore, for an organization to have UPK or the Do It! Mode implemented, may just be what provides them with that competitive advantage they were looking for. Lastly, in-application support and other UPK features are differentiators that define a company overall success in a global economy.
Stay Connected to Get the Latest on UPK!
For more information about ITC services and how In-Application support can improve your end-user productivity, visit ITC's UPK mini site page here and download the UPK resources sheet here.
Watch UPK tutorials on our YouTube Channel!
For companies that are concerned about end-users adoption, something to consider is to register for our next webcast "Facilitating End-User Adoption with User Productivity Kit (UPK)" on Tuesday, November 12th, 2013 at 8:00 am Pacific/11 am Eastern.
For companies that are building a case for UPK we also have a webcast titled "How to Justify the Business Value of Oracle UPK" on December 12th 8:00 am/Pacific 11:00 am Eastern.