Linking Additional Resources to a Topic in the UPK Developer
Sometimes users tire of looking at bubble text and red boxes. Thankfully
Oracle UPK
provides a way to integrate all different file types in various ways.
For instance, if the topic happens to be referring to a specific report, wouldn't it be great to have a direct link to an example of that report instead of just a screen shot? Or if additional resources like webinars or blogs could be linked directly to a UPK topic? Fortunately, UPK gives you the ability to do just that.
Thankfully Oracle UPK gives us a very convenient and elegant solution.
Using the above example, to link a useable report to a specific frame all that needs to be done is to display the Frame Link pane and then determine what type of document is going to be linked. To access the Frame Link pane click View -> Panes and select Frame Link.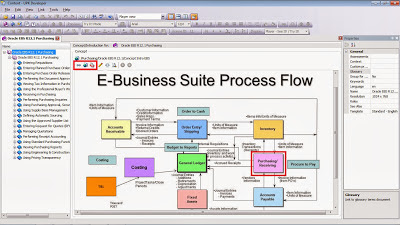 UPK Fram Link Pane
From here it's as simple as naming the document, choosing an icon, choosing a tooltip and then telling UPK what type of document it is. Other UPK topics or concept pages can be linked

as well as web pages

and documents
. To link a report saved to a hard drive choose the Create New Package option and find the desired report using the wizard. In addition to providing extra information in a topic these links are permanently associated. This means that if a topic gets moved the linked information will still be attached. This allows for re-organization without re-work.
External documents don't have to be linked directly to a frame; they can also be linked to text. This could come in handy when defining terms, sending the user to an external webpage, or creating hyperlinks to other documents. This can be used to add a bit more interactivity to topics which will engage users more than walls of text. Making a hyperlink is quite simple, just highlight the appropriate text then find the "Bubble text link" button

in the Frame Properties pane. From there, just as before, the type of link can be chosen and the on screen wizard will proceed through the steps needed to select a document. Once this is complete the frame will display the chosen name and icon. Clicking this will open the linked document without interrupting the topic.
In a nutshell that's all there is to it. This is a very easy way to add some depth to UPK topics and provide a ton of additional information or resources resulting in a happier and better informed end user.
Stay Connected to Get the Latest on UPK!
For more information about ITC services and how conceptual information can improve your training materials, visit ITC's UPK mini site page here and download the UPK resources sheet here.
Watch UPK tutorials on our YouTube Channel
Those of you unable to attend Oracle OpenWorld, but who still want to know more about User Productivity Kit features, functions, capabilities and the roadmap for the future, something to consider is to register for our next webcast "Oracle OpenWorld 2013 UPK Encore" that will be held on Thursday, October 10th, 2013 at 8:00 am Pacific/11 am Eastern.