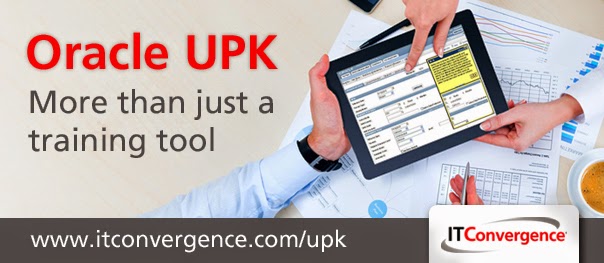 Oracle strikes again! This time with another new release for UPK focused on improving the user experience for content authors, project owners and end users. Oracle has also decided to extend support for newly released applications.
"In addition to extending support for newly released applications, UPK 12.1 ESP 1 Standard & Professional Edition continues to be the premier product in the industry while remaining an easy-to-use and comprehensive platform for developing, maintaining, and deploying content. Oracle User Productivity Kit dominates the market in rapidly creating and easily maintaining both transactional and conceptual content for enterprise applications". – Kathryn Lustenberger, Oracle
That's great and all….but let's get down to the facts!
Oracle User Productivity Kit 12.1 Enablement Service Pack (ESP) 1 (Standard and Professional Editions)
includes a variety of improvements:
See It! Video – Oracle recognized the need for additional output functionality, so they decided to add an MP4 output that allows authors to create videos for one or more UPK topics. With this new functionality come more possibilities for sharing and embedding UPK content!
Randomized Question Pools within Assessments – The ability to create questions and assessments makes UPK a great tool for facilitating formal learning. Now authors can create assessments that present users with a specific number of questions. These questions are randomly selected from the questions available in the assessment. Also, this feature now extends the question and answer order options to make sure that users do not have identical assessments.
Test It! Mode Results tracking – One of the biggest shifts in the industry is the use of UPK for testing. UPK can help create and manage organizations' test scripts through the Test Doc and Test Case outputs, providing valuable assets to various testing initiatives including application regression testing, user acceptance testing and UPK content review. With the new release, Test It! mode results can be tracked in the Knowledge Center where data is reported and Test Results documents are archived for each test.
Enhanced Usability of Print Areas – The release of UPK 12.1 brought the ability to define the Print Area. UPK 12.1 ESP 1 displays the action area for each step, allowing authors to improve document output images.
Additional Support – As with each new release of UPK, support has been added for additional target applications, recording environments, operating systems, databases and web browsers, allowing content authors and end users to stay current.
"Wait, wait, wait…I'm still on UPK 11…"
If you are still using Oracle User Productivity Kit 11 and missed what's new in UPK 12.1, that's OK! Catch up by reading one of IT Convergence's previous blog posts.
Stay Connected for More on Oracle UPK
Want to dive deeper into UPK? That's where IT Convergence comes in. Let us share our enthusiasm and excitement for Enterprise Resource Planning (ERP) upgrade and implementation tools, and show you the true power of Oracle User Productivity Kit. We can help you increase end-user adoption and simultaneously support training and testing efforts, saving both time and money!
We have a host of UPK resources at your disposal. For more, please visit IT Convergence's UPK mini-site, or contact one of our UPK representatives to request a UPK Demo, sign up to take advantage of our UPK free demo or health check and you can also watch UPK tutorials on our YouTube Channel!
Going to Oracle Open World 2014  in San Francisco? Click here  to arrange and appointment with one of our experts or just stop on by to talk with our UPK All-Stars and get a free UPK Demo at Moscone  South Booth #2009 – The official UPK Demo Pod of OOW '14.