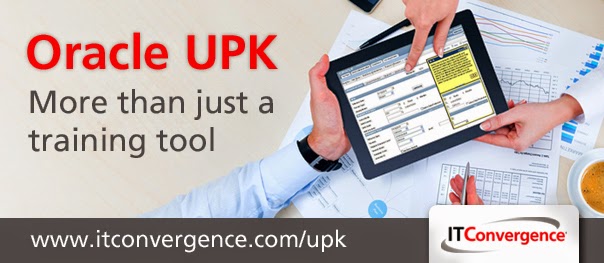 Oracle has announced the availability of User Productivity Kit 12.1. Oracle UPK is a powerful tool that adds excellent value throughout the entire project lifecycle. It facilitates  standardization, increases productivity, streamlines testing and training efforts, and creates knowledge a repository to store intellectual capital. In this latest release, Oracle continued to improve and innovate on the UPK product as detailed below.
Delete Multiple Frames 


Oracle UPK 12.1  allows you to delete multiple frames in a single topic instead of deleting frames one by one. Another feature for the Topic Editor allows you tocut frames and paste them in the same topic and even to other topics.  Both of these improvements are convenient for the authors in terms of content development efforts, and especially for authors who have to develop large quantities of topics in a short time frame.
Print Area
Oracle's UPK has been well known for its ability to customize styles, formats and contents. Oracle continues to innovate and bring personalization to extremes. UPK 12.1 now offers the ability to create Print Areas. The Print Areas look similar to Action Areas and they will be shown in the document outputs instead of Action Areas. This feature is a valuable addition to existing document development in order to provide users with a better understanding of the content.
Web Page Editor 
Enhanced features for the Web Page Editor include tables, multi-level bullets with customized bullet images and new Find and Replace.Using this feature in 12.1 is similar to using Microsoft Word. Up to five levels of bullet images can be included in a table. Table properties are enhanced for table headers and table type labels. The "Replace in this Web Page" button is added to better find and replace text within the web page.


Screenshot Overlay 
Overlay is useful to edit screenshots and add content to topics and it is an alternative to screenshot editor or Paint. A PowerPoint will be open and Oracle includes the Do's and Don'tsin the preface for Overlay Editor. You can copy a shape to previous/next/all frame(s). It saves a tremendous amount of time, especially for authors who have to edit screenshots in a mass volume and just need to update selected overlay to achieve the same objective.
Preview from the Library
UPK 12.1 offers the ability to preview content directly from the library. Topic previews can be launched in See It! Try It! Know It! and Do It! player modes as well as in various documents such as Job Aid, Test Document, Presentation and so on. This feature enables the authors to review the content more effectively without adding it to an outline.
Knowledge Center 
Oracle User Productivity Kit's Knowledge Center is a versatile and self-serving learning tool that gives the users the ability to post content, deploy content to individuals, score content, track results and run reports. The biggest leap from 11.1 to 12.1 is the Knowledge Center. Knowledge Center now has embedded User Interface elements that will reduce network requests and optimized JavaScript for better display.
Mobility 
UPK 12.1 offers mobile devices extensions. For example, Player outline, Knowledge Center and topic play modes as well as content launch through Learning Management Systems  (LMS) are all now supported on Apple iPad.
Other remarkable features include changing default topic modes for Player and LMS, selectively including topic modes for sound, sharing a link to an expanded module or section in the Player outline, creating jump-in points on explanation frames, and its capability to support UPK on more platforms and target applications.
Just the Tip of the Iceberg – Join Our Webcast for More
For more information on Oracle UPK 12.1, make plans to the May 29th webcast hosted jointly by IT Convergence and Oracle Corporation, titled "What's New in Oracle UPK 12.1?"
"What's New in Oracle UPK 12.1" will be on Thursday May 29th at 8:00 am Pacific/11:00 am Eastern and you can register now by clicking here.
Stay Connected for the Latest on Oracle UPK
For more information on our UPK services, visit our UPK mini-site, and sign up to take advantage of our UPK free demo or health check.
Also, watch UPK tutorials on our YouTube Channel!