Enterprise Resource Planning
(ERP) implementation or upgrade projects require a huge amount of resources at a high cost to any organization. It is safe to say that saving money is important to any Project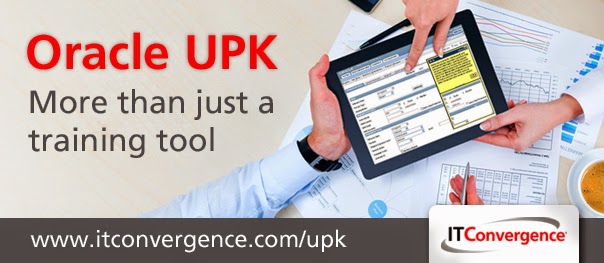 Benefit from Remote UPK Development
Manager, CEO or CFO of an organization with an ongoing or planned ERP project.
But what if we said that all training and development could be done remotely, saving both time and money spent on external training resources?
With Oracle User Productivity Kit Multi-User Environment, anyone can easily develop content at any time, from any location on the globe. Agility is one of remote UPK content development's great benefits, and one that can have a significant impact on the overall cost of an ERP project.
Oracle UPK's Multi-User Environment comes with great features. With its centralized content server, UPK developers will be able to have access to all developed material through the Internet or an intranet on their local computer. They can share the documents under the version control system, allowing only developers with specific access to edit the content. This means that the development of the training material could be done at any time, at any location with no need for travel to the client site.
To become successful with remote UPK development there are a few things that developers should take into consideration.
Before starting the remote development project, ask questions such as:
What standards are we going to use?
If there are multiple developers working on the same content, it is crucial that everyone uses the same standards for editing the material. "Standards" can mean anything from simple version control and naming conventions to customizations, branding and language used (tense, fonts, formatting). This will ensure consistency among all content developed and that the remote development team delivers a high quality product that empower end users.
What general default settings are going to be used?
Setting up the environment before starting the content development is very important, since this can save a lot of time and effort when it comes to the deployment of the material. Frame delay and print settings, as well as Learning Management System options are just a few of the settings that should be carefully considered since it has a major impact on how successful the deployment of the content will be.
How should the communication with the client be handled?
Communicating effectively with the client is essential  to any remote project's success. Carefully consider how this communication should be done before starting the project. Make sure that there is a plan for the review process and to arrange regular meetings with the client.
By using the features of Oracle User Productivity Kit Multi-User Environment and carefully considering the plan for a remote project development, end-user training materials can be generated easily and more effectively (at a lower cost) for any ERP project.
Stay Connected for the Latest on Oracle UPK
If you're ready for more on Oracle UPK then join our July 31st webcast "What is Oracle UPK" at 8:00 am Pacific/9:00 am Eastern. Click here to register now.
If you've found this entry long after the webcast has come and gone, we still have a host of Oracle UPK related resources you can take advantage of! For more visit our Oracle UPK mini-site, and sign up to take advantage of our UPK free demo or free UPK health check.
Also, watch UPK tutorials on our YouTube Channel!