Undertaking a new training initiative for any corporation is an extremely daunting task that requires considerable efforts in planning, execution, and maintenance. Investing the time to make staff adequately familiar and comfortable with new processes and job functions will maximize work efficiency and reduce processing or reporting errors, thus helping to maintain a competitive edge in today's business climate.Utilizing Oracle's User Productivity Kit (UPK) to produce cohesive training not only provides a streamlined approach to create standardized materials, but also enables materials to be designed and delivered in a role-based approach.
The major benefit of providing role-based training is that it enables end-users facing an ERP upgrade or implementation to quickly master their business area's responsibilities.  Down the road, this training can also help new hires or promoted employees to become prepared for their new jobs. Focusing training on generic or high level content will provide employees with the bigger picture; however, to create a highly skilled task force, narrowing in on detail-specific tasks by job function or department is the best training approach.
Role-based training will enhance any training initiative by making each individual competent in exactly what they are responsible for. This individualized approach becomes a comprehensive solution by ensuring all corporate needs are met – adding to the success of any go-live or skill development effort.
Oracle UPK makes role-based training simple and attainable thanks to the Role List in the UPK Developer. When creating the training plan, it is important to build a list of roles corresponding to the intended departments and employees receiving training.
Example of the Role List in the UPK Developer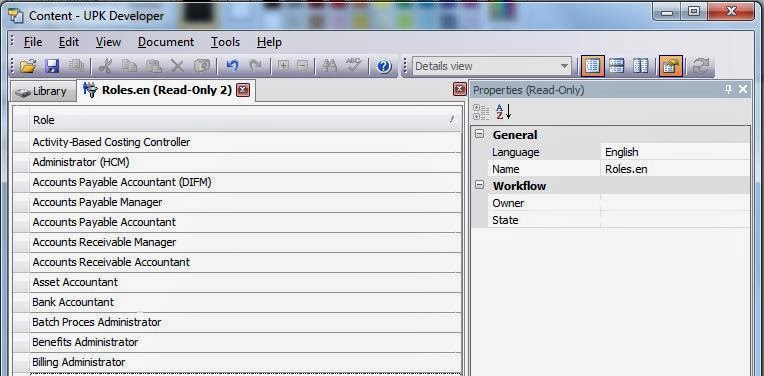 UPK Training
This list allows UPK documents like modules, section, or topics to be assigned to specific end-users. When an employee goes to a player package, they can locate the materials which are appropriate for them by selecting their role. Additionally, document outputs can be customized with further information that is catered to provide helpful tips and job-specific data.
Ramp up your UPK Skills
Stay Connected for the Latest on Oracle UPK
Can't get enough of UPK?
Neither can we. That's why we want to see you in
Dallas, Texas during the first week of February 2014
for our
UPK Workshop.