Oracle UPK: How to Use the Standalone Publishing Option
Oracle UPK's
the Standalone publishing option is one of the formats available in the
User Productivity Kit
for process simulation deployment. This format deploys as an .odtpc file that can be easily distributed to end-users and process reviewers, as an email or download from a file server. To view the Topic, end users must have the Topic Player installed on their local machine.
Each Standalone topic contains everything needed to play back in the See It mode!, Try It!, Know It?, Print It! and Do It! modes.
During publishing there is an option to include the Topic Player Setup program in the published output. The Topic Player Setup program can be distributed to your end users and only need be installed once in order to view .ODTPC files.
Steps to publishing a simulation in the Standalone format:
• In the Developer Outline pane, click to select the desired Module, Section, or Topic
• Click the File menu tab
• Select the Publish option under the File menu
• The Publishing Wizard page is displayed
• On the Publishing Wizard page, the Publishing Destination field defaults to your C: drive
• To change the destination, click the Browse button to view available locations
• Click the Next button
• The Select Publishing Options page is displayed. Select the correct options on this page
• Click the Next button
• The Format and Deployment windows are displayed
• Expand the Deployment + expandable button
• Select by checking the Standalone option checkbox
• Verify that the correct Options are checked
• Click the Publish button
• Click the Open the Folder where content was published radio button
• The Destination of the Folder is displayed
• Double-click on the Play.exe icon –
• Select the desired Browser option and click the OK button to launch the topic.
• The topic launched with the options for See It!, Try It!, Know It?, Do It! and Print It! play back modes.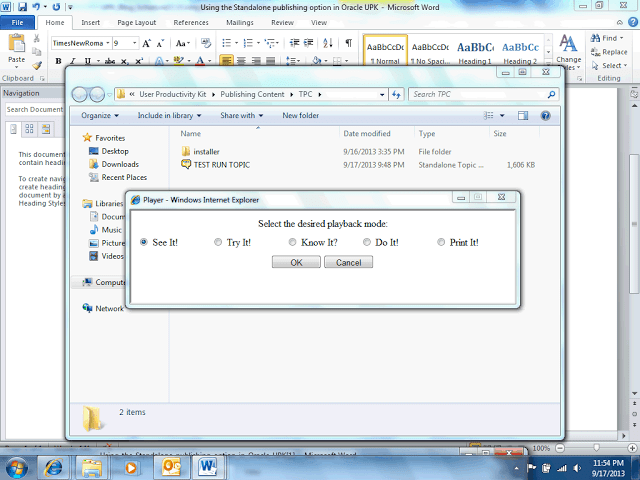 Stay Connected
Interested in finding out more about UPK outputs and standalone publishing options? Visit ITC's UPK mini site page here.
If you are interested in learning more about UPK features and functions, visit our YouTube Channel here and check out our UPK Tutorial Series!
If you're planning on attending Oracle OpenWorld 2013, please make sure to visit us at booth #1027 and/or check out our Oracle OpenWorld 2013 resources page.
For those of you unable to attend the show but who still want to know more about User Productivity Kit features, functions, capabilities and the roadmap for the future, something to consider is to register for our next webcast "Oracle OpenWorld 2013 UPK Encore" that will be held on Thursday, October 10th, 2013 at 8:00 am Pacific/11 am Eastern.