Last week IT Convergence teamed up with Kathryn Lustenberger  of the Oracle Corporation teamed up to hold the webcast "Streamline Application Projects with Oracle UPK" and the webcast was an outstanding success.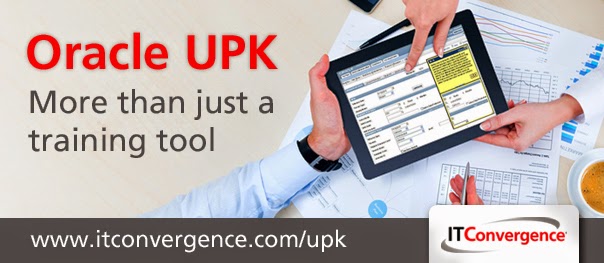 As always, we're happy to share a full transcript of the Q and A section that followed.
Q: Is it possible to upload video content that has been previously recorded to UPK? 
ITC: Yes, you can do it. There are two locations where you can add videos to your UPK content. One is the Concept Page (also known as Web Page) of a Module, Section or Topic; the other is to add a video on a frame by frame basis. First, you have to import the video as a Package document in the UPK Developer and then you link the video to the Concept Page or Frame bubble text.
In most companies that we've worked with, they had a video at the beginning, in the Concept Page as an introduction to the module or section and it was more like an overview of the topic before going to the transactional level of the topic.
Depending of what you are trying to accomplish, you would go with one of the two ways just mentioned.
Q: Is UPK delivered as part of PeopleSoft CRM Helpdesk 9.2?
Oracle: No it is not delivered, but UPK is a separately licensed product, so you would have to license the toolset by itself and for the end user consumption. In the future there will be UPK CRM 9.2 content available for licensing, but that is not currently available at this time.
Q: Can documentation created outside of UPK, such as PowerPoint Presentations, Adobe PDF, Word Documents, Excel files be used with UPK? 
A: Yes, documentation created externally can be used with UPK in two different ways.
For example, a company that I was working with had a lot of PowerPoint presentations and they did not want the presentations to go to waste, so we recorded over those PowerPoints that become UPK topics. Basically, you can record the slides of a PowerPoint presentation with UPK and you can add sound to elaborate on the slides content.
The second way would be to use documentation created outside of UPK and import it to UPK through Packages. For example, you can bring in UPK Adobe PDF, Word docs, PowerPoint presentation to provide more detailed information. I had a client that had a lot of part numbers specific to a vendor, so they had documents with these part numbers linked to a frame in a UPK topic for each vendor. Depending on the vendor they had selected the end users would able to click on that hyperlink and bring up the part numbers specific to that client on demand. In that way they would not need to go through pages and pages of manuals.
Oracle: As already mentioned, UPK has the capability of brining in all types of web based, web friendly viewable information, as well as Adobe PDF, Word documents, videos and so on. In addition, with the latest release of Knowledge Center, we also support the ability to import SCORM compliant content.  For those familiar with the Learning Management System (LMS) any type of content that can be wrap up in a SCORM package can be directly imported to our Knowledge Center.
Q: Is is possible to translate content developed in UPK to another language and how easy it is? 
A: It is possible to translate content developed in UPK to another language.
There are three steps that depend on what you are trying to accomplish. It depends on what you are trying to accomplish with the translation. The first step is to record a topic. If the majority of your audience is English speaking, but you still have audiences in other languages as well, the first step would be to record a topic in English and make a copy (Navigation: Copy > Paste special > Duplicate )the original version of the topic.
The second step would be to change the template text to the language that you are translating to. Template text generated by UPK, such as, "Click the field" or "Enter the desired information" can be translated by itself. If you added custom text to the topics, for example if you add some additional explanation text in the explanation frame in bubble, you would export the topic text with the localization feature and then you would translator localize the text outside the product.
After the translation is made, you would import the text back to the appropriate topic in UPK. If you want your application's screen to be in another language, the final step would be to use the Re-record feature. You would re-record the topic to capture the screen in another language. Therefore, it could be a one step process or three depending on what you are trying to accomplish and how much custom text you have.
However, you will save a lot of time that way, not only because of the translation process but also because if you are going to translate multiple topics it will eventually save you a lot of time if it's for two languages or more. Once we had a client that had to translate to seven different languages and in that case the value exponentially increases.
Q: Are companies using Oracle UPK for testing and are they experiencing value from it? 
A: Absolutely, companies use UPK for testing and they see value by doing so. One of the previous companies that I was working with that is actually and SAP shop was using UPK for testing and they have measured the ROI. Another thing to mention here is that UPK is application agnostic when it comes to the applications that UPK is recording against. Going back to testing, this company used HP Quality Center, they had 1,500 test scripts and they used UPK and HP Quality Center silo. Coming on a new project they decided to use the two products together and what happened is that they eliminated a lot of human errors that they would typically encounter. If you have developed a test script in HP Quality Center you know that it is a manual process, so with using UPK they were able to eliminate those errors. They were also able to drive standardization, and being able to not create these test scripts one by one in HP Quality Center, they were able to load 15,000 test scripts at once reducing time by 60%. From the dollars perspective that was about $120,000 that they saved. This example is just an ROI of the test scrip creation alone. That is not even measuring how this then streamlined to the training efforts. They were able to have this repository to go off from rather than start from scratch.
Other organization that use UPK for testing saw also from 40 to 60% reduction in the test script creation versus doing it manually in a Word doc by taking screenshots or doing it in an Excel sheet. With UPK you can get both outputs with only one tool and one recording.
Hungry for more on UPK?
For more information on how you can benefit from Oracle UPK, visit our UPK mini-site, and sign up to take advantage of our  UPK free demo or health check.
You should also consider registering for our March 27th Webcast "Support Global rollouts with Oracle UPK: The Diodes China Story"
Watch UPK tutorials on our YouTube Channel!