Oracle User Productivity Kit (UPK) is best known for its capabilities for creating process documentation or training materials, and for offering performance support across the enterprise.But did you know that UPK can support your company testing efforts as well?
Testing is one of the most important parts of any project lifecycle and it directly affects the end results. It ensures your enterprise software will run smoothly and efficiently from the first go – live. UPK can enhance user acceptance testing and application testing during the project lifecycle through its testing capabilities and integration with test management software suites like Oracle Application Testing Suite, IBM Rational, HP Quality Center, etc.
UPK supports testing through its testing outputs:
1- Test It! Player
2- Test Case 
3- Test Document outputs 
If you are familiar with Oracle's User Productivity Kit, you are aware of the various output modes it provides. But do you know the benefits of the newest playback mode?
Example of the Test It mode in the Player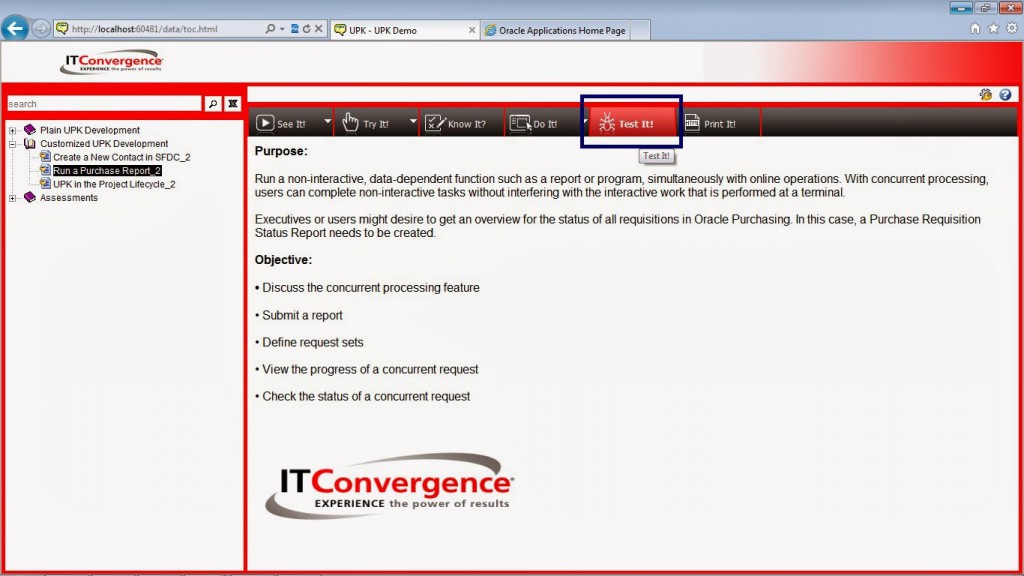 Test It! Mode:
1. Decrease testing time by streamlining the capturing and compiling of test step results for QA.
        By providing real time in-application testing support, with the UPK Test It! Player testers can quickly and efficiently execute tests.
2. Accelerate the testing cycle by enabling any user to capture the steps to recreate an issue.
        Any user can capture or recreate an issue for testing, which reduces dependency.
3. End users can provide feedback and suggest changes to a subject matter expert if they find an error.
        Providing feedback is quick and easy
4. Improve accuracy in testing.
        By eliminating many of the errors that occur when writing manual tests.
5. Create the foundation for a reusable documentation system.
Recorded transactions can be republished to support other lifecycle phases of the project, such as training and performance support.
Example of Test It Mode Summary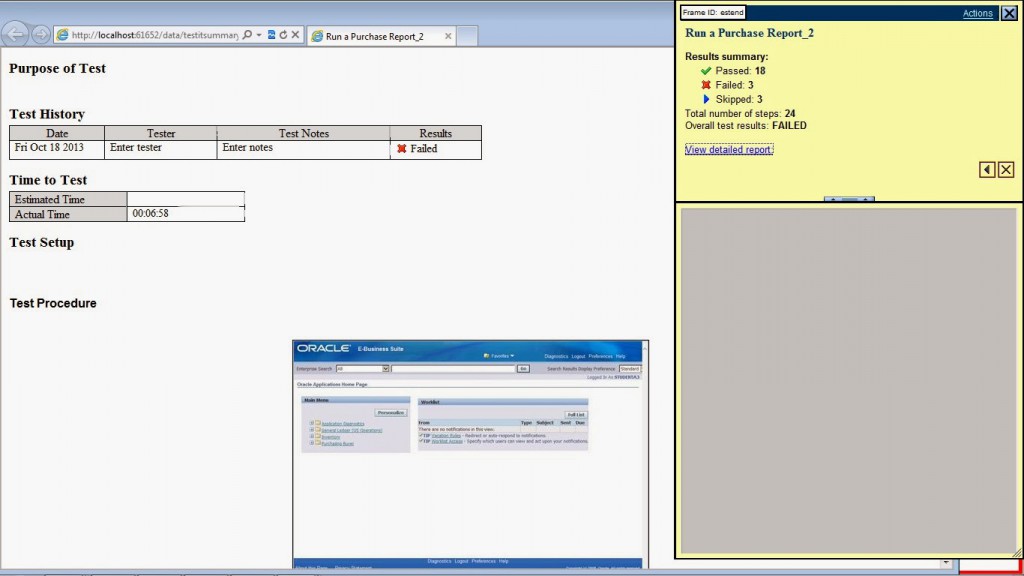 UPK's Test it! Mode is the perfect tool to help businesses enhance UAT experience while reducing time and costs at any stage of the project lifecycle.
Stay Connected for the Latest on Oracle UPK
Can't get enough of UPK?