Oracle User Productivity Kit (UPK)
Oracle UPK offers a single source recording process. Once the content is recorded it offers multiple assets that can be deployed and shared. Today our experts bring you a review of the outputs which are beneficial to create a positive impact when we are using UPK for testing. With the new enablement pack UPK can track the results from the Test It! Mode!
There are some questions that testers and developers would like to know to understand better the new functionality and leverage UPK to its full potential:
Where do we track it?
How does the tracking occur?
What benefits is this going to bring to my company's testing exercises?
UPK has a special liaison with Knowledge Center, the learning management system that allows companies to deploy global learning materials and measure their employees' competencies and skills. With the new Enablement Pack, the Knowledge Center itself is able to store, track data, and generate reports to guarantee the maximization of testing efforts.
First, keep in mind that the content to be tested has to be published or imported to Knowledge Center with the Test It! mode enabled. Once the title is imported to Knowledge Center, the tester will be able to perform testing for the appropriate process using the Test It! mode. At the end of the testing process, the tester can use the View Detailed Report link to visualize the results.
View of the Test It! mode on top of the live application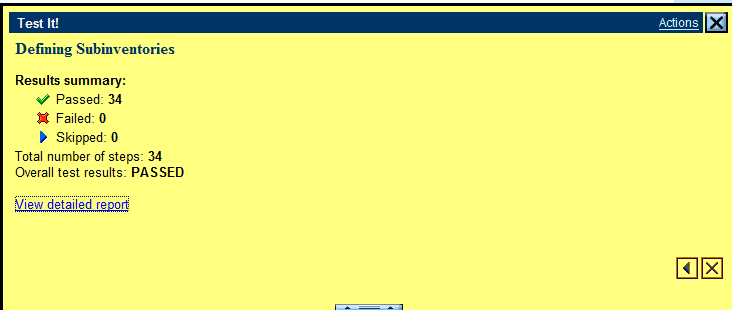 Results summary after the test has been performed
After testing has been performed, the test results are tracked and a report is available to perform further analysis and take actions on the encountered bugs. The report that tracks the test results is called Test it! Summary. To view the test script and testers' notes, use the Detail button.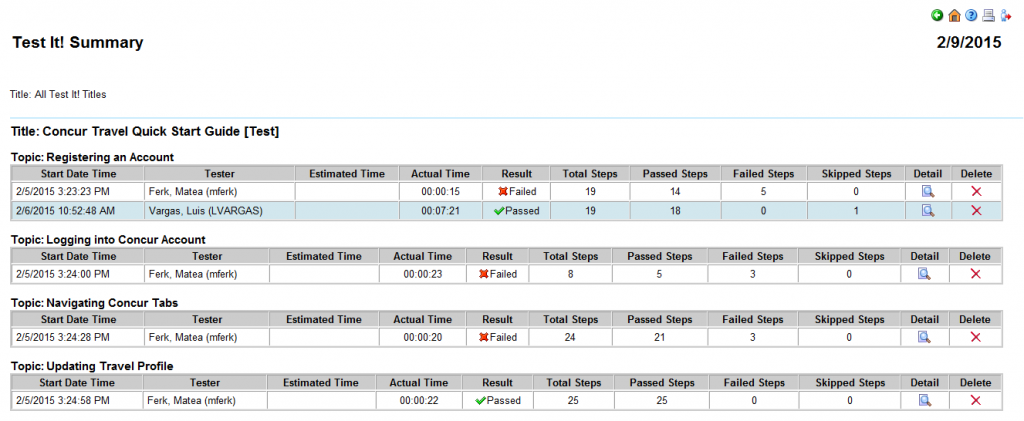 Test It! Summary Report
Users and companies will find great benefits in this new feature UPK is offering them, testing resources will be maximized at its best level since the testers will have the chance to track progress, make updates and conduct improvements getting the best possible value and product quality they can get from their testing processes.