Oracle UPK's  newly added "Topic Frame Comment " feature allows users to streamline the process of UPK content development. This new control frame can be located in the Topic editor under "Frame Comments." Once launched, the "Frame Comments" pane will display three comment areas, "Author Notes," "Instructor Notes" and "Expected Results". Each comment area is responsible for producing a different result.
The "Author Notes" comment area allows authors to store internal notes about a specific topic frame. This feature can be added and leveraged during either the recording phase or the content editing phase.
The "Instructor Notes" comment area is similar to the Topic Level Instructor Notes in the sense that it provides the instructor content guidance when utilized in a curriculum development project. Instructor notes can be published in various document outputs including the Instructor Manual via a new document publishing style bookmark.
Finally, the "Expected Results" content area allows content authors to enter the desired action results if the recorded action is preformed correctly. This is beneficial in a development context because it allows authors to test whether or not each test step is a success or failure. Expected results can be published in the new Test It! mode, test case, and other test document outputs.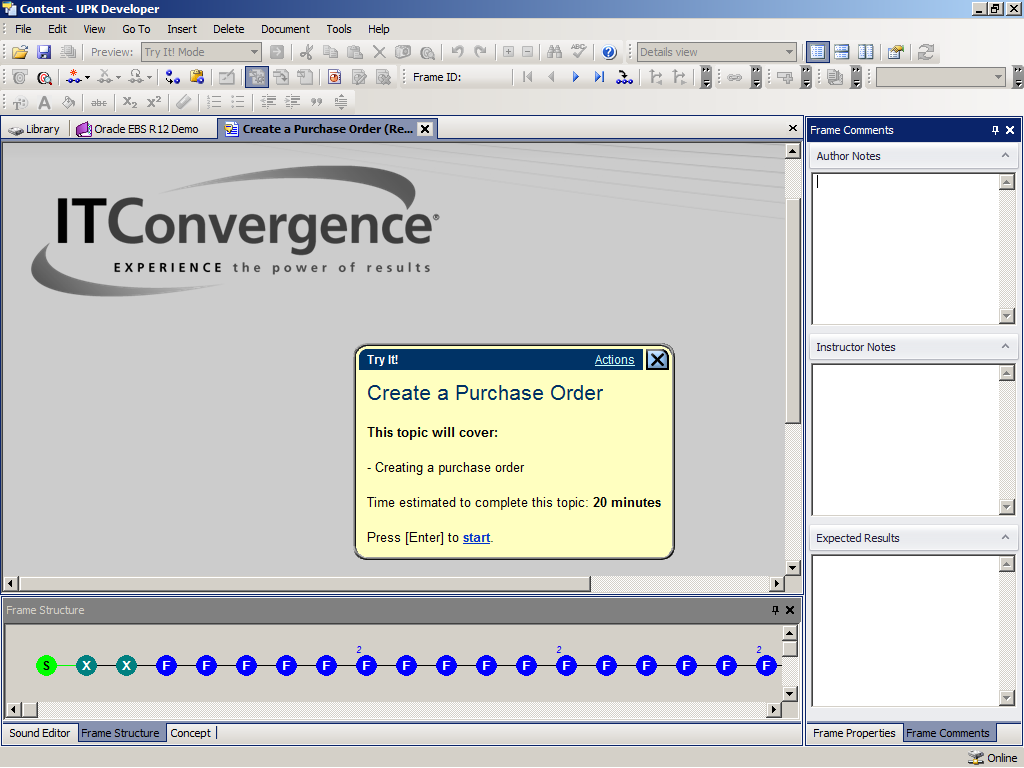 As you can see, the Topic Frame Comments tool is an invaluable option for communicating between different content authors, decreasing development time and increasing the knowledge transfer between instructors and students.
Need a refresher on working with Topics? Don't worry, we've got that covered too. Check out our YouTube video "How to Work with Topics in UPK."
Stay Connected for the Latest on Oracle UPK
Mark your calendars and make plans to join us on Thursday May 29th at 8:00 am Pacific/11:00 am Eastern for our webcast "What's New in Oracle UPK 12.1?" Click here to register now?
Find this page long after May 29th, 2014? Fear not. You can still find more on Oracle UPK.
For more information on our UPK services, visit our UPK mini-site, and sign up to take advantage of our UPK free demo or health check.

Watch UPK tutorials on our YouTube Channel!