UPK Health-Check Specific To Your Business Environment
Often labeled as "just a training tool,"
Oracle UPK
actually delivers value throughout the entire
ERP project lifecycle
.
If UPK does deliver this value, then the next question you've got to ask yourself is "Are we getting our money's worth out of it." A good way to answer that question is with a UPK Health-Check. The Health Check will ensure that you are using the tool at its full potential while maximizing the ROI.
Many organizations own UPK and understand its benefits. However, only a few truly know how to maximize their UPK ROI for both their Oracle and non-Oracle applications.
With the UPK Health Check, you are able to discover a different and broader way of utilizing this tool. Each Health Check follows several defined States

Analyze Current UPK Usage
UPK Health Checks begin by inventorying and analyzing your current usage of the Oracle User Productivity Kit. We use this to determine if and how you need to tweak the training delivery method in order for your users to better understand the new system process. Having your end users understand the business process in its entirety enables them to better understand why and how the actions they take effect the organization as a whole.
Identify Existing Documents/Assets to be Used within UPK
With UPK, you have the ability to leverage existing documents and get them into the UPK developer. During a UPK Health Check we will make sure that you are leveraging your existing materials to their fullest potential by linking them to UPK documents. Having a centralized tool for maintenance and sustainability provides you with greater control and an increased ability to gain value from your existing assets.
Example of integrating and existing document, a PowerPoint Presentation into UPK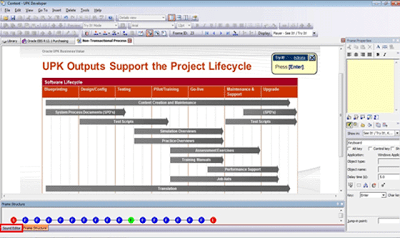 UPK Outputs Support Project Lifecycle

Leverage New UPK Features
A Health Check with our UPK experts helps you recognize opportunities for improvement since the tool has been substantially upgraded and enhanced over the past 5+ years. There are aspects of the tool, new features and new functionalities that you might not necessarily know about, and by learning how the tool has changed, you can adapt the way you're using UPK to increase your ROI.
Test It Mode In the Player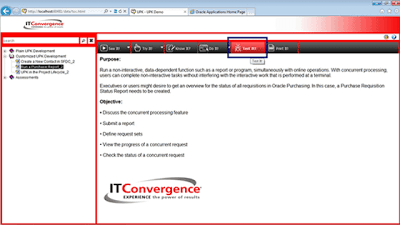 Test It Mode
Test It Mode On Top of the Live Application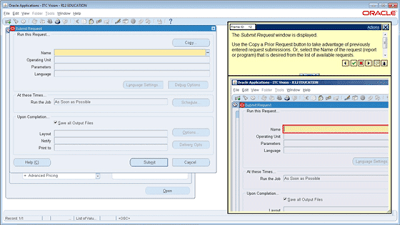 Test It Mode

UPK Skill/Knowledge Inventory
The Health Check evaluates the usage of the UPK's Knowledge Center component. Knowledge Center tracks and evaluates the current skill levels and basic knowledge base of your existing application users. This allows you to identify if your end users have grasped the knowledge they need to operate the new or upgraded application. It enables you to take a closer look at both your business processes and the material you publish for your end users.
Knowledge Center

Knowledge Center

Taking UPK Outside of the Training Room
As mentioned above, much of the ERP community thinks of UPK as a training tool. However, while it is a dynamic training too, it does deliver value to every stage of the ERP project lifecycle. During a Health Check we demonstrate how you can leverage the tool blueprinting, design and configuration, testing, support and future upgrades.
UPK in the ERP Project Lifecycle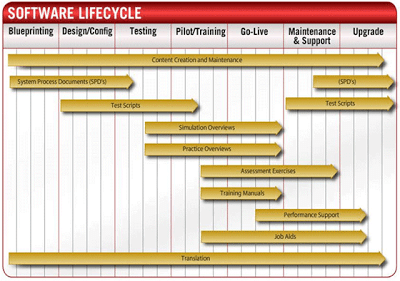 UPK ERP Project Lifecycle
In summary,
UPK Health Check
is intended for the organizations that own the UPK tool and are worried they are not leveraging it to the maximum potential. The Health Check will help you learn about different UPK capabilities that are able to support every stage of the project lifecycle as well as help you understand how to utilize UPK for your company's needs.

Stay Connected to Get the Latest on UPK!