Until now, Oracle's User Productivity Kit has primarily been utilized within the Enterprise Resource Planning (ERP) industry as a training tool. What about leveraging UPK's key features to assess a project's early lifecycle through testing? What about enhancing end-user adoption and ensuring a successful application implementation? When fully leveraged, UPK can lower development costs dramatically and increase ROI of enterprise applications within organizations.The fact that Oracle UPK publishes more than 15 different outputs through only one single authoring session provides organizations with standardized content in multiple assets proved to be valuable throughout the entire project's lifecycle. Today our practice experts bring you four key areas where UPK can be an invaluable asset to your organization.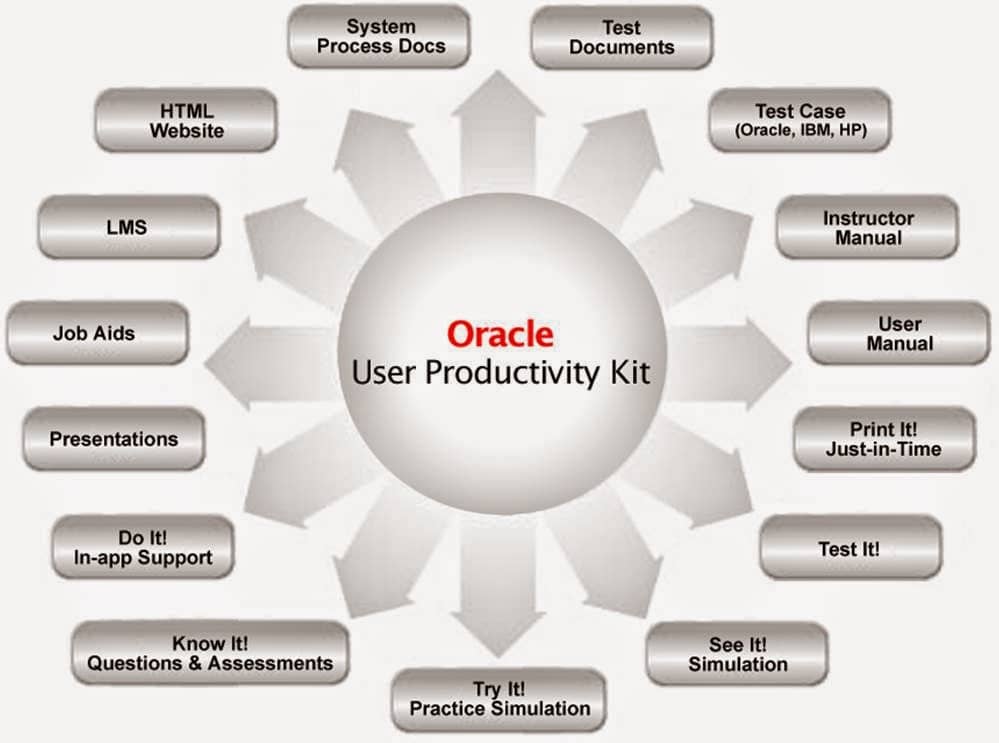 Maintenance and Sustainability
Let's start by exploring how UPK contributes to the maintenance and sustainability of an organization's content. We all know that organizations depend on numerous technological tools and software, and that the only thing constant about technology is the fact that it's always changing.  Needing to go through multiple tools to update a process to reflect an application's changes can turn into a very time-consuming task. With UPK, users will be able to leverage existing material by updating only certain aspects of the content without having to start from scratch, thus turning a complicated, time-intensive process into a much simpler task.
Non-Oracle Applications
Many owners of UPK do not realize an unbelievably important fact regarding the tool: It's application-agnostic. This means that UPK works with any application, not just Oracle applications. Regardless of whether you're ERP footprint contains Oracle E-Business Suite applications, JD Edwards, Peoplesoft, SAP, or third-party/homegrown applications like Salesforce, UPK can provide several different types of learning simulations to ultimately increase end-user adoption. Some developers have even started using UPK for conceptual training topics such as 'How to use the company's phone systems'.
Testing
One of the greatest value propositions of UPK is in the testing area. Find out more on our UPK for testing Blog entry, available in 3 different languages.
Knowledge Retention
The other key value that UPK can provide is for large organization's compliance initiatives and keeping intellectual knowledge in-house, based on the fact that organizations nowadays often experience turnovers, mergers, acquisitions or just organic growth. UPK can give organizations the asset of a robust program for on-boarding and help get employees up to speed on using the systems properly. On the other end, when employees leave the company, their knowledge is not simply lost. By using UPK to document and disseminate all processes and necessary information, organizations are ensuring that all the knowledge will be kept in-house and available to their employees, minimizing the risk of critical information being lost as people transition within or out of the organization.
To sum up, UPK is a tool that provides value to any type of organization, not only from a training perspective, but also with regard to standardized documentation, maintenance and sustainability, dispersed-region content deployment challenges, on-boarding and keeping intellectual capital in-house. By accomplishing all of this, UPK contributes to knowledge capitalization while maximizing ROI and workforce effectiveness.