R12 Data Conversion Webcast Open
A little less than a year ago, the IT Convergence Development Services team faced a quandary.
Fortune Magazine and Yahoo Finance had just named Buenos Aires as one of the up-and-coming hot spots for IT outsourcing. The IT Convergence Development Services Center had made its home in Buenos Aires since 2005, and it wanted to do a webcast to capitalize on this publicity.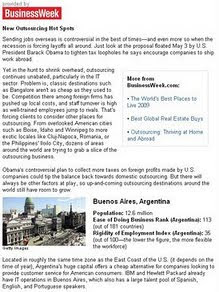 But do a webcast on what?
The team needed a topic that would simultaneously accomplish several goals:
– Relate, in some way, to the company's strategic focus as a primer, global leader in R12 projects
– Showcase the expertise and advantages offered by the Development Services team
– Provide something of tangible value to those in need of Oracle-related development services
After a lot of back and forth between the Development Services team, the Marketing team, and the Education Services team, the topic was settled upon: Data Conversion.
Doubtlessly, data conversion is a pretty dry for any discussion, but on paper it made perfect sense. There are Terabytes of data in the market that need to be converted to R12 and our Development Services team had helped numerous companies do that successfully.
Factor in the reality that an estimated 2/3's of all data conversion projects either finish late, out of budget, or both, and the business case was plain.
But what works out on paper too often fails to materialize in reality, in other words, would anyone really come?
The only way to know for sure was to put it on the schedule.
The results were astounding. A single round of emails resulted in 39 people registering in 24 hours. In total, over 100 people joined the webcast, with dozens more downloading the webcast's Power Point in the days and weeks to come.

So that's why the Development Services team is happy to offer an updated version of the webcast "Convert Data to R12 without Reinventing the Wheel." The webcast takes place on March 31st, 2010 at 8 am Pacific, 11:00 pm Eastern.
To register for "Convert Data to R12 without Reinventing the Wheel." Simply click here and we'll see you on the 31st.