R12 Shared Services and Other Reflections from OpenWorld 2009
This Oracle OpenWorld was special for me. It was going to be the first time that I was going to present at the biggest show in the the "Oracle World." I got in San Francisco on Saturday and Sunday morning I was checking in and getting my speaker badge.
Something that got my attention was how Oracle was talking about his new product partnering with Sun Microsystems. The Exadata v2 and looking into that I found a friend who is working on the project and who was able to tell me about the outstanding performance for huge volumes of data.
On the other hand there were hundreds of demogrounds, which for people who have never come OOW are small kiosk were people can talk to experts from Oracle and you can even find some product managers.
Presentation on Oracle R12 Shared Services Centers A Success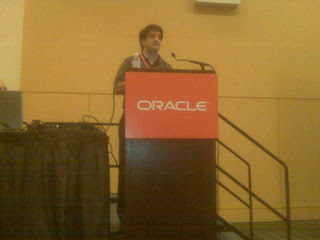 On Monday it was time to start visiting some interesting sessions and getting ready for our presentation "World of Options – Best Practices in R12 for a Shared Services Business Model." The room was next to a room used for keynote speakers so we had very good traffic.
The presentation was excellent. Although with ITC co-founder Owen Welch, we took 45 minutes sharing our experience with our Oracle-based shared services center in Buenos Aires (Argentina). We also got a chance to incorporate feedback from some of our clients. The Q&A was very interesting because many of the almost one hundred attendees asked questions and shared their problems with us.
On Tuesday the weather did not help. It was so bad that we started to think that we were going to need boat that Larry Elison left on Howard Street to cross the street from Moscone West to Moscone North… but fortunately the rain stopped, and looking through my window at the hotel it's cloudy but not rainy today.
Oh! I forgot that at the IT Convergence booth we had great drinks from Torani which made ITC one of the most visited stands and that helped us to explain the services that we provide and can make a difference in their companies.
That's all for now, I'll tell you the details of an EPIC night tonight at the Treasure Island!
-Gustavo Gonzalez