SOA in Plain English Part II: Alphabet Soup
As the information technology revolution continues to radically remake the way day-to-day business is done,
Service Oriented Architecture
or "SOA" solutions will become more and more important to business.
As part one of our "SOA in Plain English " series explained, SOA solutions are what allow businesses to quickly and seamlessly create electronic interfaces with other companies. When a new provider, distributor, payment system or class of customer comes along, the company with a solid SOA solution will be able to readily follow those opportunities, without having to stop and reinvent the wheel…
…The company that didn't invest in SOA? Well let's just say that they'll have to stop to spend time and money on building something custom (not to mention that they'll have to work very hard to avoid disrupting any number of other business-critical systems in the process.)
To view part one of this "SOA in Plain English" click here now.
Now, in part two, we'll focus our attention on what is one of the most daunting aspects of SOA for non-technical outsiders – namely understanding the seemingly endless alphabet soup of SOA-related acronyms.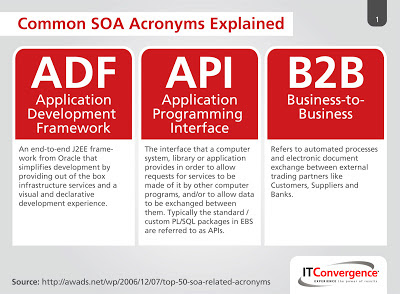 Q. Let's take a look at our first bundle of acronyms what does your average, non-technical business user need to know about each?
A. Well, API as you can see stands for Application Programming Interface. The fact is that most, non-technical executives probably don't need to know much about API's other than to understand that these are the interfaces that allow one application to request "services" from another. In simple terms an API, for example, is what allows say, a web conferencing platform like WebEx or GoTo Meeting to interface with a CRM like Salesforce.com or Oracle CRM On Demand to pass information about registration and attendance at an on-line event.
ADF is Application Development Framework is Oracle's Java framework for building web-based enterprise applications. ADF provides you with ready-to-use, reusable design templates that help support rapid and scalable application development.
Oracle SOA/B2B is a platform that allows secure, efficient exchanges of electronic documents between Suppliers, Customers, and Banks. If your IT team starts making noises about investing in SOA/B2B that probably means that your IT and Business areas are either transmitting the Purchase Orders, Invoices etc., in a custom file formats. The word "custom file formats" might seem mundane enough, but the truth is that reliance on custom formats makes the integration with all your trading partners tedious to maintain(due to many formats), or even worse you are manually transmitting paper documents which makes it very difficult for you and your business partners to load this data back into their systems – not to mention that manual loading increases the possibility of error.
Oracle SOA/B2B is tool that you can use to standardize this process entire process, which will greatly benefit your operating efficiency.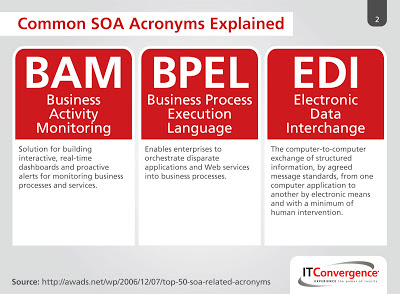 Q. It is a pretty safe bet that most of our non-technical users are not even going to be familiar with this next set of acronyms. Why are they important?
A. You're right, these are terms that rarely make the journey from the server rack to the board room, but its good for execs to understand a little bit about them, even if only to know what they're used for.BAM is a tool that allows you to draw real-time information form multiple sources and put it into a dashboard. For example, if you're an exec for a retail business firm, you might have a dash board that shows daily breakdown between in-store cash and credit card sales alongside on-line sales. Right away you're talking about information that is probably processed at least "touched" by several external parties and quite possibly by several different internal systems. Oracle BAM is the monitoring tool that holds your integrations together and allows you to report/notify issues and take corrective actions.
BPEL or Business Process Execution Language is used for more complex functions. Let's say you need to complete an on-line transaction you've got to process a credit card payment, verify product availability, ascertain when and where X product will ship from, and you want to see if there are any other promotions you want to offer the customer to boost the size of the order. Well, that involves interfacingwith a credit card company, pulling data from your ERP and/or SCM systems, in addition to interacting with the CRM, and then updating the web page accordingly. Well, all of these processes orchestration will be written in BPEL.
EDI, or Electronic Data Interchange,is a method of transmitting data between two systems which was traditionally used by large companies due to the high cost and complexity, but provide you with the robustness and a standard way of transmitting data. This form of data transfer has been around for several decades although it evolved over time.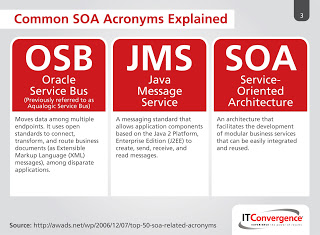 Q. Ok, we know what SOA is (click here for Part I of "SOA in Plain English") but can you tell use a little more about how and where OSB and JMS are used.
A. Sure. JMS or Java Message Service is fairly easy to explain. JMS sort of serves as a docking collar that allows any two applications that have been developed on the J2EE platform to be interfaced. The JMS connection is based on the Queue concept, where the one system places a message into the JMS queue, and the other picks it up. The integration between the two systems happens almost instantaneously, and the message disappears as soon as it is picked up.
OSB is Oracle Service Bus is an Enterprise Service Bus designed to be used in a SOA implementation which is not to be confused with Oracle SOA Suite, as it is a separate product in itself and can be deployed on its own Weblogic server.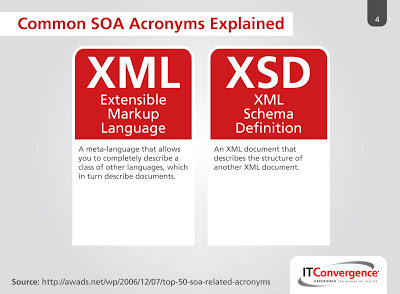 Q. Now most non-technical users have certainly heard of XML and many have used it, at least indirectly if not directly, but they probably don't know if has anything to do withSOA. Likewise, tell us a little about XSD.
A. Sure. XML is a way of representation of data that is both machine and human readable. XML Comes in many different flavors and every major industry has adapted a slightly different XML data standard. In addition, the Entire Oracle SOA building blocks are made up of different XML documents. The XML data structure is defined using a Schema definition file called a XSD (which is short for XML Schema Definition).

Start Getting Up to Speed on SOA Today
You can start getting up speed on SOA today
by joining our webcast "
Oracle SOA/B2B Architecture: Your Key to a Robust eCommerce Platform-ERP Integration
" which will take place on
Wednesday July 12 at 8:00 am Pacific/11:00 am Easter/4:00 pm London-Greenwich
.
Click here
now to register and reserve your spot.
If Google, Yahoo!, Bing, Ask.com or some other search engine that hasn't been invented yet has brought you here long after June 12, 2013, worry not. Simply
click here
to visit our
Oracle Fusion Middleware Services
page to find out how you can benefit from our
SOA/B2B solutions.