Will Oracle Support 11i?
Will Oracle Corporation continue to provide support for Oracle 11i?
Is the answer "yes," or is the answer "no?"
A quick search of the web might not be useful because the answers circulating out there aren't always clear and/or accurate.
Luckily, some concrete answers do exist.
It comes down to this…..
First, let's understand Oracle's "Phases of Support"
– Premier Support: provides maintenance and software upgrades for customers using Oracle Database, Oracle Fusion Middleware, and Oracle Applications for five years from the general availability (GA) date.
– Extended Support: provides an extra three years of maintenance and upgrades for select Oracle software releases at an additional fee.
– Sustaining Support: maximizes your investment protection by providing maintenance for as long as you use your Oracle software. Features include access to Oracle online support tools; upgrade rights, pre-existing fixes and assistance from technical support experts.
Oracle's communication strategy of waiving the extended support fees of E-Business Suite clients running on 11.5.10 added added to the end-user community's confusion about Oracle's support plan for 11i.
As explained in the communication from Oracle Corp:
Extended Support fees for Oracle E-Business Suite Release 11i and 12.0 have been waived. These fee waivers cover the entire three-year Extended Support periods for both of these releases:
EBS 11i Extended Support from November 1, 2010 to November 30, 2013
EBS 12.0 Extended Support from February 1, 2012 – January 31, 2015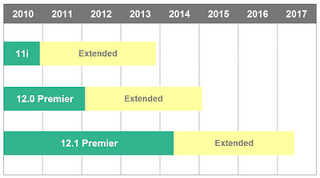 Customers with an active Oracle Premier Support for Software contract will automatically be entitled to Extended Support coverage for EBS 11i and 12.0. Also remember that Extended Support fees are waived for the first year of EBS 12.1 Extended Support. This waiver will be valid from June 2014 to May 2015. During this period, customers receive access to Extended Support features at no additional cost other than their fees for Software Update License & Support. For more details see the extended support Frequently Asked Questions at My Oracle Support Note: 1362757.1
By the extended support date, every organization will have to comply with the minimum patching baselines for each of the above E-Business Suite Releases.
• E-Business Suite 11i: Minimum Baseline Patch Requirements for Extended Support on Oracle E-Business Suite 11.5.10 (Note 883202.1)
• E-Business Suite 12: E-Business Suite Error Correction Support Policy (Note 1195034.1)
And what can I do about it?
Oracle's suggested strategy is to continue on your current path, which means following the path of E-Business Suite roadmap which today goes up to Release 12.1.3 and which will soon include the of Release 12.2, which IT Convergence is supporting Oracle Development as a beta tester of this new release which will be General Available within this calendar year.
R12.2's main innovations are it's on-line patching functionality and its new integration points with Oracle Fusion.
What does this mean to you? Well, for one thing upgrading to 12.2 would boost your extended support timeframe to May 2017!
There are a number of ways you can to stay ahead of the count down to 11i Desupport. You can attend IT Convergence's Oracle R12 workshops and/or contact IT Convergence to request an Oracle R12 Impact Assessment. Put time on your side by making the leap to Oracle R12 now.
For more information on how you can do that quickly and cost-effectively, check out our Oracle R12 Strategy and Planning workshops and visit or our R12 resources page .
Follow us on Twitter at: @it_Convergence and/or @itcpw