Cloud Computing services are growing in popularity among small and medium businesses (SMBs) throughout the world. In fact, Parallels Global SMB Cloud Insights (2013) reports  that there will be a compound annual growth rate of 28% over the next three years in the global marketplace as SMBs continue to move to the  Cloud to gain enterprise-level computing power, applications and services at prices they can afford.During our recent webcast "How to Build Your Enterprise Cloud Effectively" we took the opportunity to gauge the experiences of our audience with respect to Cloud Computing in general and backup solutions specifically.  The results of our poll questions depict exactly why SMBs are moving to Backup as a Service (BaaS) solutions to eliminate the pain points that come with in-house backups.
(Note, statistics presented here were queued from a poll of approximately 55 attendees at a recent webcast.  This poll is not scientific.)
After the webcast, we took some time out to discuss the results of the polls with Gustavo Gonzalez, IT Convergence's Chief Technology Officer.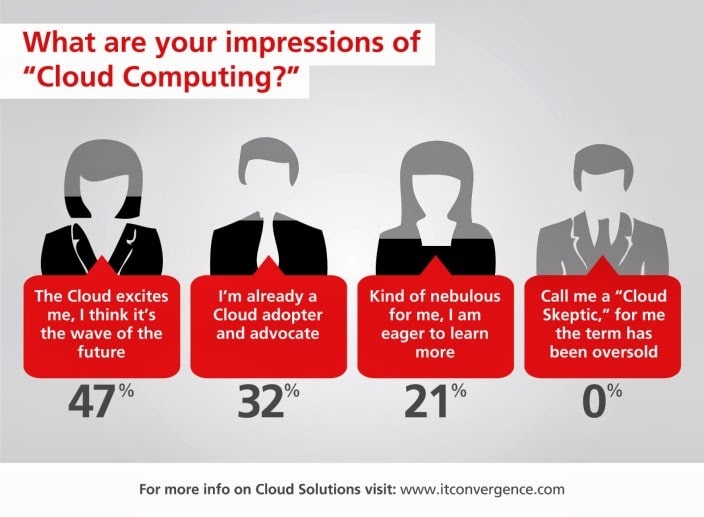 Q. Zero percent of our attendees considered themselves "Cloud skeptics" and 100% were in categories that showed excitement towards Cloud Services. Does it surprise you that the audience was so Cloud friendly?
GG: No, these findings don't surprise me at all! In fact, in 2012 Wakefield research  did a survey that revealed 95% of adults already use Cloud Computing in the way of e-mail exchange, payroll, sales CRM or some other software. In addition to that, an IDC study in 2010  stated that there were 1.2 zeta bytes of information at that time. That's a trillion billion—that's a massive amount of information to be managed. It is estimated that by 2020, there will be 35 zeta bytes of information. Our data deluge will grow 44X this decade. This growth is putting a strain on traditional backup windows, storage costs and management, which is resulting in an increased acceptance and adoption of Cloud Services.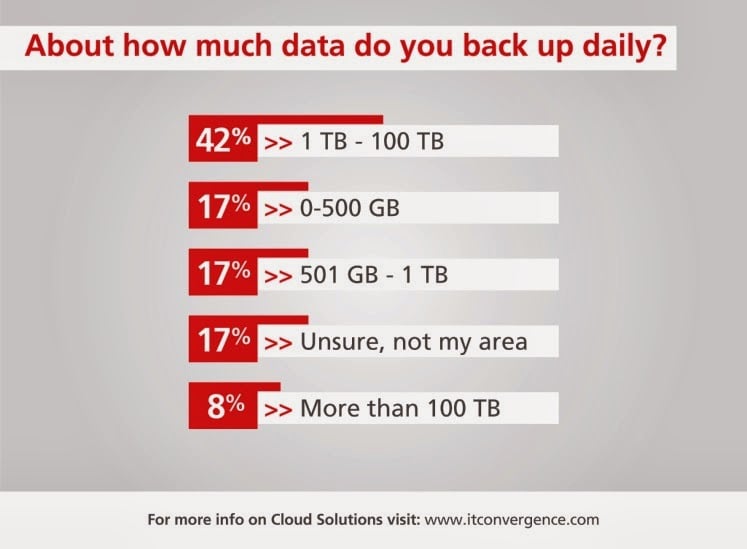 Q. The majority of attendees were SMBs that were backing up less than 100 TB of data daily. Is the Cloud a good option for organizations of all sizes?
GG: Absolutely! The top five reasons organizations of all sizes adopt a Cloud strategy are:
technology infrastructure
data center restrictions
financial constraints
personnel limitations
compliance and regulatory
An organization may be dealing with some of these, or many of these.  In either case, a Cloud model is one way that has proven to be able to deliver a resolution to many of these problems for organizations of all sizes.  Remember, when considering a private, hybrid or public Cloud strategy, organizations should always look at all expenses and not just the cost of the service.  Hardware, software, FTEs, service and support contracts, environmental, storage capacity and SLA's are just a few of the line items to take into consideration.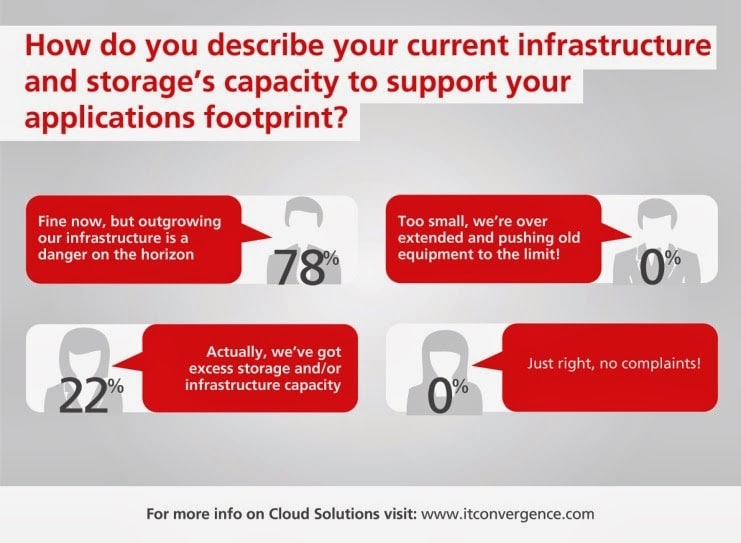 Q. Over the last decade exponential data growth, aggressive virtualization, shrinking backup windows and strict RPO  (Recovery Point Objective) / RTO (Recovery Time Objective) requirements have forced enterprises of all sizes to  rethink their existing backup strategies. Fortunately, quality Cloud-based cost-effective data backup solutions are now accessible. Can you explain how ITC's BaaS offering is scalable and metered, so organizations will never pay for space they are not using?
GG:
Sure. IT Convergence offers Backup as a Service (BaaS) using EMC Avamar's deduplication software and EMC Data Domain's deduplication storage solution. Organizations pay by the GB for the entire service, which makes the solution metered. ITC's BaaS solution is scalable because organizations can use as much storage as they need, when they need it—organizations have the freedom to scale up and down to accommodate fluctuating data cycles.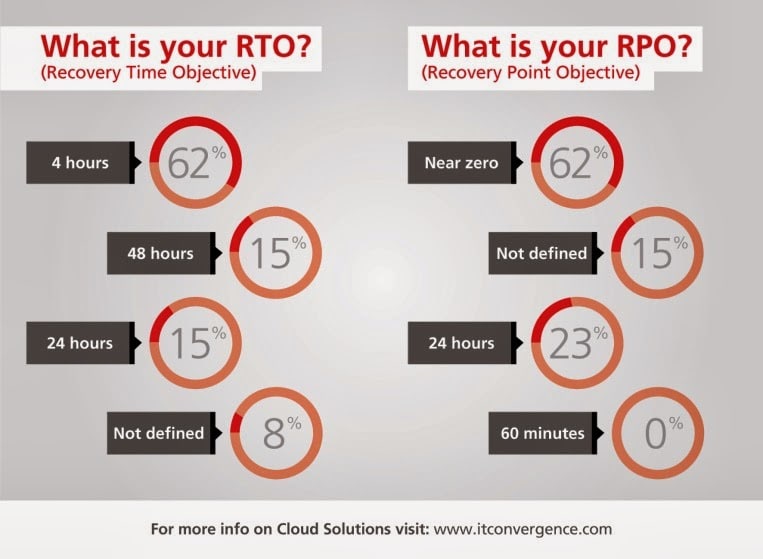 Q. As we stated in our last question, shrinking backup windows and strict RPO / RTO requirements have forced enterprises of all sizes to rethink their existing backup strategies. It's obvious from our poll question above that the majority of attendees had less than a 4 hour RTO and near zero RPO. Can you please elaborate on the significance of these two objectives and exemplify why tape backups are not able to meet the requirements of these shrinking windows?
GG: You ask a very good question.
The recovery time objective (RTO) is the duration of time and a service level within which a business process must be restored after a disaster (or disruption) in order to avoid unacceptable consequences associated with a break in business continuity.  It can include the time for trying to fix the problem without a recovery, the recovery itself, testing, and the communication to the users. Decision time for users representative is not included.
A recovery point objective (RPO), is defined by business continuity planning. It is the maximum tolerable period in which data might be lost from an IT service due to a major incident. The RPO gives systems designers a limit to work to. For instance, if the RPO is set to 4 hours, then in practice, offsite mirrored backups must be continuously maintained- a daily offsite backup on tape will not suffice.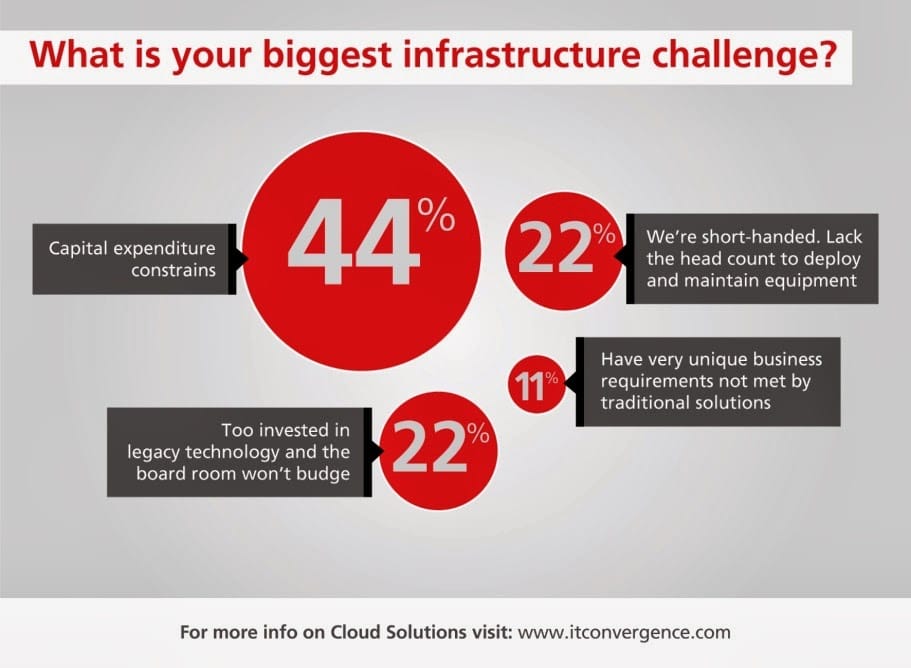 Q. We've explored how Cloud backup and recovery can help organizations of all sizes and how it's metered and scalable with well-defined service level agreements. Now, let's talk dollars and cents. Forty-four percent of our attendees claimed capital expenditure constraints as their biggest infrastructure challenge. How can Cloud services help these organizations?
GG: This is a simple solution as many as-a-service offerings allow you to move from a Capital Expense (Capex) to an Operational Expense (Opex) model. Simply put, organizations don't have to buy expensive equipment that depreciates and has to be maintained and replaced anymore. Instead, the equipment is owned by the service provider and included in the monthly cost.  Backup as a service, specifically, delivers what you need whether it is: onsite, in the Cloud or both. No matter how you deploy, ITC can arrange your pricing in a way that works best for you: capital expenditures, operational expense or a mixture of both.
So If You're Not a Cloud Skeptic, You Shouldn't be a Cloud Spectator – Try BaaS!
As our fist info graphic reveals, there's not a lot of "Cloud Skeptics" out there, and the rest of our chat with Gustavo has shown why. It follows then that if you're not a "Cloud Skeptic" then you shouldn't be a "Cloud Spectator" either, and IT Convergence is happy to start your way on to the Cloud.
ITC Cloud Services is offering Proof of Concept BaaS (Backup as a Servcie) trial subscriptions. ITC's BaaS solutions are powered by EMC's Avamar and Data Domain technologies and our Proof of Concept subscriptions give companies a chance to test drive the solution at no risk and no cost.
Interested?
Then
click here
to request your Proof of Concept BaaS trial subscription.