Oracle E-Business R12 en América Latina – Respondiendo Sus Preguntas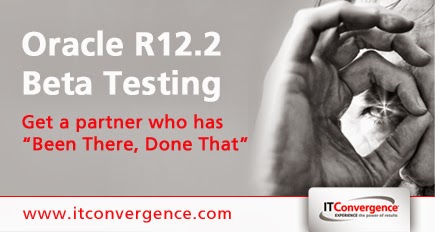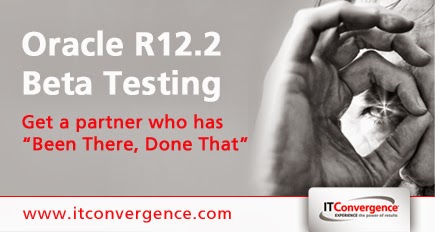 Hace un par de días atrás, IT Convergence junto a Oracle Argentina presentaron el webcast "¿No ha pensado aún su estrategia de Migración a EBS R12?" en donde más de 100 personas pudieron ver desde la experiencia cuales son las ventajas de la actualización a esta nueva versión conociendo aspectos relacionados a los cambios técnicos, funcionales, de localizaciones y el roadmap del producto.
Tal como prometimos, estamos compartiendo una transcripción de la sección de preguntas y respuestas y contestando aquellas que no pudieron ser respondidas durante el webcast por falta de tiempo.
Pregunta: Se obtiene alguna mejora en la aplicación al configurar la base con Oracle ASM?
Respuesta: La funcionalidad de la base de datos Oracle Automatic Storage Management (ASM) permite especificar un grupo de disco de almacenamiento en lugar del tradicional datafile cuando se crea o modifica una estructura de la base de datos, como por ejemplo un tablespace. ASM crea y maneja los datafiles a través de todos los grupos de discos automáticamente. Desde ya, esta funcionalidad tiene un gran potencial para bajar los costos operativos permitiendo usar un cluster de discos económicos en lugar de un único array de disco masivo. En el pasado había una restricción que indicaba que había que hacer primero Oracle RAC y posteriormente ASM, pero desde la versión de base de datos Oracle 10gR2 se puede hacer en cualquier orden.
P: Con respecto al online patching, esta disponible en la Oracle EBS R12.1.3?
R: No, Online Patching es un feature de E-Business Suite Release 12.2.X.

P: la localización cubre por ejemplo la legislación Argentina de facturación electronica ??
R: De manera standard Oracle E-Business Suite no cubre la facturación electrónica para Argentina (y varios países de Latinoamérica).
En el caso particular de Argentina, existen dos maneras de obtener la información de la autoridad fiscal (AFIP ). Una es por medio de archivos planos, también denominados RECE o a través de servicios web provistos por la AFIP y conectados con E-Business Suite. IT Convergence ha cubierto esa brecha con extensiones a la aplicación.
P: Cuanto tiempo en promedio dura la migración desde Oracle R11 o Oracle 12.0.6 a 12.1.3? , listo para ingresar y comenzar a trabajar en el proyecto de migración y configuración. Cuánto tiempo dura el cut-over?
Respuesta: Es complejo poder darle un tiempo estimado de cuánto dura una actualización ya que hay variables  que son únicas en cada instalación a parte de factores externos, como por ejemplo la versión de la base de datos, o si tiene Single Sign On de Oracle, o RAC cuantos nodos, así podríamos ir nombrando distintas variables que pueden impactar en el tiempo. La mejor manera de tener una estimación es haciendo una prueba de concepto del upgrade.
Algo muy importante de mencionar es que "cut-over", es una de las fases de online patching que se introduce en la versión E-Business Suite 12.2 y no está en la versión 12.1.3.

P: En Oracle EBS 12.2.3 las localizaciones están totalmente liberadas para argentina?
R: La versión E-Business Suite 12.2.3 está libre para ser utilizada en Argentina y todos los requerimientos legales que se encuentran cubiertos en 11.5.10.2, 12.1.X están cubiertos con 12.2.3. Si su implementación cubre otros países, como por ejemplo Brasil, le recomendamos que revise las actualizaciones en My Oracle Support (MOS) del documento "LAD Consulting Localizations – Brazil – R12 (Doc ID 427810.1)".
Información general sobre las localizaciones puede hallarse en el documento "Add-on Localizations – Upgrade consideration (Doc ID 1491965.1)" de MOS
P: Existen herramientas para evaluar la cantidad de desarrollos, su impacto y migración automática de desarrollos, cuando migramos de 12.0.6 a 12.1.3?
Respuesta: Comenzaré la respuesta dando un panorama sobre los cambios entre las versiones 12.0.6 y 12.1.3. Si bien existen cambios funcionales importantes entre estas dos versiones, no hay nuevos estándares para los desarrollos a medida.
No existe un producto de Oracle que realice una tarea automática de migración de desarrollos custom, pero en IT Convergence hemos trabajado con productos tales como Panaya (www.panaya.com) que permiten de manera automática, detectar los elementos custom y proveen sugerencias de los cambios que se deben hacer y el tiempo aproximado.
La otra opción es trabajar con un equipo de desarrollo con experiencia en migración de customs para realizar una estimación y la ejecución. Algo importante para destacar es que dado que ya conocemos los nuevos estándares para Oracle R12.2, sugeriría tener en cuenta adoptar estos para evitar un paso extra en la futura actualización al último release de E-Business Suite.
P: Que preparación o cursos técnicos para el área de TI recomiendas para la versión 12.2.3? Quien los imparte en México?
R: Los cambios que se introdujeron en la versión Oracle Aplicaciones 12.2.3 son principalmente técnicos como Weblogic Server, SOA Suite y online patching con su impacto en la aplicación de parches como así también el manejo de customizaciones.
La primer manera de capacitarse es por medio de la documentación en My Oracle Support que es amplia y muy rica en contenido y ejemplos. La otra opción es a través de los workshops in-company de IT Convergence en donde se realizan múltiples pruebas sobre un entorno 12.2.3 en cada uno de los aspectos del cambio a esta nueva versión. Para más información contáctenos a:  info@itconvergence.com
P: Hay mejoras desde Oracle R12.1.3 en adelante sobre módulos de manufactura
R: La mejor fuente de información para conocer las mejoras en las distintas versiones es el documento "R12.1 / R12.2 : Oracle E-Business Suite Releases 12.1 and 12.2 Release Content Documents (Doc ID 1302189.1)" en MOS.
Específicamente en manufactura las mejoras posteriores a la versión 12.1.3:
• Oracle Electronic Kanban – New Product
• Oracle Manufacturing Execution System (MES) for Discrete Manufacturing
o Enhanced Serialized Manufacturing
o MES Operator Workstation Enhancements
o MES UI Configurability Enhancements
o MES Custom Extension User Exits / Hooks
• Oracle Inventory (Inventory Convergence)
o Advanced Catch-Weight
o Product Dependencies
o Third Party Integration Points
P: La localización colombiana tiene incluida los nuevos formatos de generación de información contable
R: Oracle asiste a los clientes de E-Business Suite en la legislación realizada por la autoridad fiscal de Colombia (DIAN)  respecto a la resolución 11429 para las versiones 11i y 12.
La solución esta compuesta por la localización del producto y además Add-On Localization patches para las versiones correspondientes:
Patch
13542239:R12.JL.A – Applicable on 12.0.4 and above
or
13542239:R12.JL.B – Applicable on 12.1.1 and above
LAD Add-On Localization Patch
13714380
Documentation describing the changes, available under Notes:
469642.1 User's Guide
578473.1 Technical Reference Manual
P: En Oracle 12.1.3 como se maneja el traspaso de información de un libro contable a otro?
R: En E-Business Suite Release 12.1.3 se introduce el concepto de libro primario (Primary Ledger) y libros secundarios (Secondary Ledger). Los libros secundarios pueden reducir el número de planillas de Excel y tiempo de consolidación de libros.
La definición de libro secundario es "representar la información contable del libro primario en otra representación contable". Se pueden mantener diferentes niveles de detalle: nivel de balance (balance level), nivel de asiento (journal level), nivel subledger (subledger level) y nivel de ajustes solo al libro secundario (adjustment only secondary ledger).
P: Hay Cursos Técnicos en EEUU en UPGRADE a de disculpe  Oracle 11.5.10.2 
Respuesta: Mi primer recomendación es revisar la documentación en My Oracle Support en el documento "Oracle E-Business Suite Upgrade Information Center (Doc ID 1322667.1)" donde se detallan distintos caminos a la versión deseada y una vasta documentación en inglés. Si necesita algo a medida sugiero que me escriba un correo (cto@itconvergence.com) con los detalles para que alguien de nuestro equipo pueda ponerse en contacto con Ud.
P: Mi duda es si puedo cambiar la longitud de mi estructura contable , ya que vamos a migrar de 11.5.10 a 12.1.3 y no quisiera reimplementar.
R: Es una muy buena pregunta. En muchos casos los integradores de sistemas tienden a reimplementar para cambiar la estructura contable. Hemos trabajado en casos tan disímiles como cambiar la estructura, agregar segmentos adicionales y si bien es considerado cirugía mayor, es posible. En algunos casos hemos trabajado con la empresa e-Prentise que tiene un producto específico para estos cambios. (www.eprentise.com).
P: SLA aplica también al módulo OPM?
R: Oracle Financials R12 Subledger Accounting (SLA) es un motor de contabilidad basado en reglas utilizado por varios módulos de E-Business Suite que postea entradas contables en el módulo de General Ledger.
En la versión 12, Oracle Process Manufacturing (OPM), incorpora SLA y en la implementación de OPM al menos las siguientes definiciones de Journal Line Definitions (JLD) son necesarias para utlizarlo:
• PO Receiving (Purchase Order Receiving)
• Move Order Issue
• Move Order Transfer
• Subinventory Transfer
• Sales Order
• WIP Issue (Work In Process Issue)
• WIP Completion (Work In Process Completion)
Para más información sobre la configuración de SLA para OPM pueden referirse a la guía de usuario: http://docs.oracle.com/cd/E18727_01/doc.121/e13655/T388436T463436.htm
P: Buenas tardes, mi consulta es: Que es Oracle Endeca?
R: Endeca es una herramienta llamada de descubrimiento (discovery) que permite "navegar" la información basado en un robusto motor de búsqueda y una eficiente visualización incluyendo una serie de objetos que presentan gráficos e indicadores clave.
Extensiones de Endeca para E-Business Suite (Endeca extensions for E-Business Suite) es la conjunción de la tecnología de Oracle Endeca Information Discovery y una capa virtual hacia Oracle E-Business Suite para mantener la información cargada en un model de datos en-memoria (in-memory), que ya se encuentra pre-clasificada, sumarizada y filtrada para permitir una búsqueda, descubrimiento y análisis de la información con una interfaz de usuario muy rica.
Los módulos que tienen extensiones son:
• Oracle Order Management Extensions for Oracle Endeca
• Oracle Channel Revenue Management Extensions for Oracle Endeca
• Oracle iProcurement Extensions for Oracle Endeca
• Oracle Project Management Extensions for Oracle Endeca
• Oracle iRecruitment Extensions for Oracle Endeca
• Oracle Learning Management Extensions for Oracle Endeca
• Oracle Discrete Manufacturing Extensions for Oracle Endeca
• Oracle Process Manufacturing Extensions for Oracle Endeca
• Oracle Inventory Management Extensions for Oracle Endeca
• Oracle Enterprise Asset Management Extensions for Oracle Endeca
• Oracle Field Service Extensions for Oracle Endeca
• Oracle Warehouse Management Extensions for Oracle Endeca
• Oracle Cost Management Extensions for Oracle Endeca (including Oracle Landed Cost Management)
• Oracle Installed Base Extensions for Oracle Endeca
• Oracle Depot Repair Extensions for Oracle Endeca
Mantengase Conectado con El Equipo de IT Convergence para Latinoamerica
Si quiere conocer más sobre Oracle E-Business Suite Release 12 desde la experiencia del gran número de caso de éxito de organizaciones que confiaron en IT Convergence su estrategia de actualización, visite nuestro website en español haciendo click aquí .
IT Convergence tiene una rica biblioteca de material disponible en su website  con distintas experiencias y un gran número de videos y tutoriales sobre E-Business Suite Release 12.
Finalmente, puede hacer clic para contactarnos  y con gusto lo pondremos en contacto con alguno de nuestros expertos en Oracle E-Business Suite para asesorarlo.