Oracle OpenWorld Outake – The Latest on Oracle EBS R12….
During one of the most popular sessions of
OpenWorld
, Anne Carlson, Senior Product Director of Application Development was talking about how Oracle developed its application strategy over the last 7 years. She announced that beyond the delivery of Fusion Applications, Oracle is making enhancements on all the product lines covering E-Business Suite, PeopleSoft, JD Edwards and Siebel. Anne presented the new features of E-Business Suite Release 12.2 and pointed out its Application Strategy investments.
Oracle launched R12.0
in 2008
that delivered innovations to the architecture of its financial applications. R12.2's release in 2013 came with online patching, and the latest 12.2.4 release came with its fascinating user experience. Over the course of the next few years,  we can still expect of the arrival of Release 12.2.5 and 12.2.6.

Oracle's current E-Business Suite Support Timeline looks like this: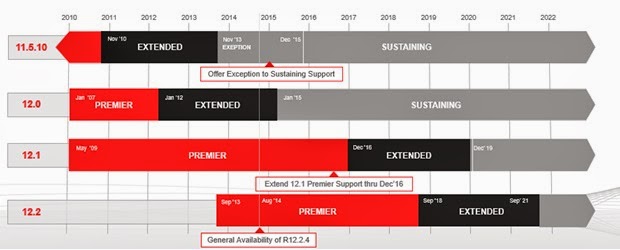 Functional advancement that available on 12.2 may drive you to 12.2 because you need that capability and it's only available on 12.2. Let's see what these advancements are.
What's Beyond Online Patching in R12.2?
Oracle Vice President of E-Business Suite Product Strategy Jeanne Lowell introduced the new features of Release 12.2, with specific regard to global Financials.
Take a look at the new functionalities of one of the strongest Oracle modules.
•    Benefits improve automation
•    India support/localization
•    Simplified worldwide accounting and reporting
•    More integration for improved reporting and automation
•    Lease management – reduced cost, improve growth and mitigate risk
•    Property manager – improved integration/controls
•    Simplified user flows – channel revenue manager
•    Performance improvement
•    Simplified billing/ better support for internal billing
(Resource: Oracle E-Business Suite: Mobile Strategy and Roadmap [CON7492] Jeanne Lowell – VP, EBS Product Strategy, Oracle OpenWorld 2014)
Oracle R12.2  also delivers key customer driven enhancements in Project Management with re-designed work plan APIs and improved user flows. The new release allows you to improve your cash flow, to control and plan your costs better through the enhanced labor costing and project cost breakdown structure. You can coordinate relationships easier across the supply base with its improved supplier registration UI and enhanced supplier registration search. From the improved Online Patching to the new functional enhancements, the new release delivers innovations to the WebLogic Server, such as the graphical user interface, WebLogic scripting tool or the troubleshooting framework. It also brings a modern user experience and simplified user flows. Just to mention a few of the new enhancements.

User Experience Strategy will be continued in the future
Oracle spent the last 6 month to focus intensively on mobile application development. Find out more from our previous blog entry – Take Advantage of Smartphone Apps on Oracle R12.1.3 and Beyond.

Keep Your Oracle EBS Up to Date – Stay Connected
You want to learn more before your upgrade? We're looking to share the most important functional features and Oracle's User Experience Strategy with you at our webcast  "Exclusive Insight on Oracle R12.2.4 from OpenWorld 2014," on Thursday October 9th at 9:00 am Pacific/11:00 am Eastern.
Upgrading your Oracle E-Business Suite Release once was a matter of choice. Nowadays, taking advantage of the latest technological advances has become a necessity for companies that need to stay ahead in the race for greater profits. Shift the focus to planning around R12.2. Request an R12.2 Demo today and contact us by email: r12@itconvergence.com.